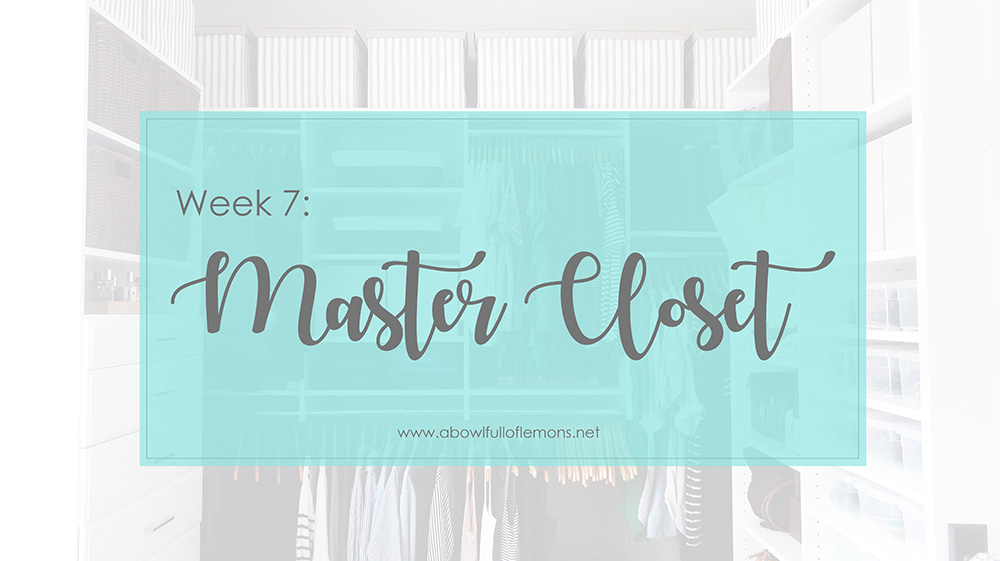 Happy Saturday friends! We are half way through the home organization challenge. Way to go. You are doing an amazing job. Don't quit now. So far, we've organized the kitchen,pantry, dining room, launch pad, living room, and master bedroom. This week, let's concentrate on clearing out the clutter from the master closet. This will be a very rewarding week for you. Let's get busy.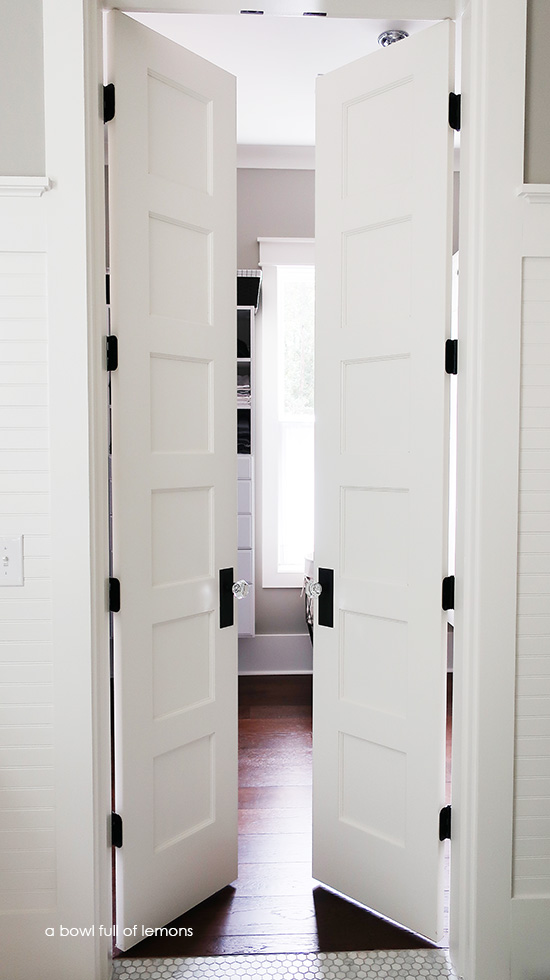 If you're new, print out the schedule and checklists below and begin on the current week. If you missed the first several challenges, re-visit them when you have free time. For encouragement, join our Home Organization Facebook community to share your progress, or struggles, or questions. Or simply look through the photos and read how others are doing.
PRINT –> Free Challenge Kit

We all have different sizes and layouts when it comes to the master closet. Some people have a hundred pairs of shoes and some have only two. Your situation is unique and you must organize it to fit your needs. The goal is to purge your things, simplify the space, and organize the rest.
THE ORGANIZING PROCESS
Prepare: Gather 8 bins or boxes, one for each of the following.  
Sort:
Sort through everything in the closet. Empty it completely as you go. Divide everything into the 8 bins listed above (or more if needed). Purge the items you no longer want, wear or need. Get rid of as much clutter as you can.
Clean:
Wipe down door, baseboards, doorknobs and switch plates
Organize: It's time to go through everything in the bins. Put the "other room" items where they belong. Toss the trash in the trash can outside. Place donations in your car and "to sell" items in the garage. When organizing things in the bins, remove one item at a time, categorizing as you go. Hang like items together and place out of season items in a rubbermaid tote. Label the box "Jane: Out of season" and place up high on the closet shelf.
Sweaters (best if folded)

I am in love with my new closet. It is the perfect size for our needs. I am only going to show my side, but if you want to see how I organize my husbands things, be sure to check out the full tour here. Your goal this week is to eliminate the things you no longer wear or need. Hopefully you will gain some inspiration below to get you started.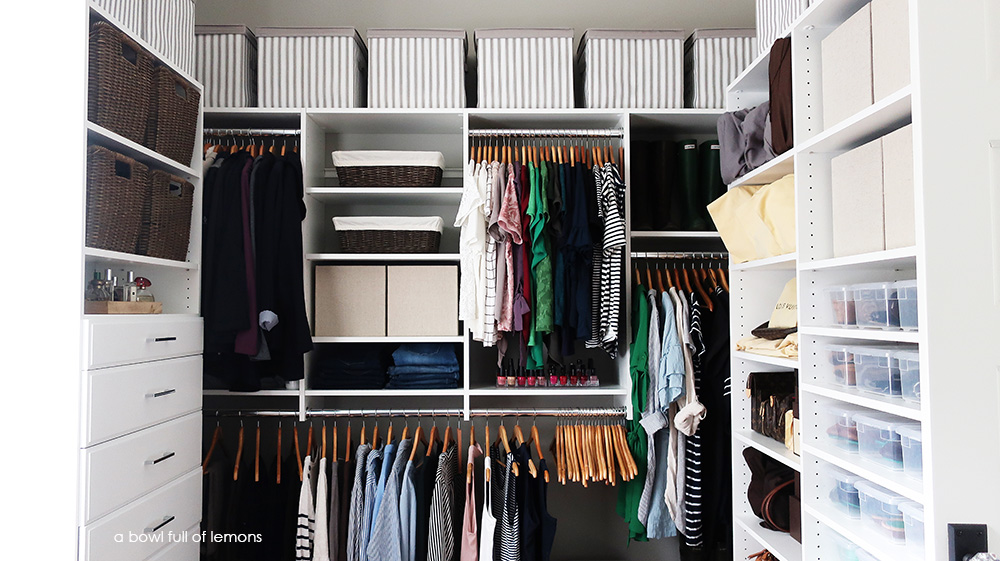 Use bins to store out of season clothing and items you use on occasion but don't need on a daily or weekly basis. I love these cloth bins. They are beautiful and functional.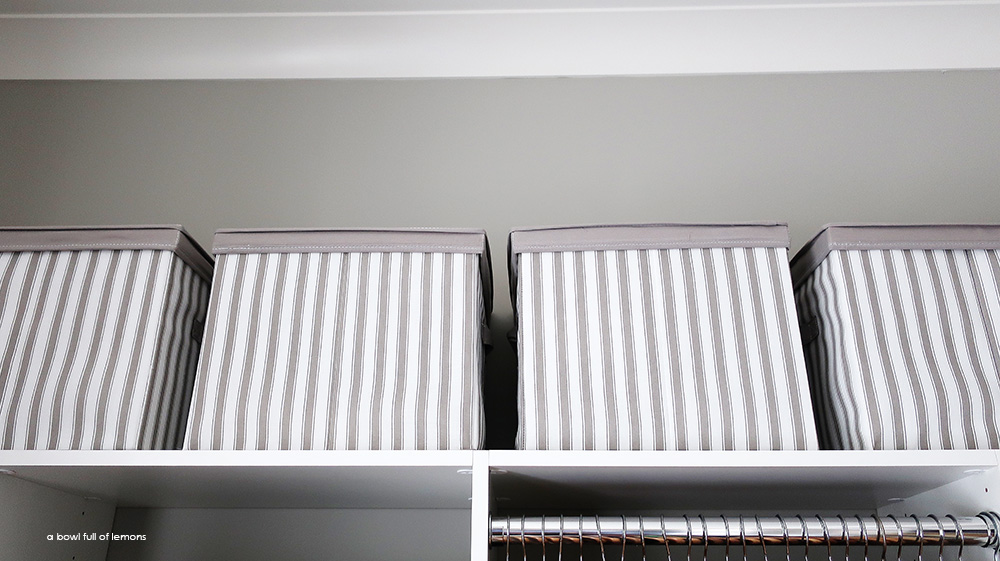 I love the look and sturdiness of wooden hangers. They are worth the investment, although they are not very expensive (under a dollar each). They transform a closet from average to amazing!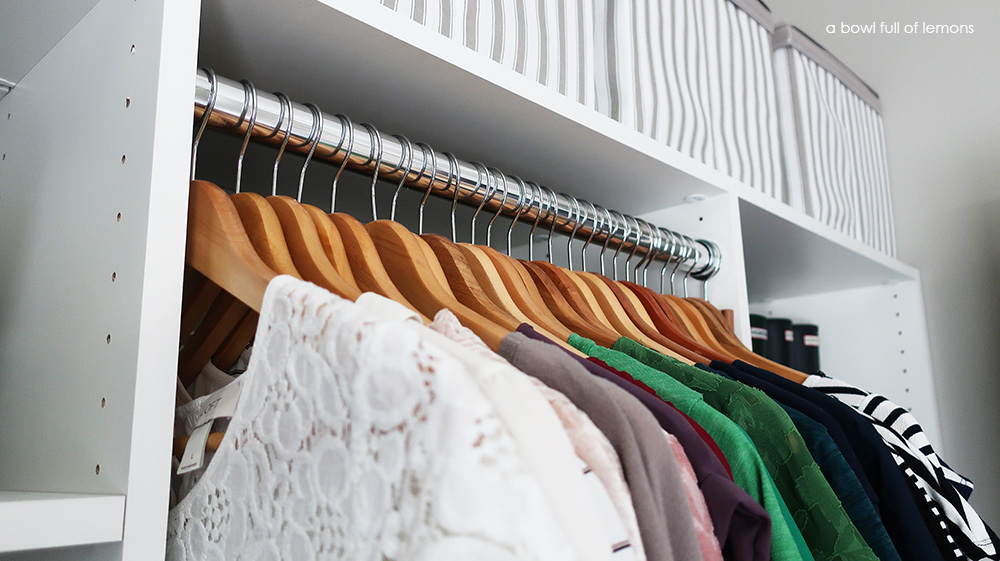 I keep my handbag collection in cloth bags in my closet, to protect them. I stuff the bags with plastic air packaging so they keep their shape.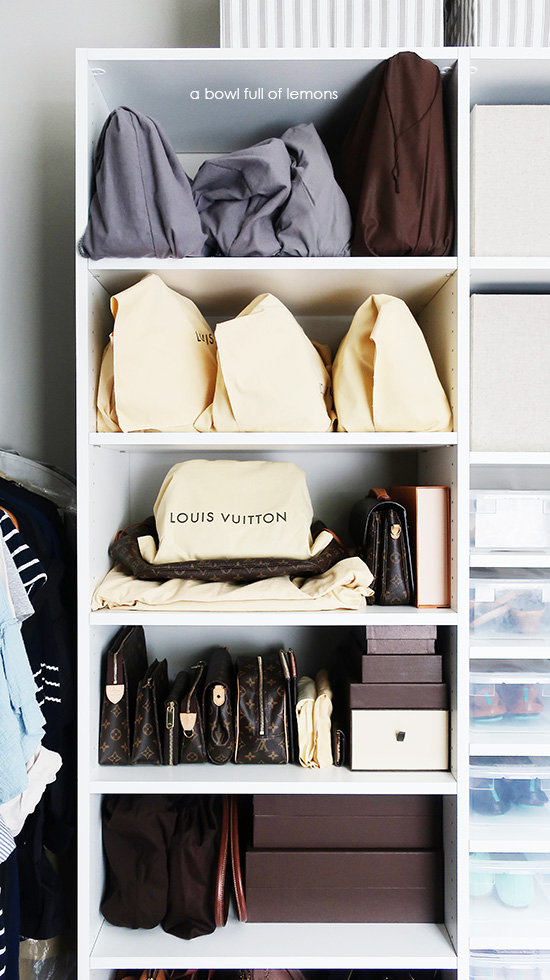 Shoe organization is fairly simple to attain. Purge the shoes you no longer wear and place the rest in shoe bins. These clear bins are a great way to store your shoes and to protect them from dust and from getting smooshed.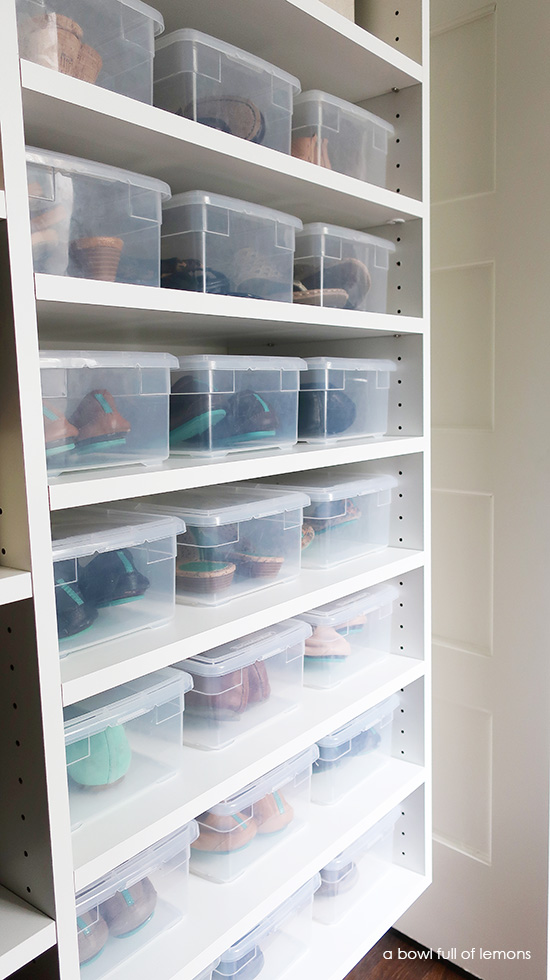 In the baskets on the left (from Target), I store t-shirts, sports wear, and shorts.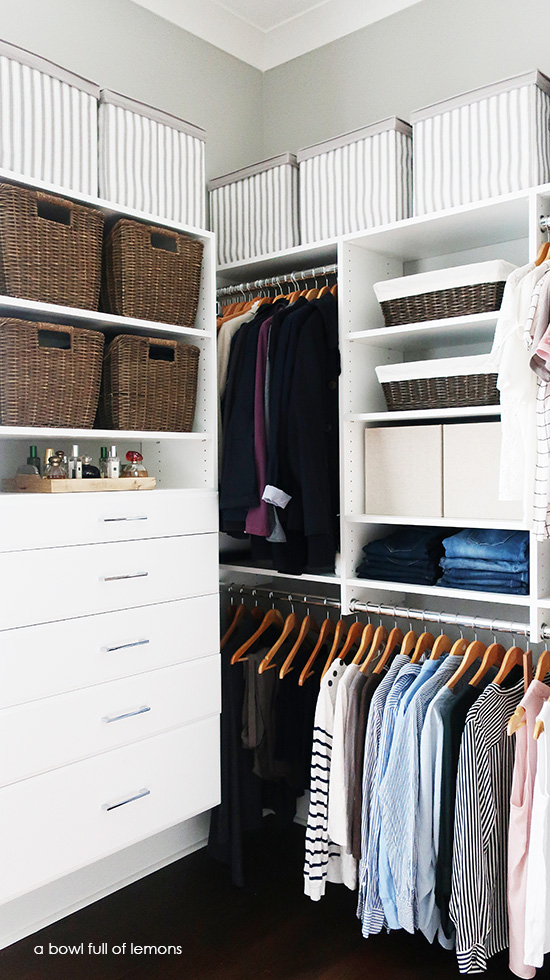 These organizers are a great way to display nail polish.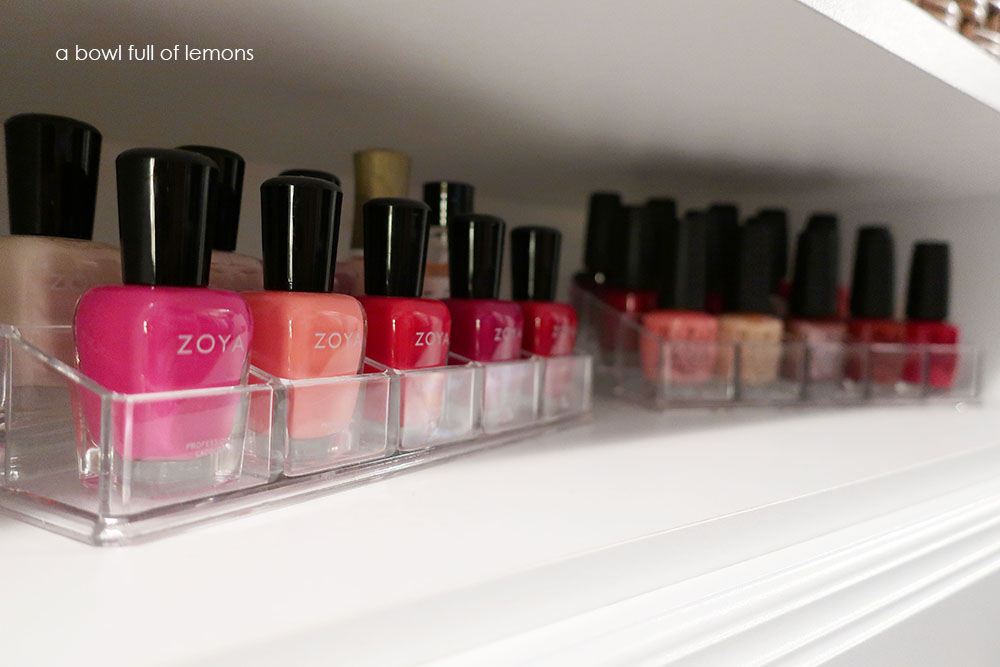 These bins contain wallets, accessory bags, and mani/pedi kits.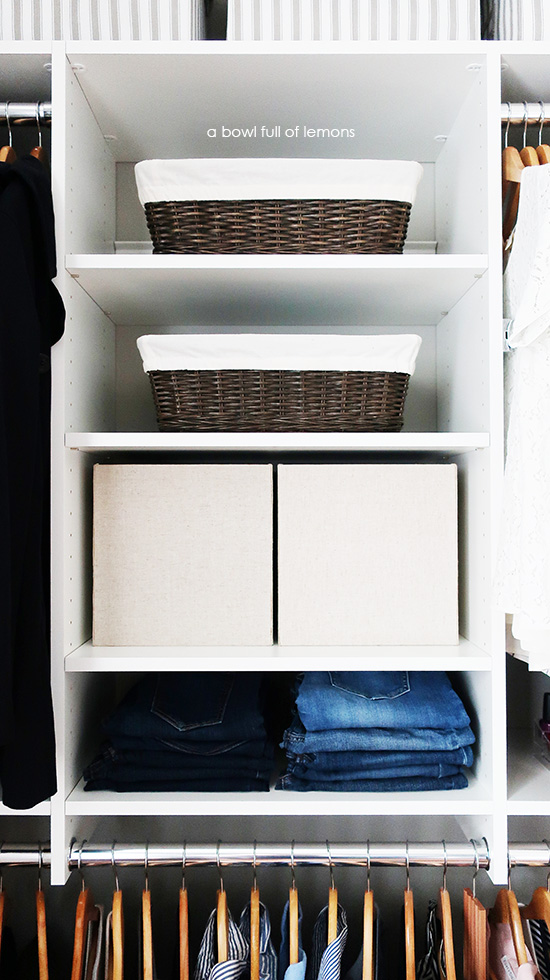 A closet can be functional, organized, and beautiful all at once. Anyone can achieve it. It takes some planning and a little time to implement, but once you do the rewards are grand.  I hope you've gained some valuble tips and inspiration that will motivate you to clear the clutter from your master closet.
Be sure to watch the You Tube video (from my previous closet) where I take you on a tour and show you what's in all of the bins and baskets. Have a great day.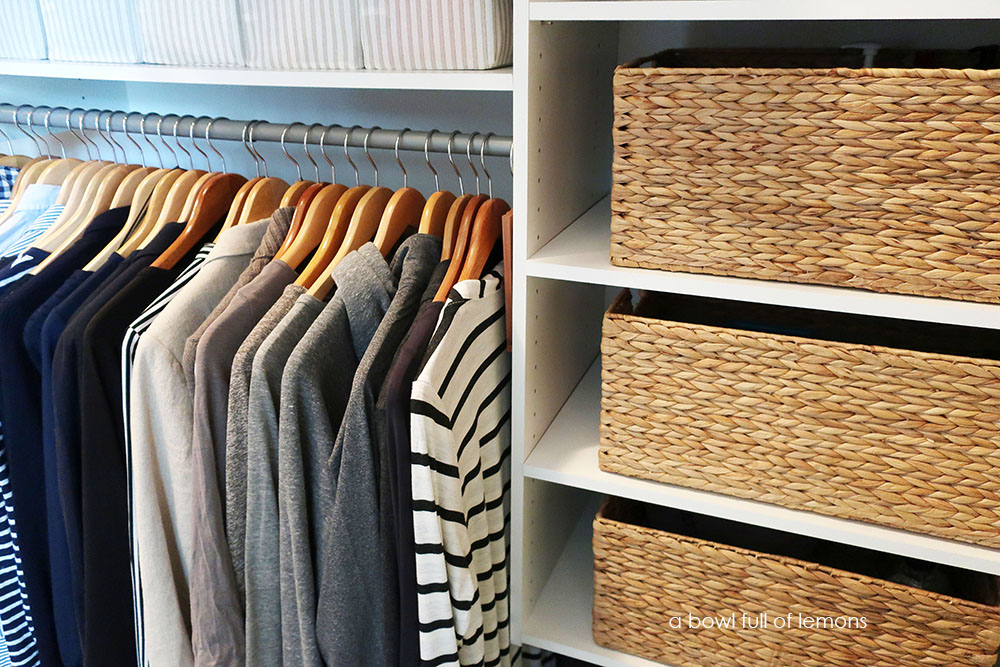 Here are several blog posts that will inspire you to get your Master Closets organized.

For the perfect companion guide to our challenge, purchase The Complete Book to Home Organization. It includes all 14 weekly challenges as well as a ton of inspiration and tips about the spaces we will be organizing. No need to log onto the computer for ideas, this manual has it all!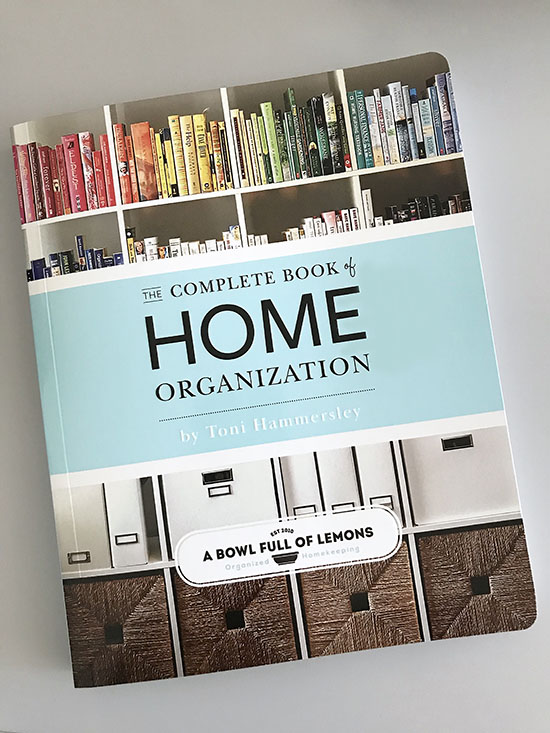 If you need more guidance on cleaning your house, be sure to get The Complete Book of Clean. It has tons of tips and checklists that will teach you how to get your homes sparkling clean.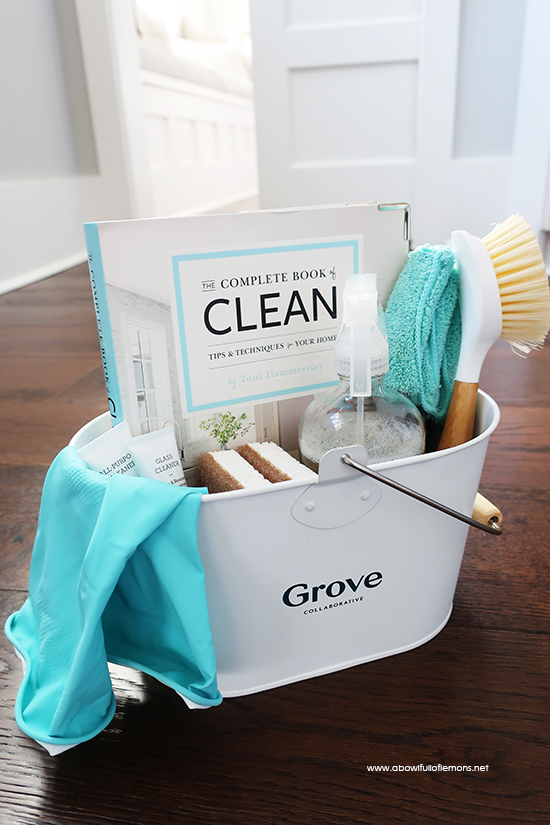 Concentrate soley on your closet this week. Purge anything that isn't getting used or doesn't belong. Follow the step by step process I've laid out for you. Share your progress on Instagram using the hash tag #abfolchallenge, blog about the weekly challenges, and share your before and after pictures over at my Home Organization group here. Hold yourself accountable and finish all 14 challenges! I can't wait to see what you accomplish. Good luck. I'll see you back next week for the week 8 challenge. Happy Organizing!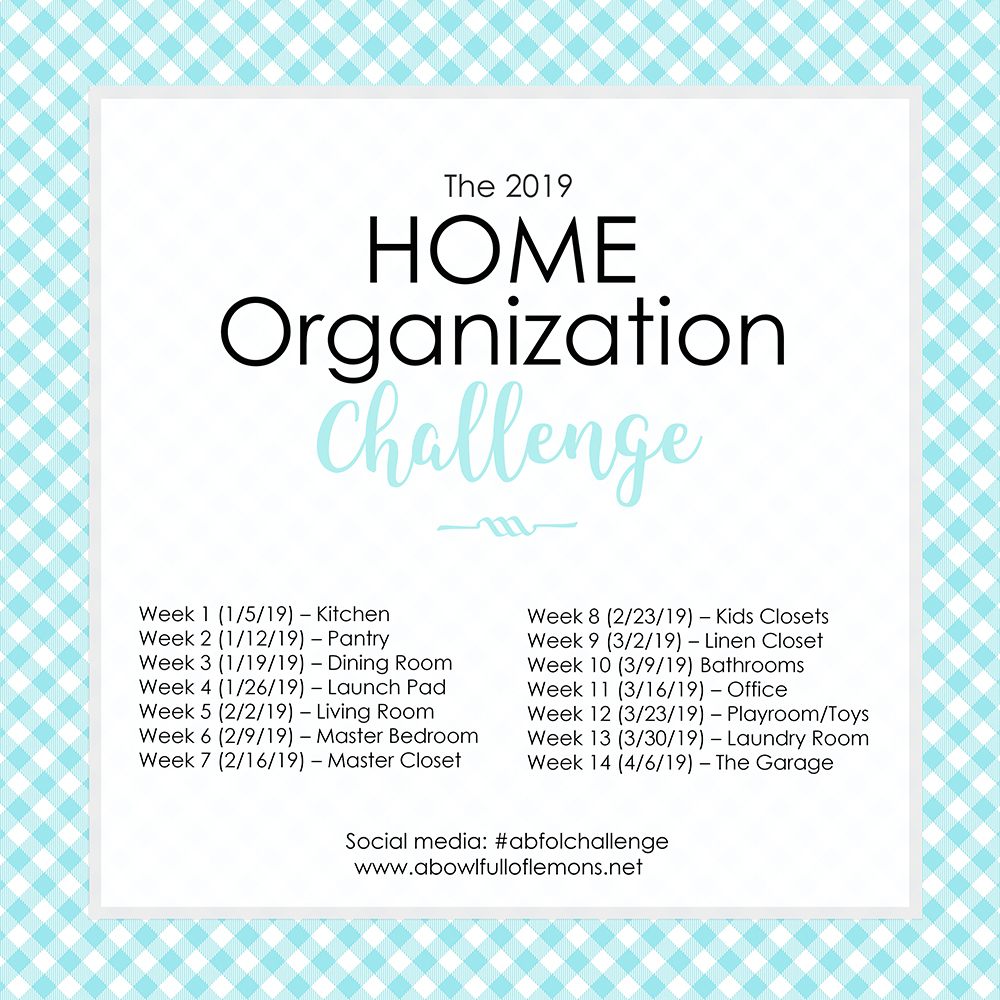 Tags: 2019 Home Organization Challenge, closet organization, master closet, organize
2019 Home Organization Challenge, 2019 Home Organization Challenge, Blog, Closets, Organize Posted in 0 comments