Welcome to the first post of my 4 part blog series – all about Garage Organization. Many of you have shared stories about your lack of "garage" organization and stated that you needed major help.  I hope today I can inspire you to get out there and finally get it organized.  (I'm talking to you too husbands!)  I'm going to start off the series by talking about "STORAGE".  Everything needs a place or there will be garage chaos & setting up a "system of organization" is the key!  I will be highlighting the 4 most important points that will help you to finally get your garage in order. But before I begin, I would like to thank The Container Store for sponsoring this project. I'm grateful to be able to share it with my readers.
4 STEPS TO STORAGE
Shelving
Drawers
Labeling
SHELVING
The first challenge that you need to address is figuring out where you are going to put everything?  Do you have a designated shelf?  In my garage, I try to keep everything up off of the floor.  My husband and I agreed that quality was very important to the longevity of our organization, so we went with Elfa Shelving from The Container Store.  They're super sturdy, high quality and worth every single penny.  FYI, these shelves are on sale for 25% off right now!!  When choosing your shelving, make sure to measure. You want your bins to fit!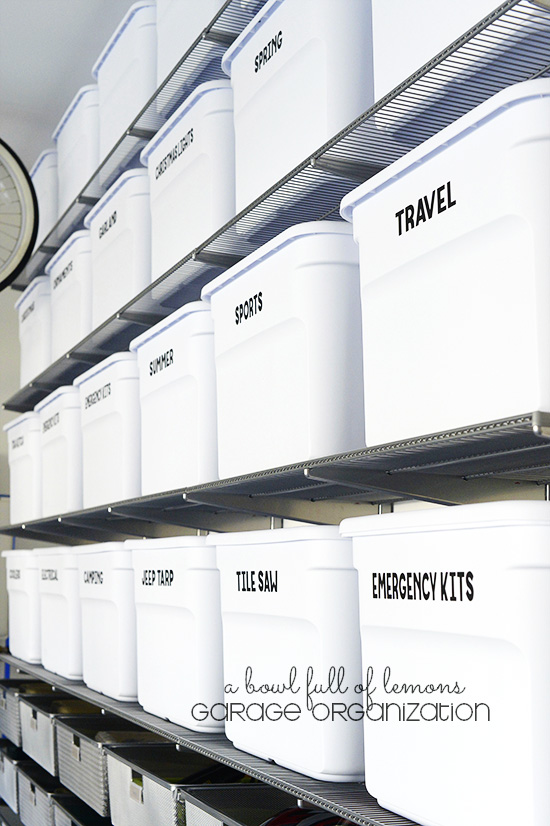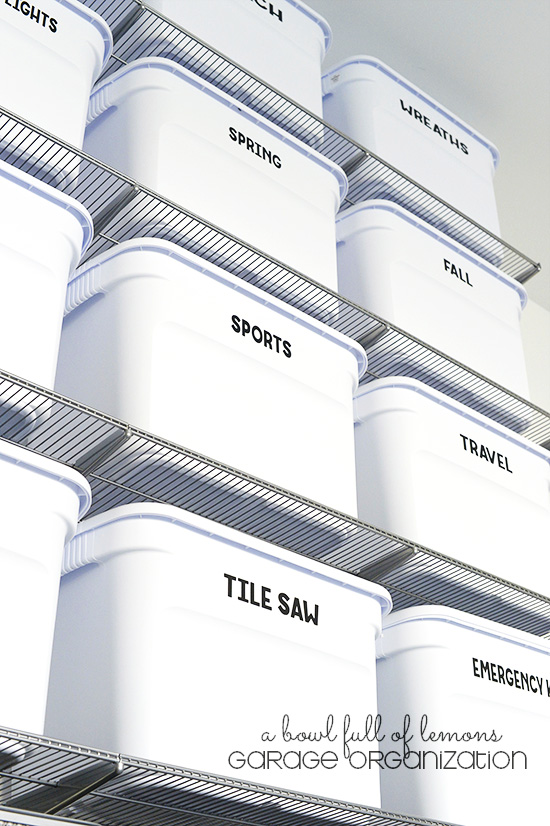 DRAWERS
The next challenge you need to address is – where are you going to put your most often used items?  Things like batteries, flash lights, trash bags, and outdoor play toys need to be easily accessible.  The perfect solution for this problem is to use drawers.  I chose to use the Elfa Mesh Drawer System.  Love, love, love it!  It's my favorite part of the garage organization.  Everything is so convenient now.  Again, this system is on sale for one more week – 25% off!  (I love a good sale). You can also use something like this or this.  Really any type of drawer system will work well. 🙂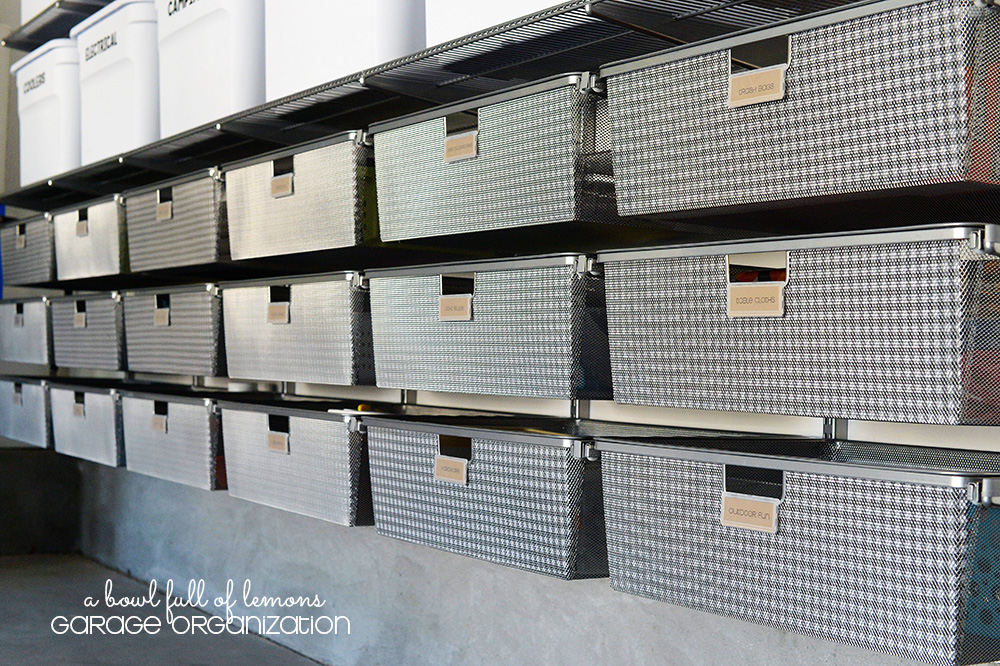 COVERING MESH DRAWERS
I didn't like that you could see everything that was inside of my drawers, so I came up with a creative solution.  I covered  them with black gingham fabric (from JoAnns).  I made a template out of cardboard then cut 18 pieces to fit the drawers.  I adhered the fabric to the drawers with spray adhesive.  I sprayed the front of the fabric (not the drawer).   Finally, I stuck the fabric (front side forward) on the drawer & smoothed it out.  Worked like a charm.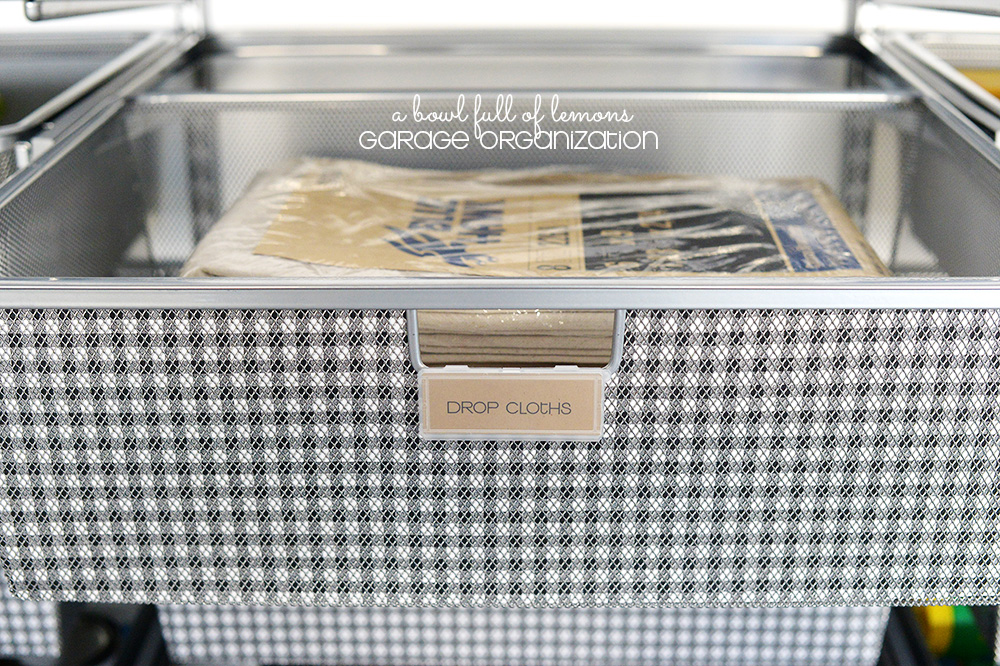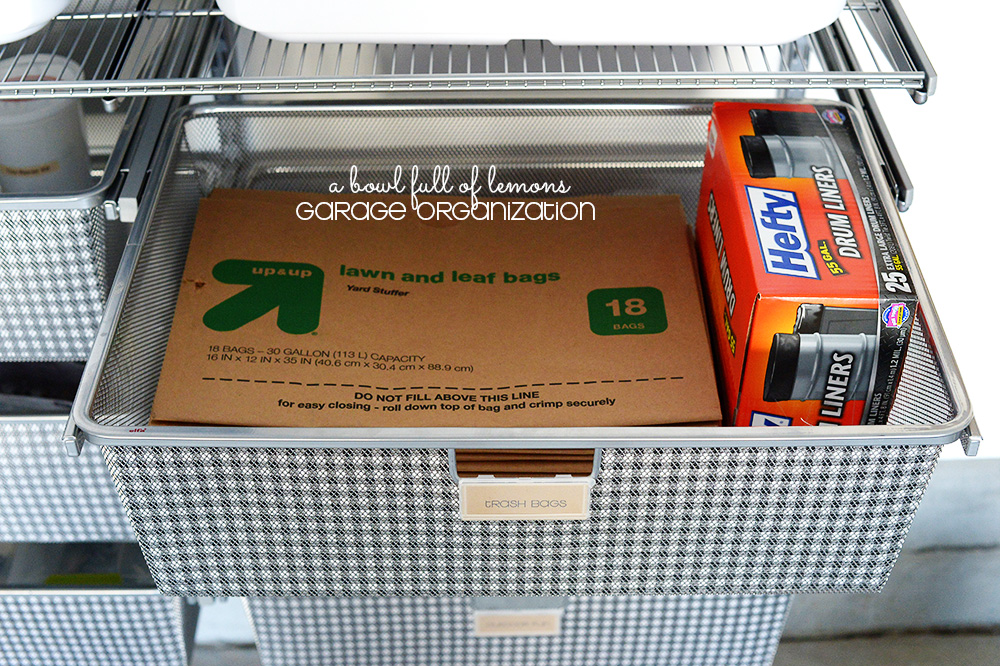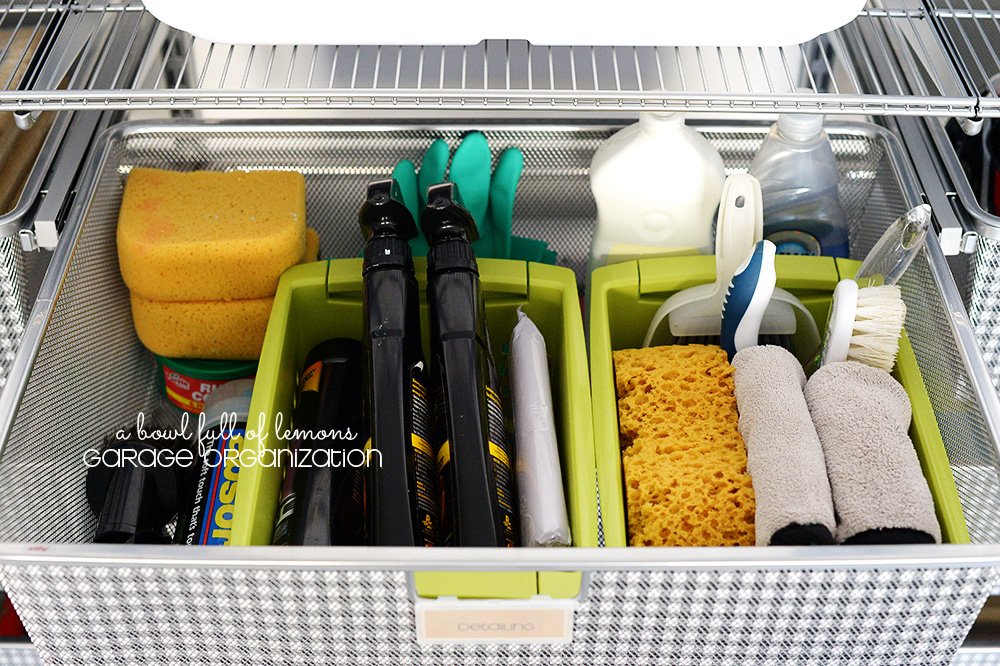 LABELING
The third challenge you need to address is – How are you going to know what's in each container or drawer?  Simple answer – Label each one.
For the drawers, I used the Elfa Label Holders.  These holders slide right down onto the drawer so they should work with any drawer system if 

it's thin

.  I created the tags on my computer and printed them out on brown kraft card stock paper.
For the large white containers, I used a Cricut Machine, but you can also use a label maker, blank stickers or even an index card taped to the box.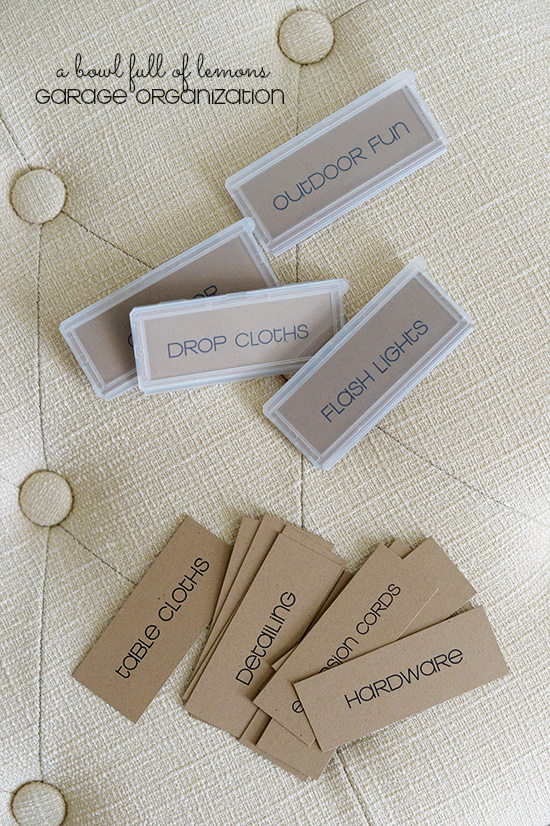 Our Drawer Categories:
Table Cloths
Detailing
Hardware (drawer knobs, hooks, etc)
Extension Cords
Trash Bags
Outdoor Fun (Chalk, Bubbles, jump ropes, etc)
Drop Cloths
Paint
Spray Paint
Paint Supplies
Bike Accessories
Auto
Outdoor (faucet covers, hose sprayers, etc)
Gardening
Light Bulbs
Straps (& Bungee Cords)
Caulking & Adhesive
CONTAINERS
Finally,  the last challenge you need to address is – where are you going to store the rest of your things?  The large, out of season, & holiday items need a place.  We went with the 18 Gallon White Tote Boxes from The Container Store. They are large, sturdy and look great!  Best of all, they do the job well.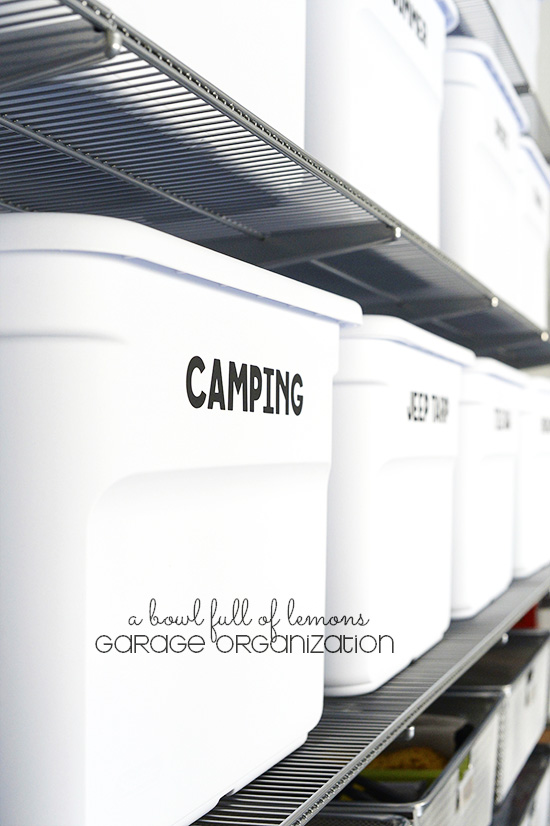 OUR CONTAINER CATEGORIES:
Wreaths
Fall
Travel
Emergency Kits (3)
Beach
Spring
Sports
Tile Saw
Garland
Camping
Electrical
Jeep Tarp
Christmas Lights
Christmas
Christmas Ornaments
Summer
Coolers
Tow Hitch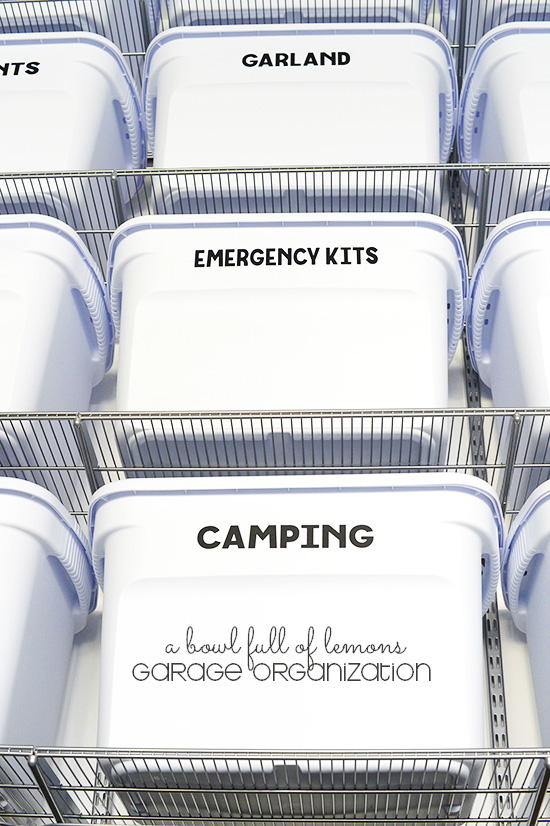 ORGANIZING ON A BUDGET
Organizing can get quite expensive, but don't let cost hinder you from getting your life in order.  Living an organized life is for all budgets.  If you cannot afford an Elfa system, you can find many other systems to choose from – for all budgets.  Don't have any money to spend? Use cardboard boxes and cover them with contact paper.  Then label them with index cards.  Or you can repurpose an old dresser that you're no longer using and paint it to give it new life.  Then label each drawer.  Use your imagination.  The sky is the limit with organizing.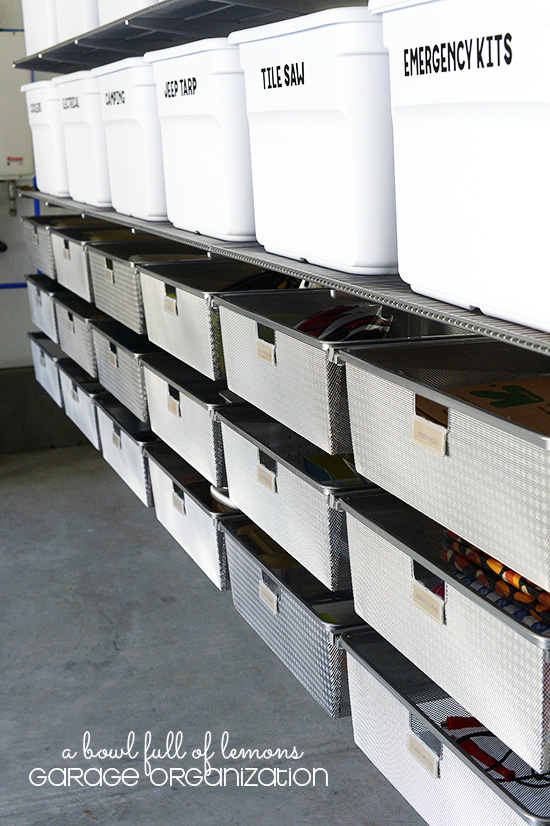 DID SOMEONE SAY SALE?
The Elfa System is on sale at The Container Store for one more week (Ends 10/19).  They also have 25% off installation & you can speak to a design expert for free, to help you figure out a plan.  Designing mine was seamless.  We don't have a Container Store near us so they shipped it to us & we installed it ourselves (It took about 2 hours, from start to finish) For your reference, my shelving is 12 feet wide (3 of the 4ft sections were used for each shelf).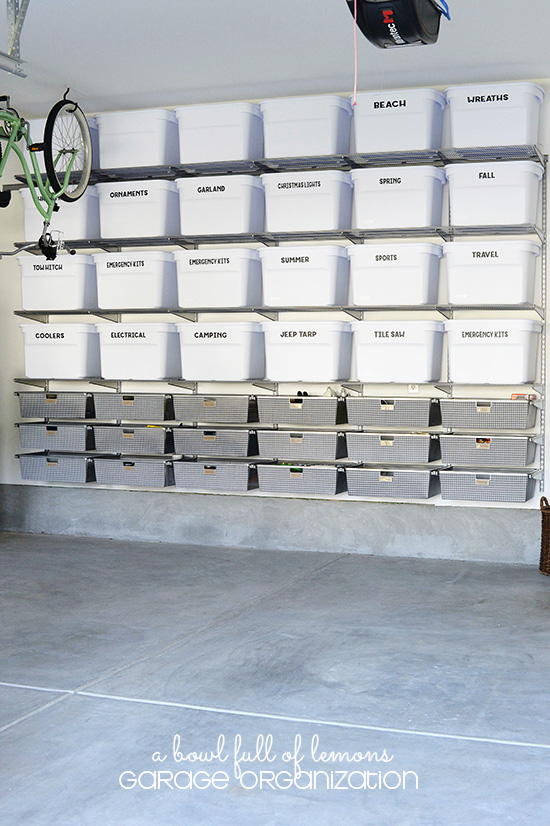 BEFORE THE INSTALLATION
If you're new to my blog, you probably haven't seen what my garage looked like before.  HERE it is.  Huge improvement.   I will be sharing more of my garage organization tips on the blog in the next couple of weeks.  Stay tuned!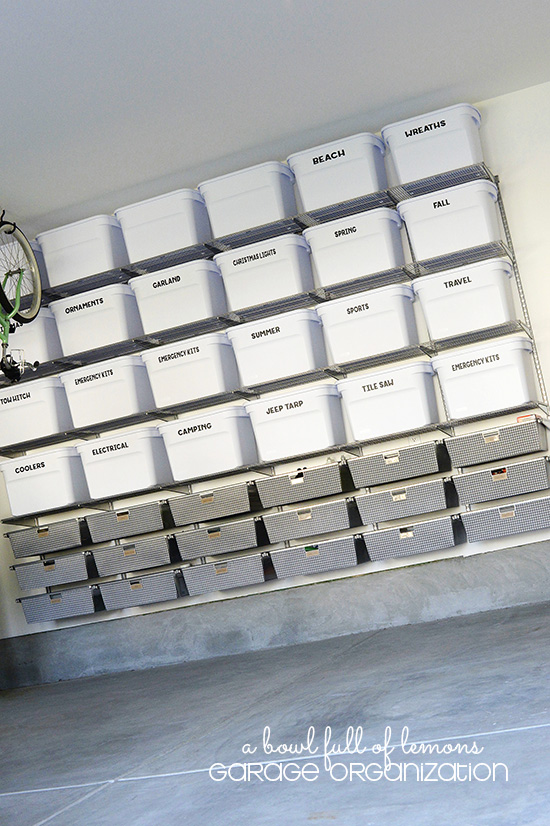 HAPPY ORGANIZING!
Disclaimer: This is a sponsored post by The Container Store. All opinions are my own & I only recommend products or services I use personally and believe my readers will enjoy. I am disclosing this in accordance with the Federal Trade Commission's 16 CFR, Part 255: "Guides Concerning the Use of Endorsements and Testimonials in Advertising.  Please click here for full disclaimer.
Tags: garage, garage organization, organize, our home
Blog, container store, decluttering, Garage, labeling, labels, October 2014, Organize, Review Posted in 34 comments