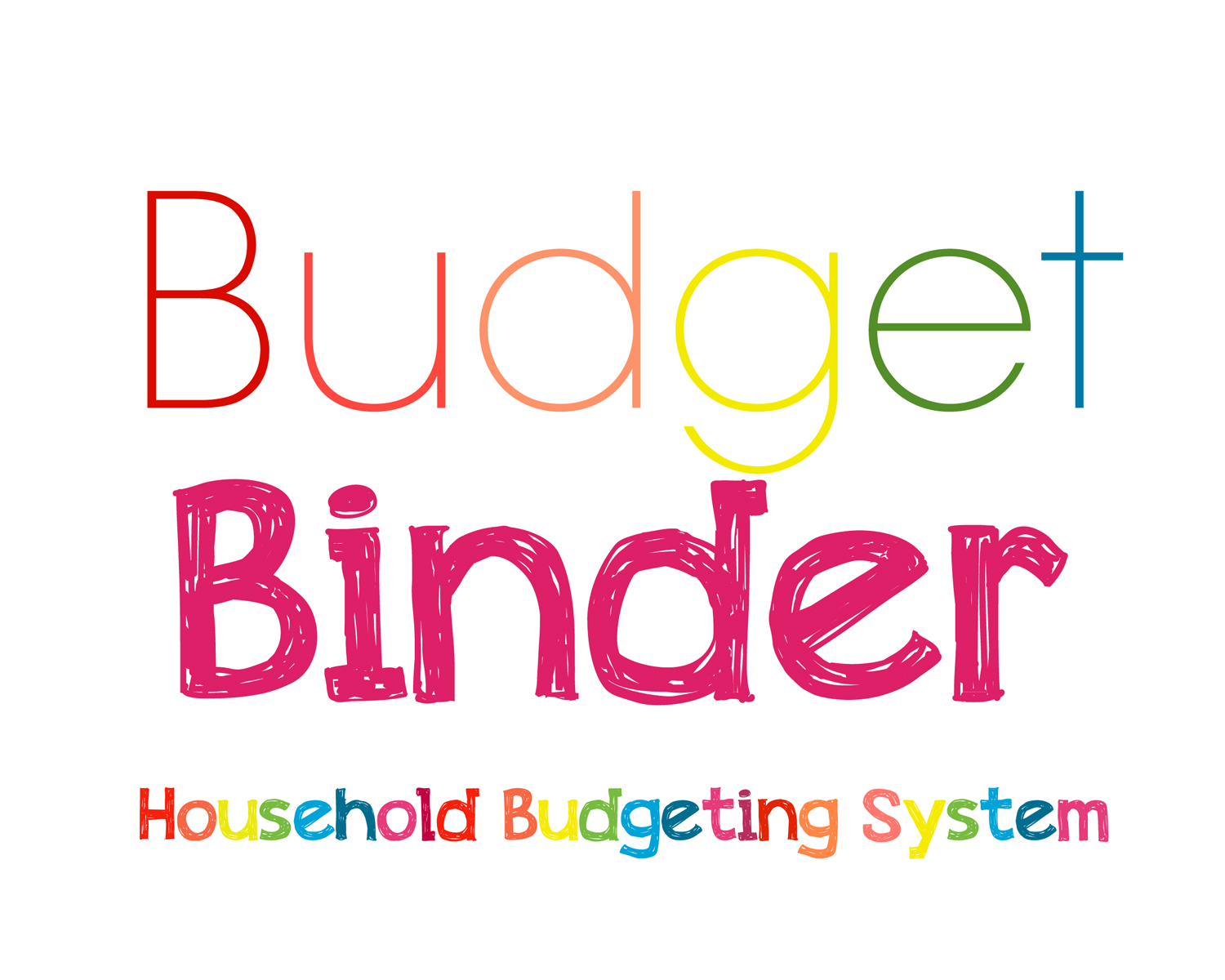 Day 4 – Budgeting Annual & Monthly Expenses
Today we will be going through all of our expenses to calculate the amount due each month (and payday).   If the amount due varies each month, you can either leave it blank or estimate the amount for your budget (I estimate).  Once you get the bill in the mail, you can write in the correct amount.  Always use a pencil for your monthly expenses & Budgets.  This list does not include budgeting for food, gas, and entertainment.  We will go over that tomorrow.  You should already have the "monthly" expenses calculated on your "Monthly Due Date" form from yesterday.  Take those totals and create your budget. Today will be the most confusing part of setting up your budget, but if you can get through this, you will be good to go!
There are 3 forms you will fill out (or create) today,  The Annual Expenses, Monthly Expenses Bills Due, and Monthly "Variable"  Expense forms.  If you purchased the Budget Binder Printables, these forms are all ready for you to fill out.
1. Annual Expenses Form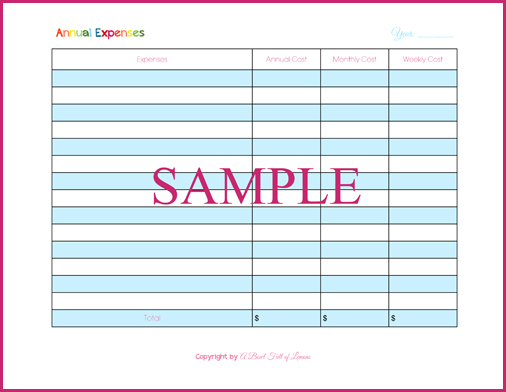 There are some bills or expenses that need paid less often (annually, bi-annually, etc…).  We will figure out the "Annual, weekly & monthly" cost for them.  On a piece of paper, write down all of your annual expenses (examples below).  Now make 3 columns next to them (see Annual Expense form above).  Label each column: annual cost, monthly cost, and weekly cost.  Figure out how much you normally spend in each category. Fill it in.  This is a good visual for how much we are actually spending on Annual monthly expenses. They add up quickly.   You will carry these totals over to the "Monthly Expenses Bills Due" form (below).
Examples of Annual Expenses:
Home Owners Association Fees
Pet Fees
Car Insurance
Homeowners/Renters Insurance
Dental Expenses
Medical Expenses (Co Pays, etc)
Vacation
Easter/Christmas
Birthday Gifts/Parties
Memberships/Subscriptions
School Fees
Property Taxes
Auto Taxes
Pest Control
2. Monthly Expenses (Bills Due) Form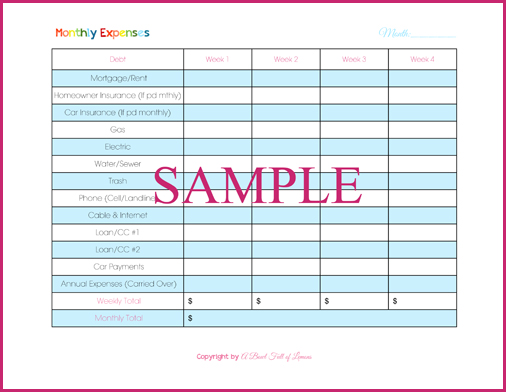 To Calculate your "Monthly Expenses" (Bills Due):
On a piece of paper,  write down all of your monthly debts/expenses (in one column).  If you are paid weekly, make 4 columns beside the bills. If you are paid twice per month, make 2 columns beside the bills.  If you are paid monthly, you only need one column.   See the picture above, for an example of how to set up your form.
Example:  If you are paid weekly, take each expense and divide it by 4.  For example:  If your mortgage is 1000/month, divide it by 4 = $250 per week.  Write down $250 in each weekly column.  That is what you need to save out of each paycheck to budget for your mortgage.  Do this with all bills and total each week at the bottom.  Then you can total all 4 weeks to give you the monthly expense amount.  If you budget this way, you will be averaging out all of your expenses so you will take out the same amount each payday.  You will no longer have paydays where the money is gone because you had to take all of the mortgage out in one payday. This will alleviate the stress!
Examples of Monthly Expenses:
Mortgage/Rent
Homeowners Insurance (If pd monthly)
Car Insurance (If pd monthly)
Gas
Electric
Water/Sewer
Trash
Phone
Cable
Internet
Loans
Credit Cards
Car Payments
Annual Expenses (Carried over)
3. Variable Expenses: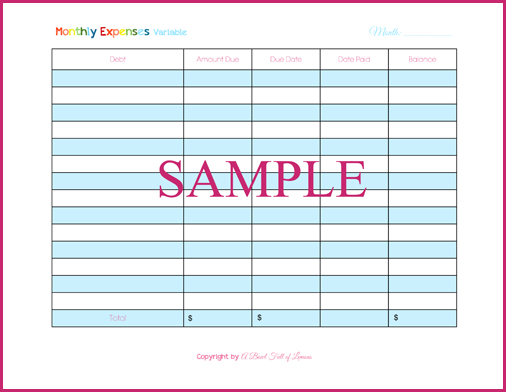 If there are unexpected expenses that need to be paid, you can pay them by one of 2 ways.  You can use money from your Emergency Fund ($1000 set aside for unexpected expenses) which is the preferred method, or you can budget them into your monthly expenses.  To budget them in, follow the same directions as your regular expenses.  Write them down on your Monthly Expenses form and divide by the # of weeks you get paid each month.  To keep track of variable expenses that have been paid, you can write them down on a separate sheet of paper (see example above).  Write down the debt, amount due, due date, date paid, and any remaining balance (in separate columns).
*Place the Annual Expenses form inside the "Annual Expenses" tab & place the Monthly Expenses Bills Due & Variable Expenses forms inside the "Monthly Budget" tab.
Keep in mind:
When you budget out your annual expenses with your weekly paycheck, make sure to "pay" this budgeted amount to a savings account.  Do not touch this money. It's so easy to "borrow" from this account if you are short on funds, but DONT do it!  This isn't an emergency fund. This is money already spent but just set aside. You should already have a $1000 emergency fund for unexpected emergencies.
Tomorrow we will be finishing off the series by setting up a monthly budget for groceries, gas, etc…


To start at the beginning of the Budgeting series, click below…
Day #1 – Assemble your Binder
Day #2 – Record of Accounts & Monthly Due Date Schedule
Day #3 – Income & Debt Tracking


BUDGET BINDER PRINTABLES
If you want to save yourself a lot of time, you can purchase A Bowl Full of Lemons"Household Budgeting System".   It's includes everything you need to create a successful budget.  This system goes hand in hand with my budgeting series.  Visit (here) & take a closer look at the system.  If you do not want to purchase, you can still follow along with the series and write out everything for your budget, on paper. It works just as well.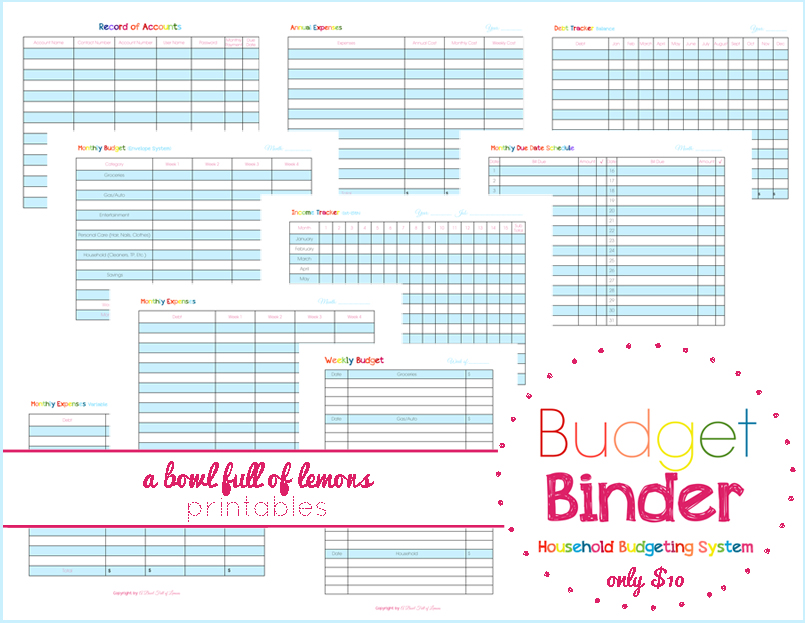 Tags: budget, budgeting, finances, household budgeting
Blog, Budget, Budget Binder Series, budgeting, finances, Household Budgeting Series, May 2013, Organize, organize your finances, Planners & Binders Posted in 17 comments