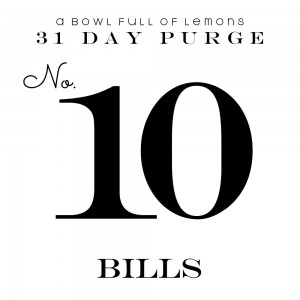 Today isn't the most exciting purge, but it's one that's probably the most important.  Don't skip it because you are overwhelmed or knee deep in debt.  Face the task head on and get it done!  You can do it!  Today is the day.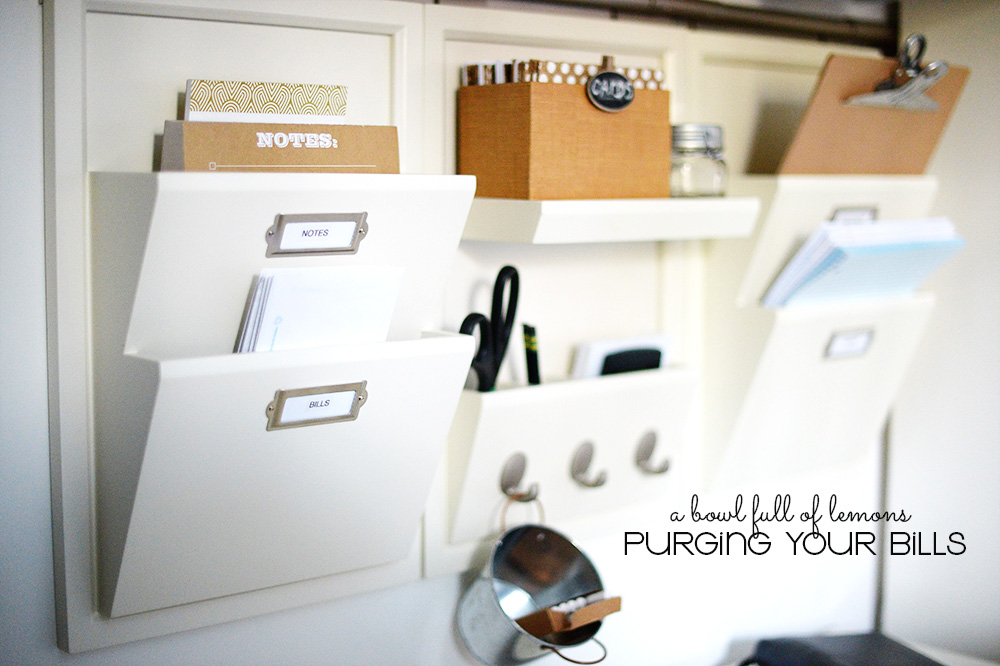 Purge Day 10:  Bills
Task:  Take a deep breath.  Now pull out your stack of bills and place them on the kitchen table.  Sort through each bill, purging duplicate copies, trash, anything out dated, etc.  Make sure to shred personal information, as you compete this task.  If you pay your bills online, toss all envelopes (if applicable).
Create the following piles…
Due. Need to pay.
Paid. Need to file.
Shred. No longer needed.
Once you are finished sorting through all of your bills & making 3 piles,  immediately take action!  Shred what needs shredded.  File away what needs filed and pay what needs paid. If its not time to pay, or you don't have the money to pay them yet, place the bills in a designated spot in your house.  I keep mine in my office, tucked in my wall organizer.  Once you are finished, you shouldn't have any papers left.  That's it!  It wasn't too bad, right?  Take another deep breath.  You are ready to move on to day 11.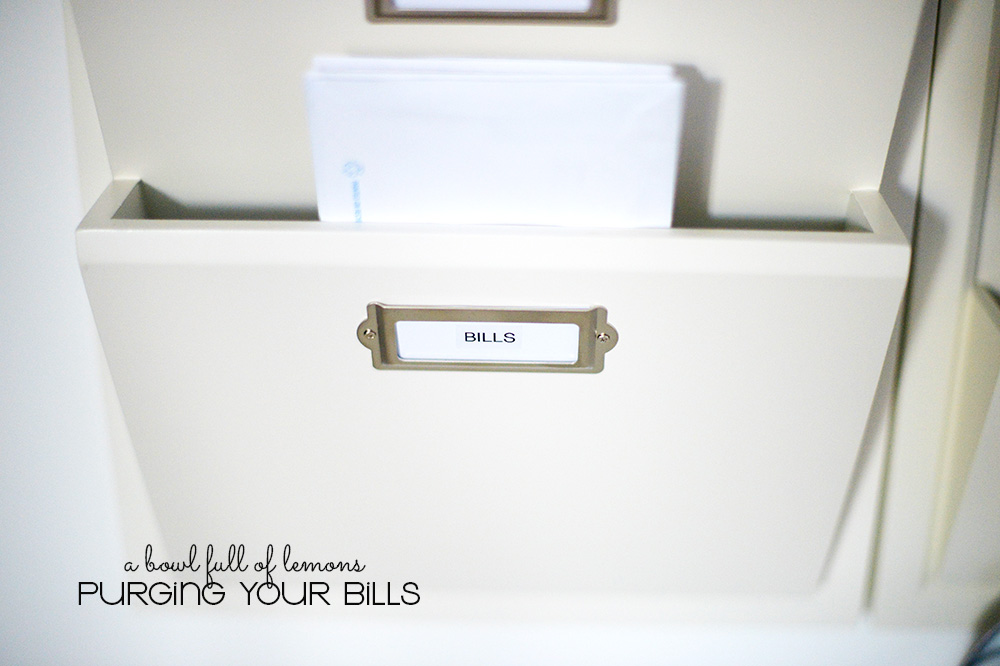 Organizing Tips:  If you have time and want to keep going, here are some things you can do to organize your "Bills".
Create a Budget Binder, to keep track of all bills & finances. This will help you get out debt.
 Set up Automatic/Online Bill Pay. (Log into your bank to do this)
Set up paperless accounts with each creditor. (Log into each account & choose "paperless")
If you claim any of your bills on taxes, set up an organized filing system to keep track.
You can also set up a "Bill Payment Center" like this one here.
If you are new to the purge, start at the beginning HERE. Don't forget to share your purge pictures on Instagram using the hashtag #abfol31daypurge.
HAPPY PURGING!
Tags: 31 day purge, bills, budgeting, declutter, finances
31 Day Purge, Blog, Budget, budget box, budgeting, decluttering, finances, October 2014, Office, Organize, purging clutter Posted in 8 comments