Welcome to week 2 of A Bowl Full of Lemons 14 Week Organizing Challenge.  This week we are taking a break from the kitchen and concentrating on the laundry room.  If you haven't yet completed it, I suggest you finish the kitchen, putting everything away, before you start on this area.  You don't want to become overwhelmed with clutter in your house.
If this is your first time participating in the challenge,  welcome!  Each week, you will receive a new challenge & you will have 7 days to complete it.  If you are not subscribed to my blog & want reminders for the weekly challenges, you can sign up here.  The first thing you need to do is print out your 14 Week Schedule.  You can hang it on your fridge and check it off as you go.  Print it out here.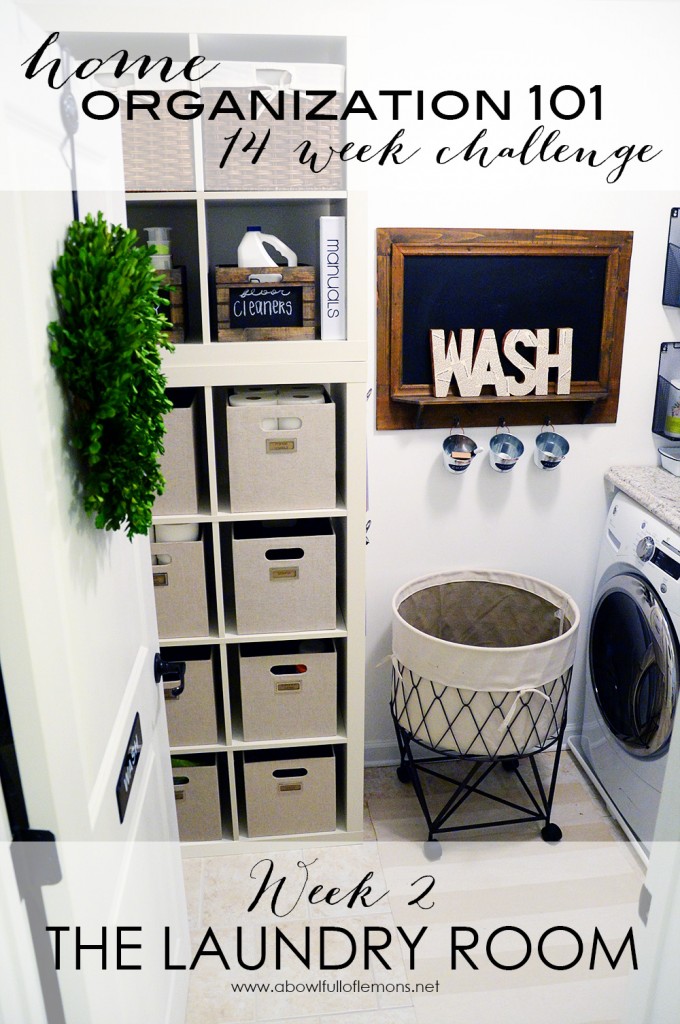 WEEK #2 TASK – The Laundry Room:
I love my laundry room, but that hasn't always been the case. It's taken me some time to get it just the way I like it.  Complete the challenge this week & you can create a space that's functional & visually appealing to you. For some of you this may be an easy task, but for others it will be difficult to complete, with the mountains of laundry that are in your way.  This week, I challenge you to clean your laundry room from top to bottom, finish all of the laundry, and organize the space for functionality.  If you don't have a laundry room, clean out the area where you keep your laundry supplies.  To begin the process and in order to be fully organized, everything should be emptied out of the space, so you can see it clearly and start fresh.  Its time to clear the clutter.

WEEK #2 CHECKLIST:  (Print out the checklist HERE)
1. EMPTY – Empty out the ENTIRE laundry room.  Everything but the washer & dryer must go.
2. PURGE – Purge anything that doesn't belong.  Toss empty detergent bottles, trash, donate unwanted or un-needed items and put things away.
3. CLEAN – Pull out the washer/dryer and vacuum behind it.  Clean out the dryer vent.  Wipe down the outside of the washer and dryer.  Clean out the washer. Pour 1 cup of bleach into the drum, then run a full wash cycle on the hottest setting (empty).  Wipe down all shelving, walls, baseboards, doors, switch plates & dust the light.
4. ORGANIZE – After the laundry room is clean, it's time to put everything away.  Organize your laundry supplies, using bins, baskets, etc. Keep in mind, if you haven't used something in the last 12 months, purge it. Don't put it back in the laundry room.  Label each container.
Examples:
Laundry soap
Stain remover tools
Cleaning cloths
Pet items
Cleaners
Trash Bags
Mopping Pads
Cleaning Tools
Dryer Sheets
Paper Towels
Vacuum Bags
Sewing Misc.

5.  LAUNDRY – Wash, dry, fold & put away all laundry.  Finish every load!
6.  CLEANING CADDY
– Put together a
cleaning caddy.
 Place all necessary household cleaners in it.
7. DECORATE – Finally, you can decorate your laundry room to make it more inviting.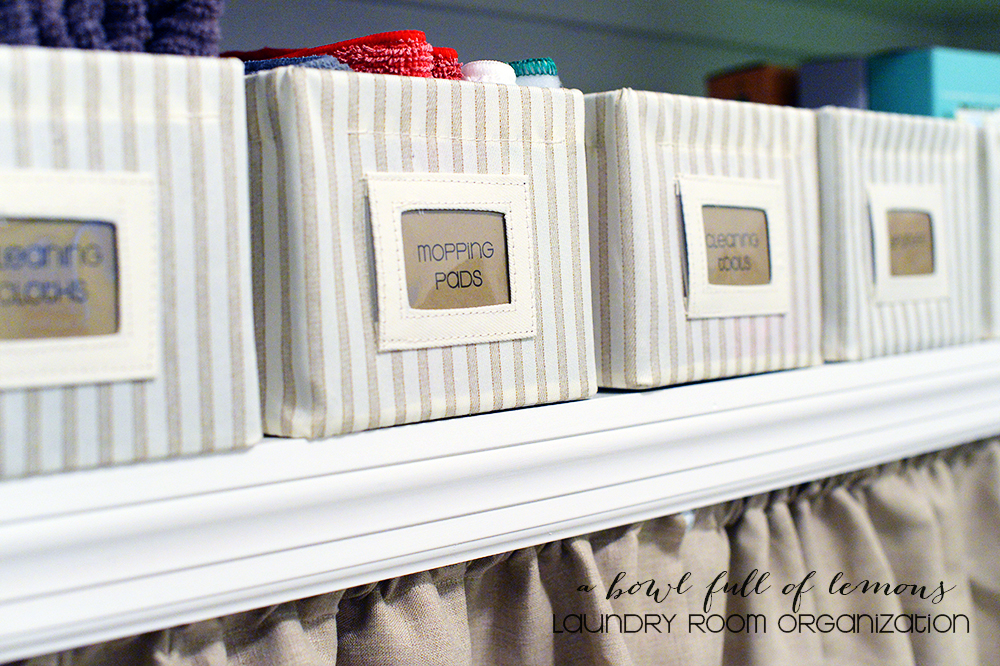 Here are several blog posts that will inspire you to get your laundry room organized.
1. Laundry Room Organization – 2014
2. How to put together a cleaning caddy.
3. Laundry Room Organization – 2012
5. How to clean your washing machine 
6. Daily Cleaning: The Laundry
HOW TO SHARE:
Share your progress on Instagram using the hash tag #abfolorganizechallenge, blog about the weekly challenges – sharing your before and after pictures and/or share over at my Home Organization 101 group here.  Hold yourself accountable and finish all 14 challenges!
NEW TO THE CHALLENGE?
If you are just joining us, visit the challenge details page here, to learn what it's all about.
CHALLENGES:
Week 1:  The Kitchen
HAPPY ORGANIZING!
 I'll see you back next week for another organizing challenge.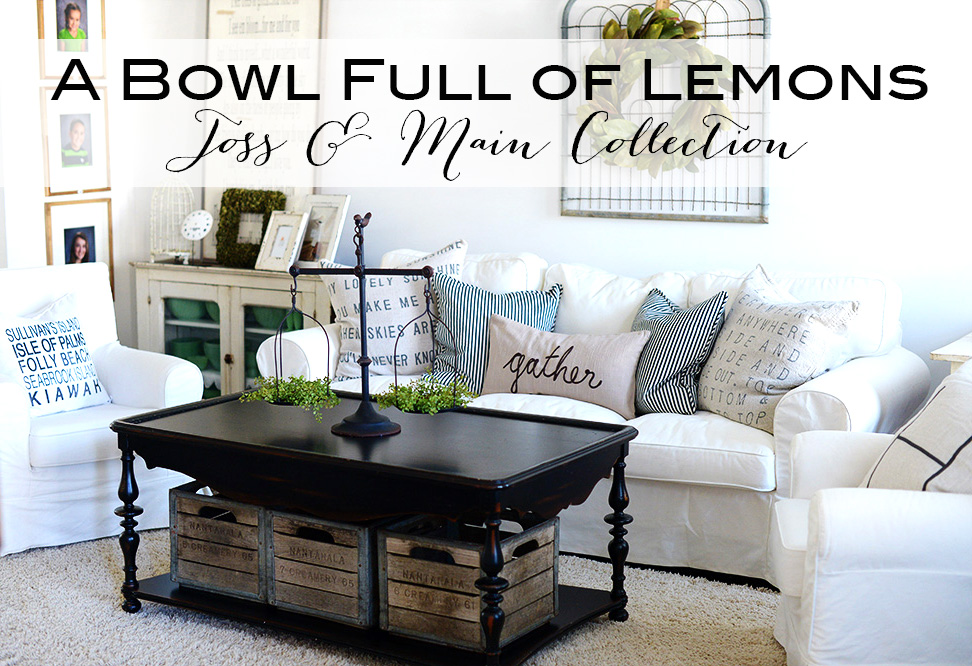 DON'T FORGET:
A Bowl Full of Lemons Joss & Main Sale ends on 1/13 at 9pm.  Visit my home collection here!
Tags: 14 week challenge, laundry room
14 Week Challenge, 2015 Home Organization 101, Blog, January 2015, Laundry Room, Organize Posted in 9 comments