Welcome back to the 2016 Home Organizing challenge. This week, we're cleaning, purging, and organizing the master bedroom.  I challenge you to clean your room from top to bottom, purging as much as possible, so you can create a master bedroom sanctuary.  This space should be a place for relaxation, not stress.   Keep in mind that we are not cleaning out the closet this week, only the bedroom.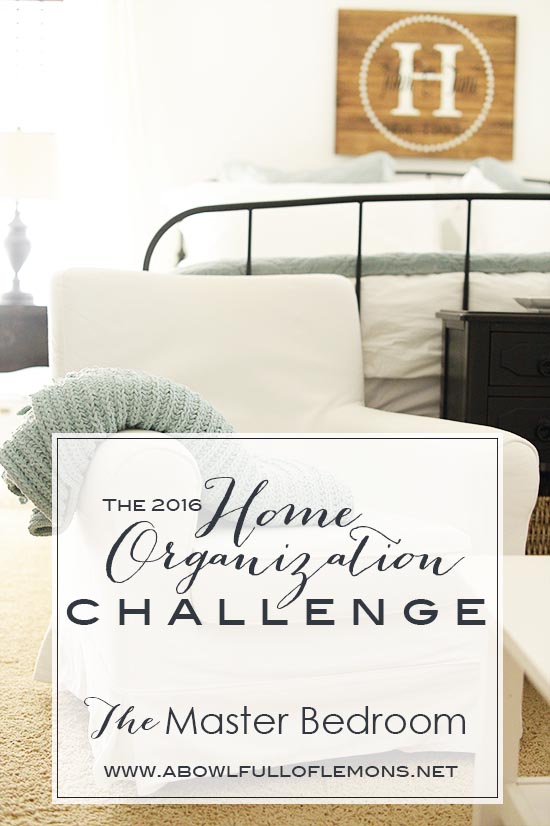 If you are new to the challenge, look over the details then begin working at your own pace.  For encouragement, join our Home Organization 101 Facebook community and share your progress or struggles. Or simply look through the photos and read how others are doing. If you're on Instagram, share your progress using the hashtag #2016abfolchallenge.  Don't forget to print out the complete 14 week schedule and checklists below.
THE COMPLETE BOOK OF HOME ORGANIZATION
For the perfect companion guide to our challenge, purchase The Complete Book to Home Organization. It includes all 14 weekly challenges as well as tons of pictures and tips that will help you organize your spaces each week. No need to log onto the computer for inspiration, this manual has it all!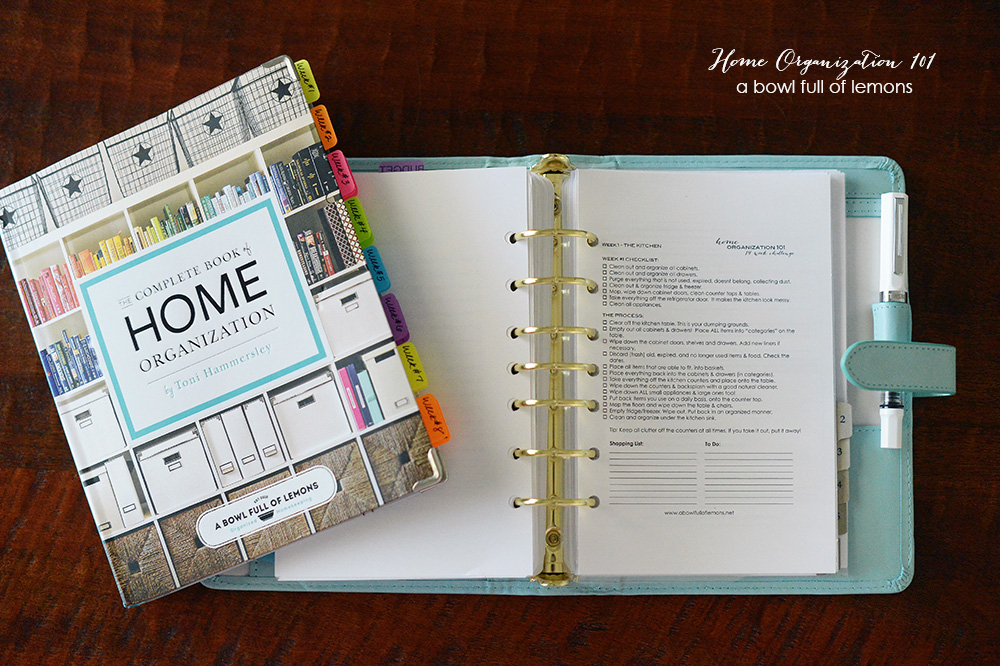 THE MASTER BEDROOM
Our bedroom is peaceful, calming, and most importantly, free of clutter. I've removed un-necessary items that don't belong and donated as much as possible to charity.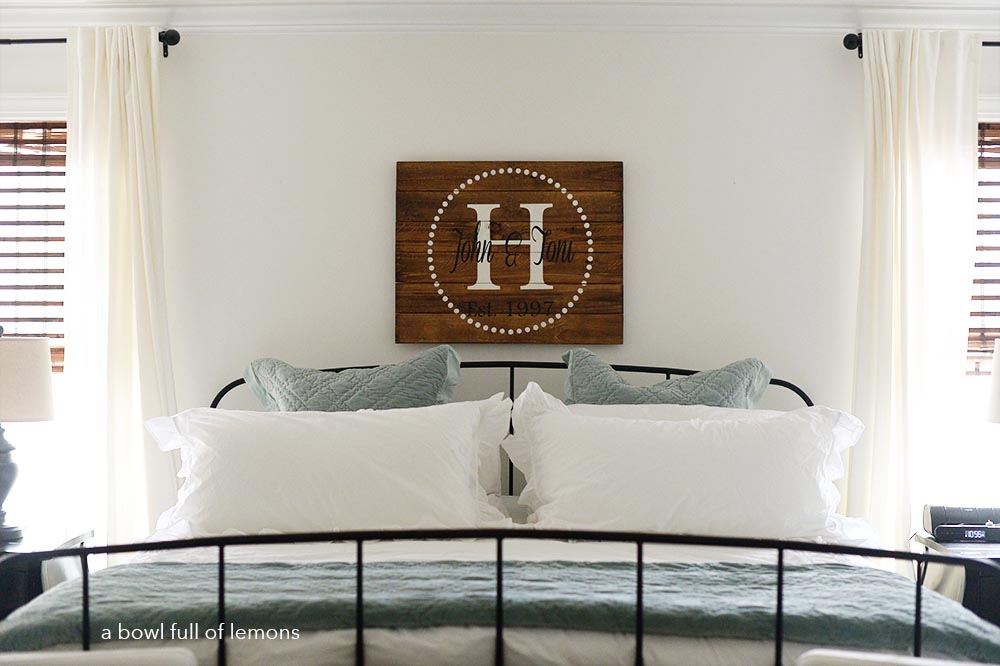 Our master bedroom is large so we have enough space for a sitting area. We unwind in these chairs at the end of the day.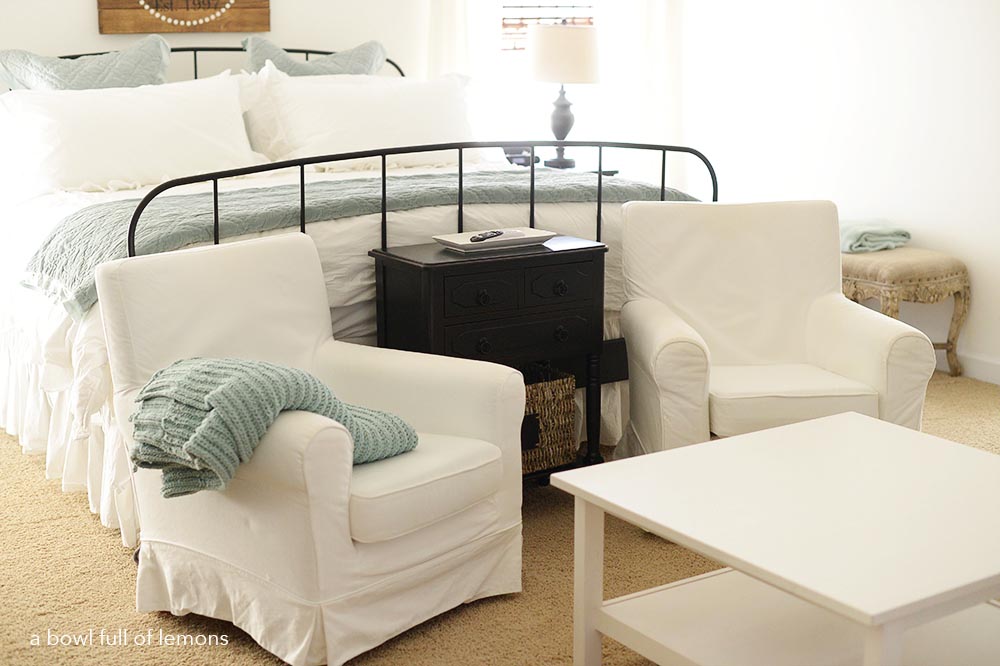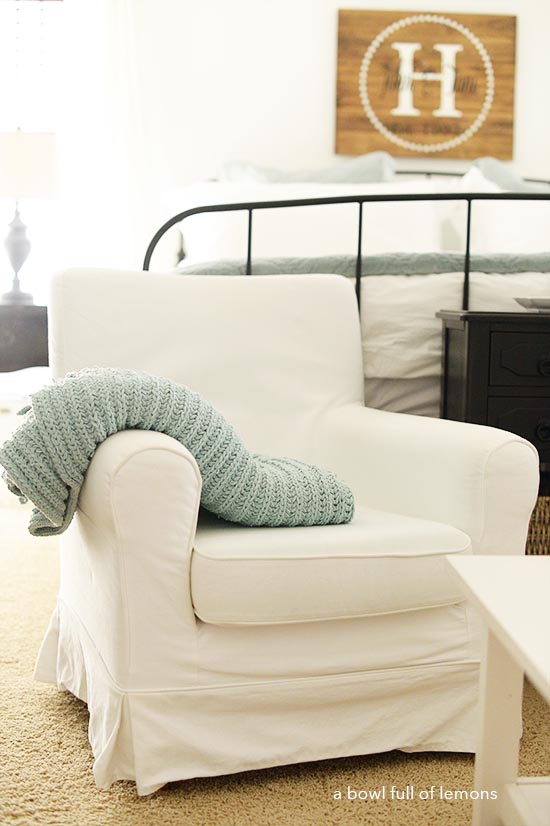 I've purged about 50% of my books and have decided to purchase the majority of new books digitally from now on.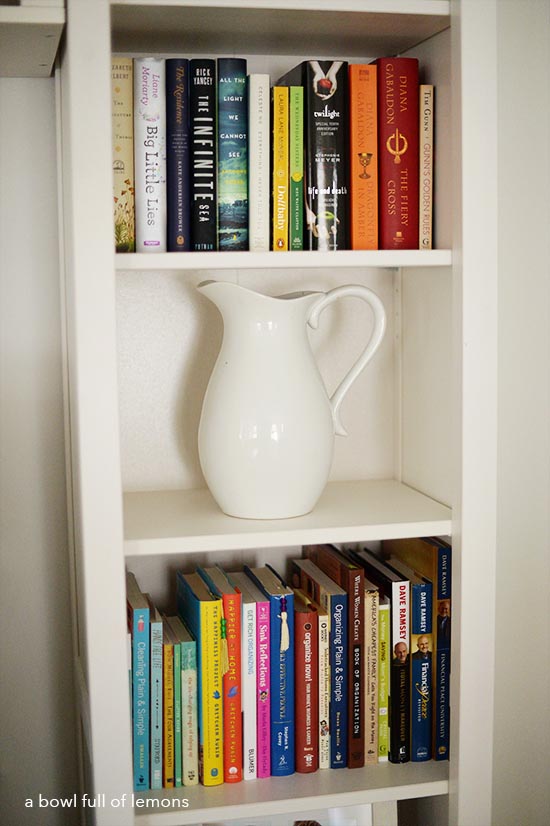 To eliminate clutter, I have removed everything from the top of our dresser, with the exception of our essential oil diffuser. It's much easier to clean. Every once in a while, I place fresh flowers in a vase in front of the mirror.  A clear dresser and a properly made bed makes a huge difference.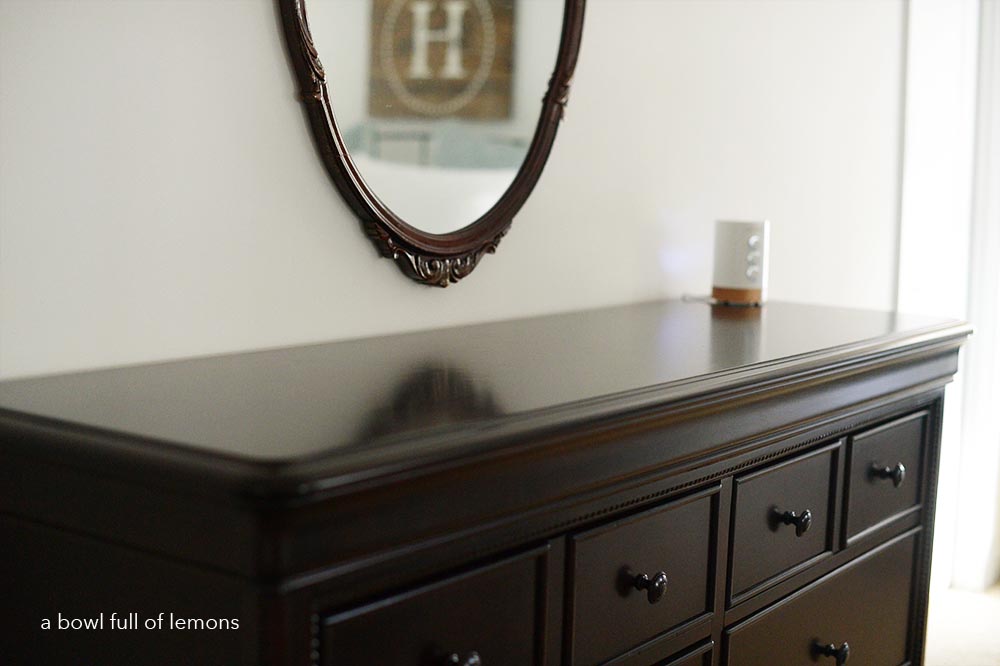 We keep our nightstands free from clutter and use white linens to create a calming atmosphere.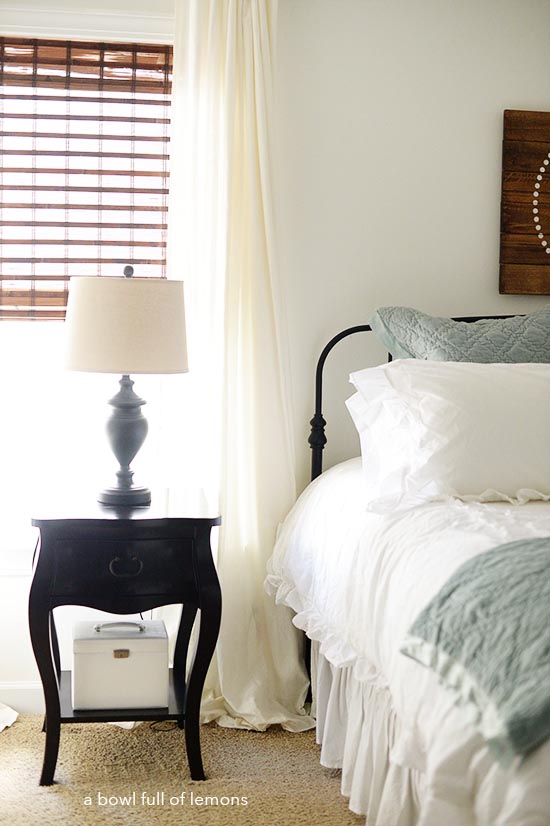 This week, I challenge you to purge as much as you can BEFORE you begin the organization process. When purging, ask yourself these three questions: Do we use it? Do we need it? Can we live without it?
THE ORGANIZING PROCESS
1.  PREPARE:  Collect 5 laundry baskets/boxes and label as follows.
Keep – Everything that stays in the room.
Trash – Things that need tossed in the trash (or recycled).
Donate – Everything that you are donating or giving to someone else.
Clothes – ALL clothes that stay in the room.
Other – Everything that goes to another room in the house.
2.  SORT:  Concentrating on one hot spot at a time, empty the space completely.
Under the bed – Pull everything out and sort it into the baskets. Try to keep this space empty and free of dust!
Dresser drawers – Pull out all of the clothes and empty onto the bed. Sort through each piece of clothing.  Does it fit? Do you still wear it?  If not, donate it! Fold and place the clothes back into the drawers (like items together).
Night Stands – Empty out the drawers and the top of the stand. Clean it off, wipe it down, and only put back the necessities back!
Dresser top – Clean it off, going through each item thats on there.  Sort though using the basket system.  Wipe clean and put back only necessary items.  This is a clutter hot spot. This is the first area people notice when walking into the bedroom! Try to keep it clear of the clutter.
All other hot spots in the room – Using the basket system, go through what's left of the room.
3.  CLEAN:
Clean the windows, blinds & mirrors
Wipe down doors, baseboards, doorknobs and switch plates
Dust Dressers & nightstands
Vacuum
Wash Bed Linens, curtains, bedskirt
Vacuum mattress/flip mattress
Wash pillows, sheets & comforters
Clean ceiling fan & lighting
4.  ORGANIZE:  Once its all clean, you are ready for the fun part – organizing! This is an important step if you want to keep your room clean. Use baskets and bins to categorize items.
ORGANIZING INSPIRATION
Here are several blog posts that will inspire you to get your master bedroom organized.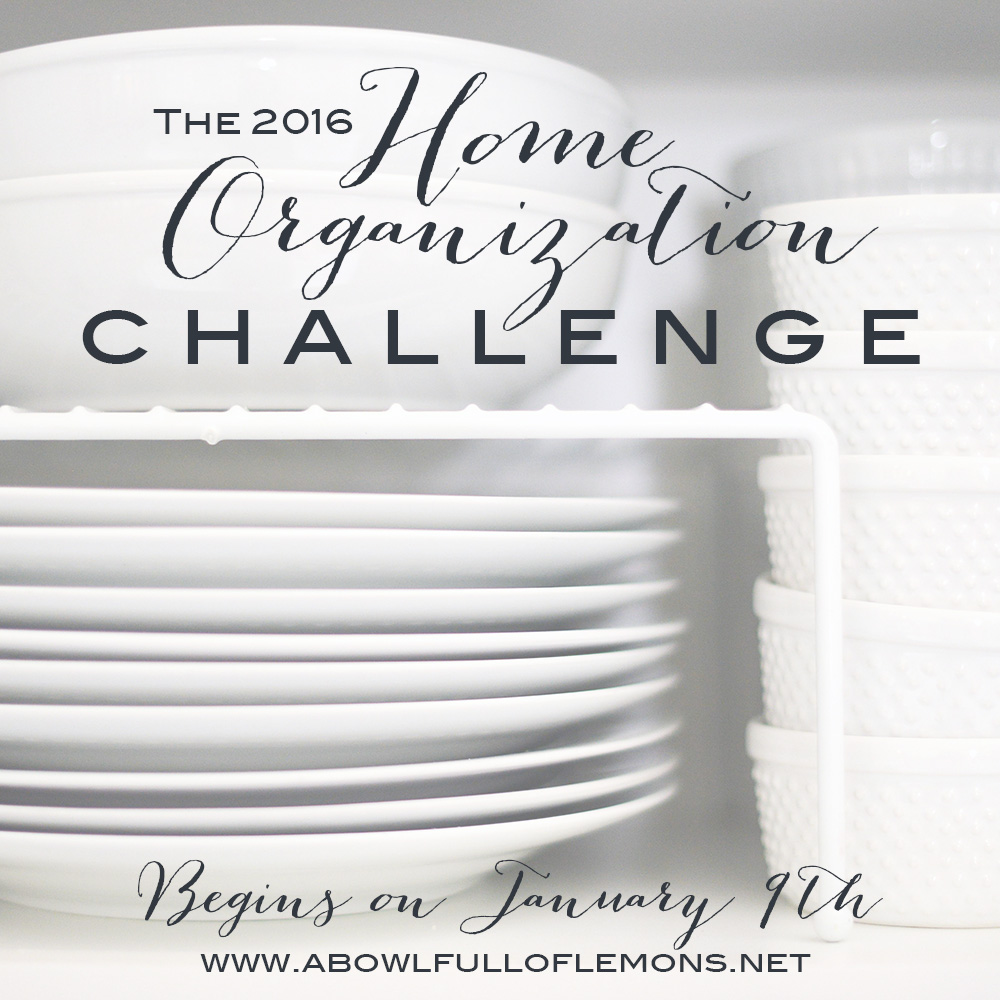 2016 HOME ORGANIZATION 101 SCHEDULE
Week 6 (2/13/16) – Master Bedroom
Week 7 (2/20/16) – Master Closet
Week 8 (2/27/16) – Kids Closets
Week 9 (3/5/16) – Linen Closet
Week 10 (3/12/16) Bathrooms
Week 11 (3/19/16) – Office
Week 12 (3/26/16) – Playroom/Toys
Week 13 (4/2/16) – Laundry Room
Week 14 (4/9/16) – Garage
Week 15 (4/16/16) – Car (Bonus Week)
Take some time this week purging the clutter from your master bedroom.  Share your progress on Instagram using the hash tag #2016abfolchallenge, blog about the weekly challenges, and  share your before and after pictures over at my Home Organization 101 group here.  Keep up the great work. You can finish all 14 challenges! I can't wait to see what you accomplish.  Good luck. I'll see you back next week for week 7 of the challenge. Happy Organizing!
~Toni
Tags: home organization, master bedroom, organized
2016 Home Organization 101, 2016 Home Organization Challenge, Bedrooms, Blog, February 2016, Organize Posted in 10 comments