The countdown continues into week 3 of A Bowl Full of Lemons 14 Week Organizing Challenge.  Last week, we took a break from the kitchen to tidy up our Laundry Rooms.  Today we are back in the kitchen to finish up the pantry (as well as the kitchen, if it's not finished yet).  If you don't have a pantry,  you can still participate by organizing your food cabinets.  Everyone has those!
If this is your first time participating in the challenge, welcome! Each week, you will receive a new challenge & you will have 7 days to complete it. If you are not subscribed to my blog & want reminders for the weekly challenges, you can sign up here. The first thing you need to do is print out your 14 Week Schedule. You can hang it on your fridge and check it off as you go. Print it out here.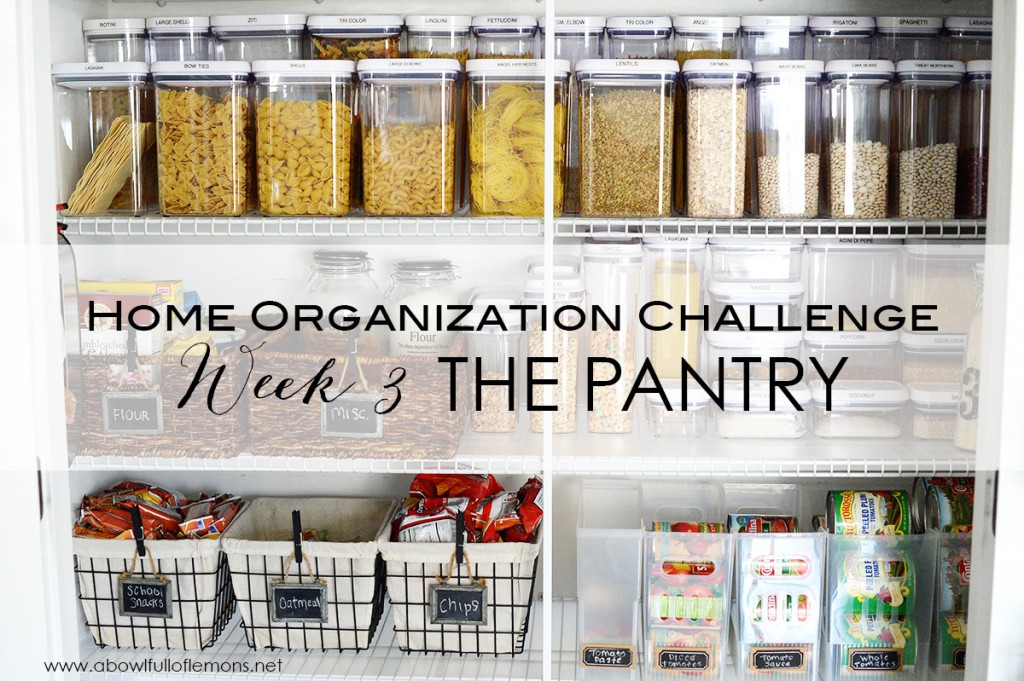 WEEK #3 TASK – The Pantry:
This week should be a bit easier than the previous two weeks (hopefully).  We are cleaning out and organizing the pantry!  I split up the kitchen into 2 parts because I think the pantry is a separate job itself!  I didn't want you to get overwhelmed from being in the kitchen for two weeks straight.  Follow the steps below, to get your pantry organized!
WEEK #3 CHECKLIST: (Print out the checklist HERE)
1.  PLAN
– Before starting, make sure you have a good supply of boxes, bins & 
food containers
. You will need them.  If you do not have any, simply organize your pantry into "categories".
2.  SET UP – If you are using them, line up your empty bins, baskets & containers onto the kitchen table. If you don't have any, you can still separate your food into 'categories' on the table.
3. PURGE & ORGANIZE
 – Take everything out of your pantry.  Check the expiration date and throw out expired or no longer used items.  Place "like" items in the baskets on the table. Organizing your food into categories (bins) will help keep your pantry looking nice and neat.  (Categories to consider: School, Breakfast, Pasta, Baking, Sauce, Bread, Snacks, Sides, etc.)  You can also empty bags & boxes into
OXO containers
 or mason jars for a more uniform look.  If the unused food isn't expired, you can donate it to a local food pantry.
4. CLEAN –  Once you are finished organizing everything into categories, you can wipe out your pantry, then sweep & mop the floor.  You want it all nice & clean before you put everything away.
8.  PUT AWAY – Place all of your neatly organized bins, boxes, and containers back into your pantry.
9. LABEL – Label each bin & container with a labeler or hang a tag on the baskets.
*This is only a guide to help get you started. Customize your pantry to fit the needs of your family.

Here are several blog posts that will inspire you to get your pantry organized.
HOW TO SHARE:
Share your progress on Instagram using the hash tag #abfolorganizechallenge, blog about the weekly challenges – sharing your before and after pictures and/or share over at my Home Organization 101 group here. Hold yourself accountable and finish all 14 challenges!
NEW TO THE CHALLENGE?
If you are just joining us, visit the challenge details page here, to learn what it's all about.
CHALLENGES:
Week 1: The Kitchen
Week 2:  The Laundry Room
HAPPY ORGANIZING!
I'll see you back next week for another organizing challenge.
Tags: home organization 101, pantry
14 Week Challenge, 2015 Home Organization 101, Blog, January 2015, Kitchen, Organize Posted in 13 comments