Welcome to week 4 of A Bowl Full of Lemons 14 Week Organizing Challenge. This week we will be freshening up our master bedrooms.  This space is our sanctuary and it should be clean, de-cluttered, and inviting.  Does your master bedroom fit any of those categories?  If not, join us this week and get your room organized!
If this is your first time participating in the challenge, welcome! Each week, you will receive a new challenge & you will have 7 days to complete it. If you are not subscribed to my blog & want reminders for the weekly challenges, you can sign up here. The first thing you need to do is print out your 14 Week Schedule. You can hang it on your fridge and check it off as you go. Print it out here.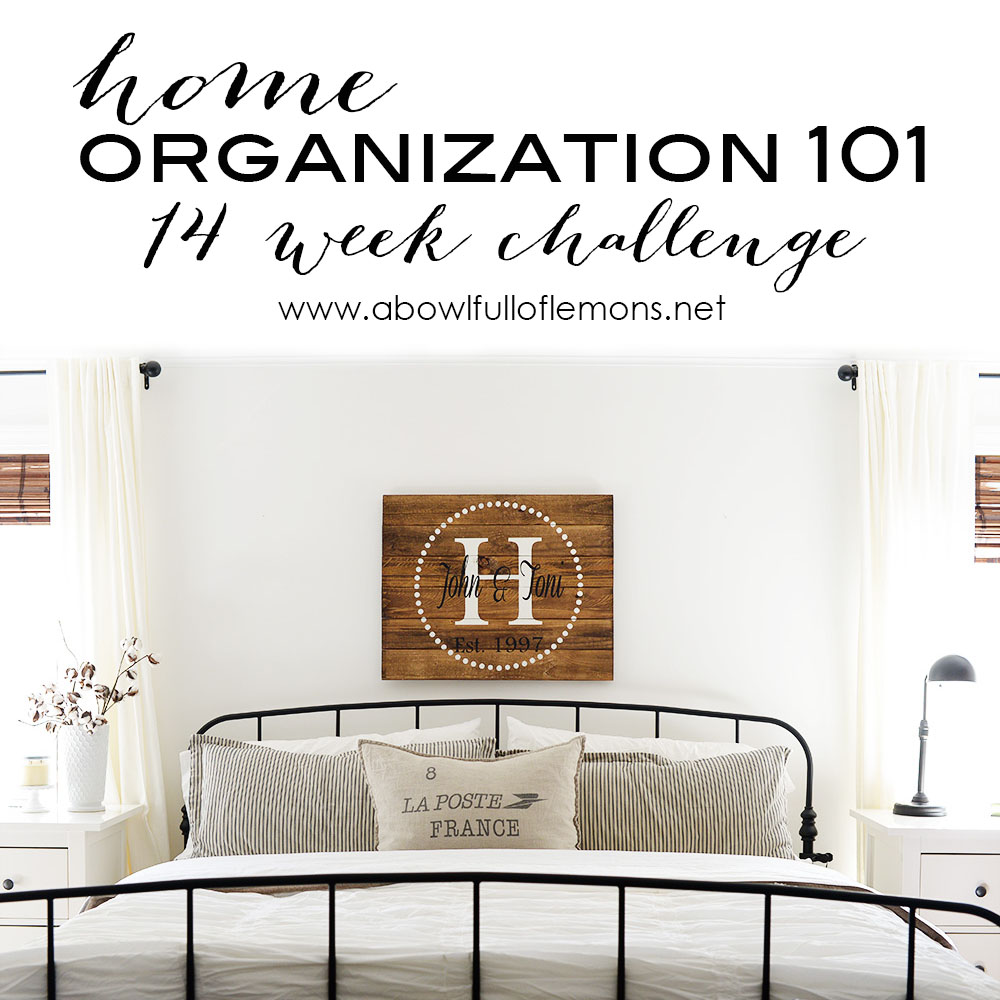 WEEK #4 TASK – The Master Bedroom:
This week we are cleaning and organizing our master bedrooms.  I challenge you to clean your room from top to bottom, organizing it, and creating a master bedroom sanctuary.  This space should be a place for relaxation, not stress.   We are NOT cleaning out the closet this week… only the bedroom.  Have fun!
WEEK #4 CHECKLIST: (Print out the checklist HERE)
1.  PREPARE:  Find 5 laundry baskets/boxes and label them with a piece of paper…
Keep – Everything that stays in the room.
Trash – Things that need tossed in the trash (or recycled).
Donate – Everything that you are donating or giving to someone else.
Clothes – ALL clothes that stay in the room.
Other – Everything that goes to another room in the house.
2.  SORT:  Concentrating on one hot spot at a time, empty the space completely.
Under the bed – Pull everything out and sort it into the baskets. This space should be empty!
Dresser drawers – Pull out all of the clothes and empty onto the bed. Go through each piece of clothing.  Does it fit? Do you still wear it?  If not, donate it! Fold and place the clothes back into the drawers (like items together).
Night Stands – Empty out the drawers and the top. Clean it off, wipe it down, and only put back the necessities back!
Dresser top – Clean it off, going through each item thats on there.  Sort though using the "basket system".  Wipe down and put back only necessary items.  This is a clutter hot spot. This is the first area people notice when walking into the bedroom! Try to keep it clear of the clutter.
All other hot spots in the room – Using the "basket system" go through whats left of the room.
3.  CLEAN:
Clean the windows, blinds & mirrors
Wipe down doors, baseboards, doorknobs and switch plates
Dust Dressers & nightstands
Vacuum
Wash Bed Linens, curtains, bedskirt
Vacuum mattress/flip mattress
Wash pillows, sheets & comforters
Clean ceiling fan & lighting
4.  
ORGANIZE:
 Once its all clean, you are ready for the fun part!  Its time to organize!  This is an important step if you want to
keep
your room clean. Use baskets and bins to place "like" items together.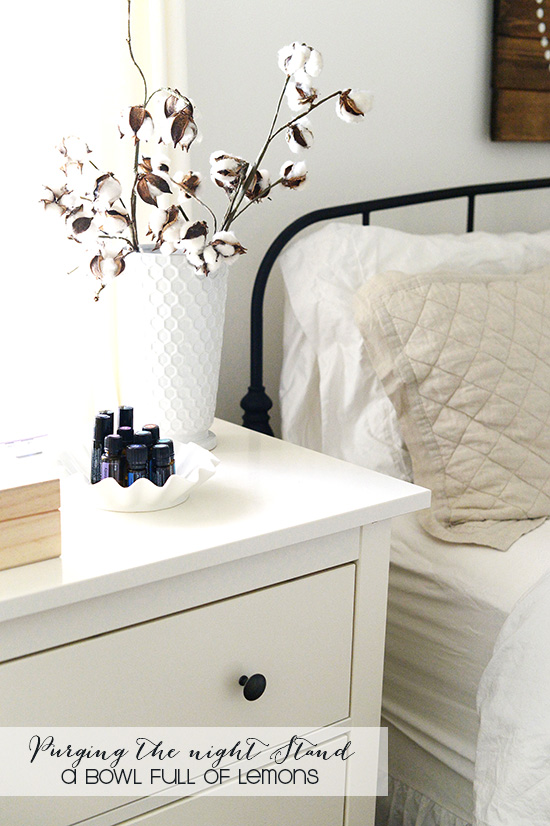 Here are several blog posts that will inspire you to get your Master Bedroom organized.
1.  Master Bedroom Organization
HOW TO SHARE:
Share your progress on Instagram using the hash tag #abfolorganizechallenge, blog about the weekly challenges – sharing your before and after pictures and/or share over at my Home Organization 101 group here. Hold yourself accountable and finish all 14 challenges!
NEW TO THE CHALLENGE?
If you are just joining us, visit the challenge details page here, to learn what it's all about.
CHALLENGES:
Week 1: The Kitchen
Week 2: The Laundry Room
Week 3:  The Pantry
HAPPY ORGANIZING!
I'll see you back next week for another organizing challenge.
Tags: 14 week challenge, master bedroom, organization, organize
14 Week Challenge, 2015 Home Organization 101, Bedrooms, Blog, Free Printable, January 2015, Organize Posted in 6 comments