Hi friends. If you are here today, that means you haven't given up and you are pushing through the chaos. Good for you! We are in full swing of the 2018 Home Organization challenge and you are doing an amazing job! If you're new to the challenge, so far we've organized the kitchen, pantry, dining room, and created a launch pad. This week, we're clearing the clutter and organizing the living room. If your living room is well lived in, you probably have a lot to do this week. Set aside a few hours and concentrate on purging things you no longer use or need. I've set up a simple process for you to follow. Have a great week!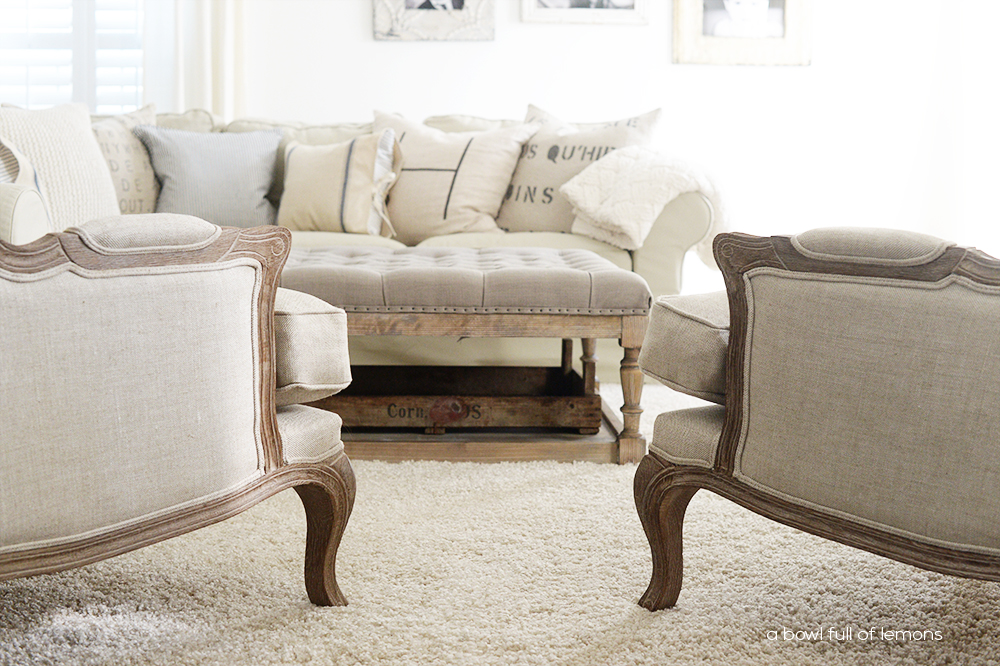 If you're new to the challenge, print out the schedule and checklists below and begin on the current week. You can work your way back, as time allows. For encouragement, join our Home Organization Facebook community to share your progress, or struggles, or questions. Or simply look through the photos and read how others are doing.
PRINT –>  Free Challenge Kit

For the perfect companion guide to our challenge, purchase The Complete Book to Home Organization. It includes all 14 weekly challenges as well as a ton of inspiration and tips about the spaces we will be organizing. No need to log onto the computer for ideas, this manual has it all!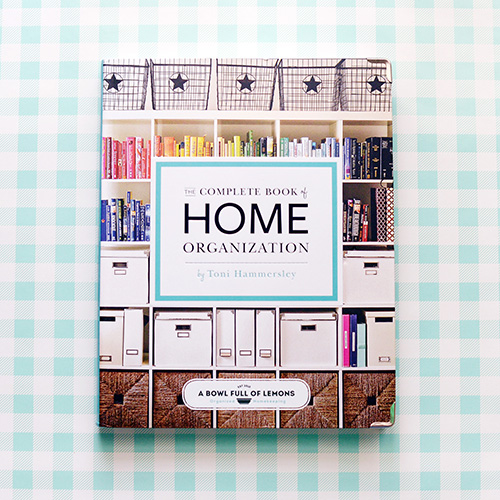 If you need more guidance on cleaning your house, be sure order my book The Complete Book of Clean.  It has tons of tips and checklists that will teach you how to get your homes sparkling clean.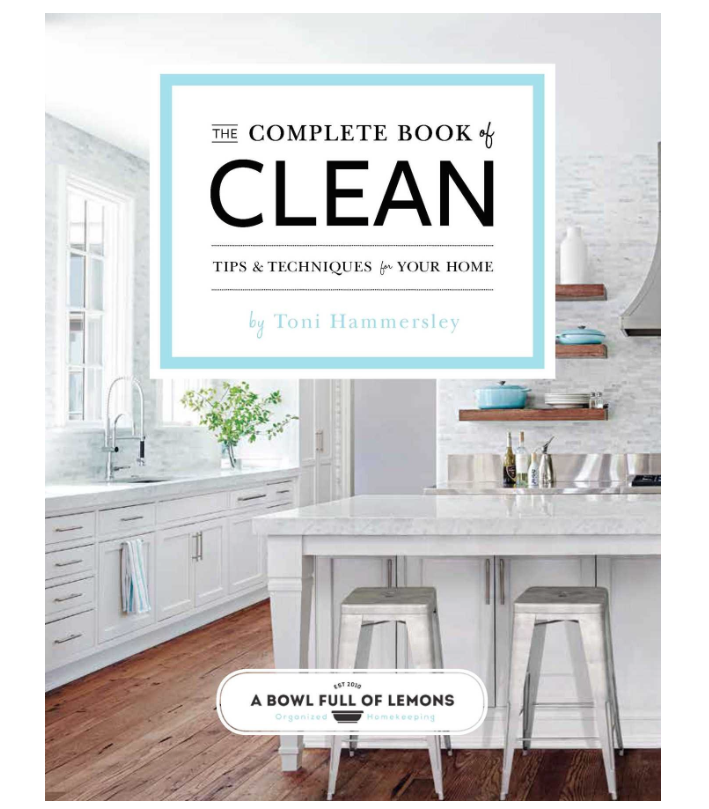 This week, I challenge you to purge as much as you can in your living room. When purging, ask yourself these three questions: Do we use it? Do we need it? Can we live without it? Clear the clutter and begin with a clean slate.
THE ORGANIZING PROCESS
PREPARE:  Gather 4 bins or boxes, one for each of the following.
Keep
Donate
Trash/Recycle
Other Room
SORT:
Sort through everything on all shelves, the floor, drawers, tables, etc.  Divide it all into the 4 baskets listed above (or more if needed).  If you are able to, place the 4 boxes in another room (close to the living room), so you have an empty space to clean and organize.  Get rid of as much clutter as you can.
CLEAN:
Clean the windows, blinds, frames & mirrors
Wipe down doors, baseboards, doorknobs and switch plates
Wipe down furniture (dust)
Remove couch cushions and vacuum
Pull the couch away from the wall and vacuum under/behind.
Vacuum/mop floors
Clean ceiling fan & lighting
Fluff throw pillows & wash if needed
ORGANIZE:   It's time to go through everything in the "keep" box. Put the other boxes where they belong. When organizing things in the keep box, remove one item at a time, categorizing it.  Below are some examples of what to organize together in the living room.  You can use a different shelf, basket, or drawer for each category.  Keep similar items together.
DVD's & CD's
Aromatherapy: Candles, wax melts, essential oils, etc.
Throw Blankets
Remote controls
Magazines (Only keep what you are currently reading)
Toys (I don't keep toys in the living room)
Books (Consider going digital)

Our living room is a super cozy spot that everyone loves to unwind in, at the end of a stressful day. It's free from clutter and messes. One of the way's I've been able to keep our living room clean and organized is by purging as much as possible and only keeping the necessities in there.  I don't allow toys in my living room (we have a toy room).  That has helped keep clutter away.  I understand that some of you don't have the space to put toys in other areas of the house. If that's the case, use foot stools, baskets, or large bins, to keep them picked up & hidden when not in use.  Once you purge everything down to a manageable amount, the space won't seem so cluttered. When sorting through the room, ask yourself if you really need all the stuff that's in there.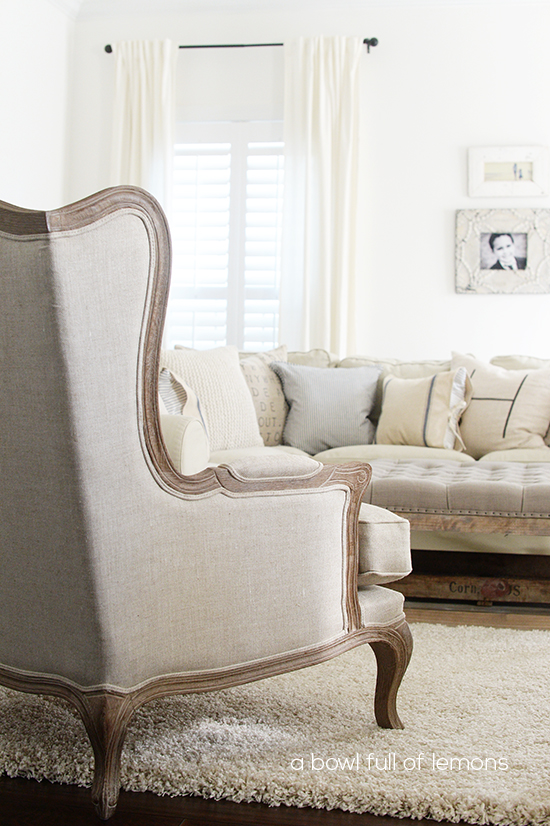 We honestly don't have much to organize in our living room. Under the ottoman, I sometimes keep coffee table books and a few magazines.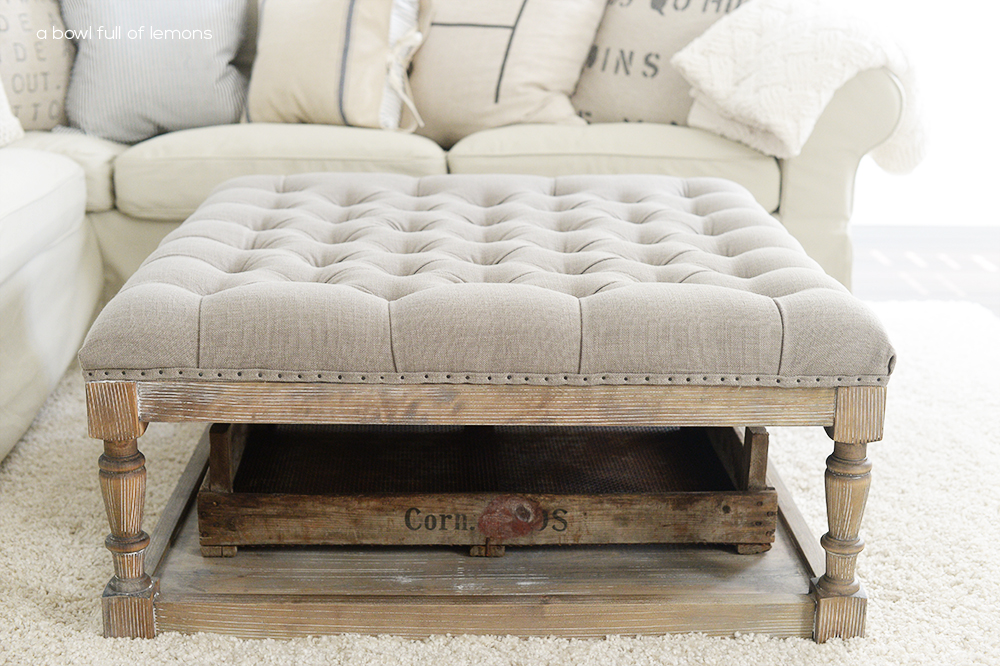 I store candles and pet items in the bins below. You can see more about what else I put in my bins here.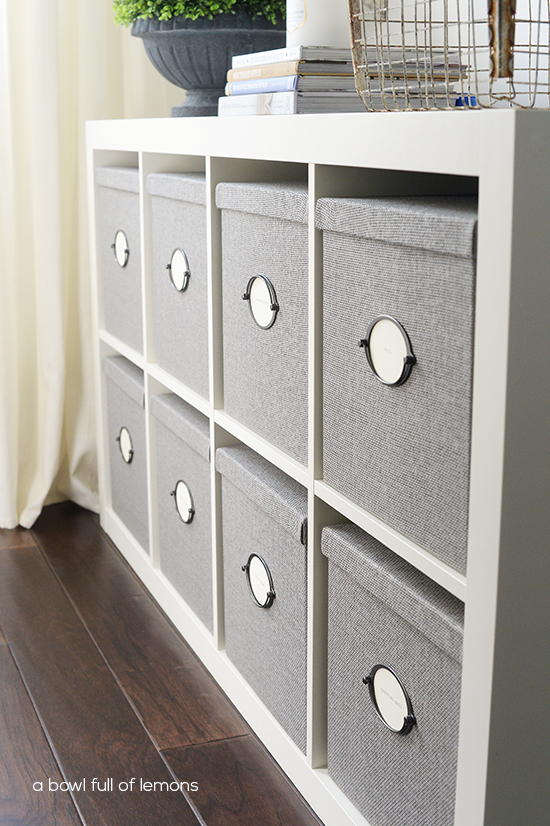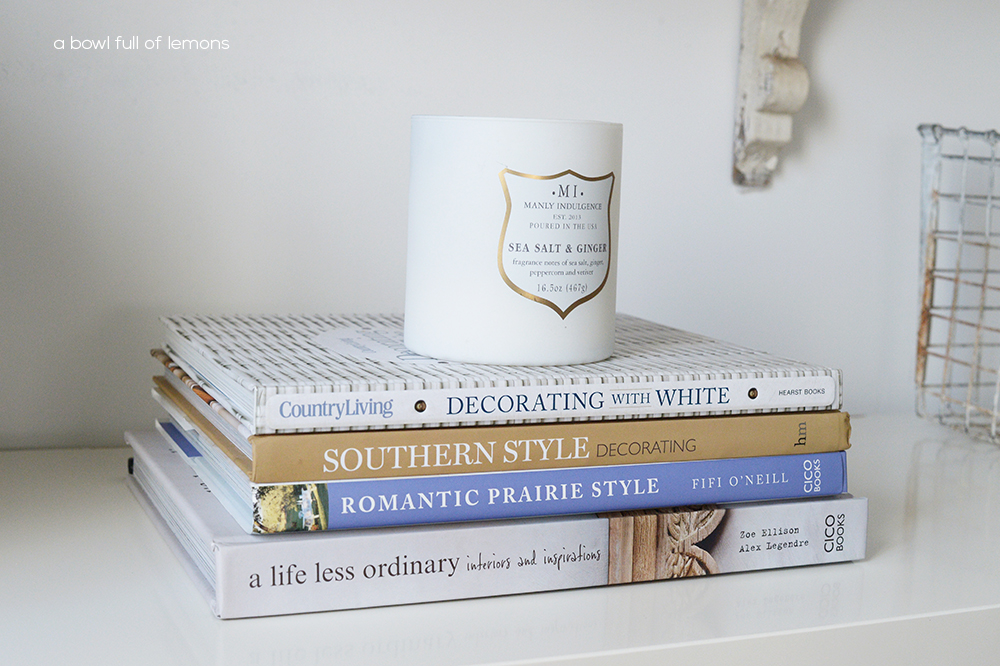 I store 2 baskets with lids on the sofa table. They are perfect to tuck away throw blankets, when not in use.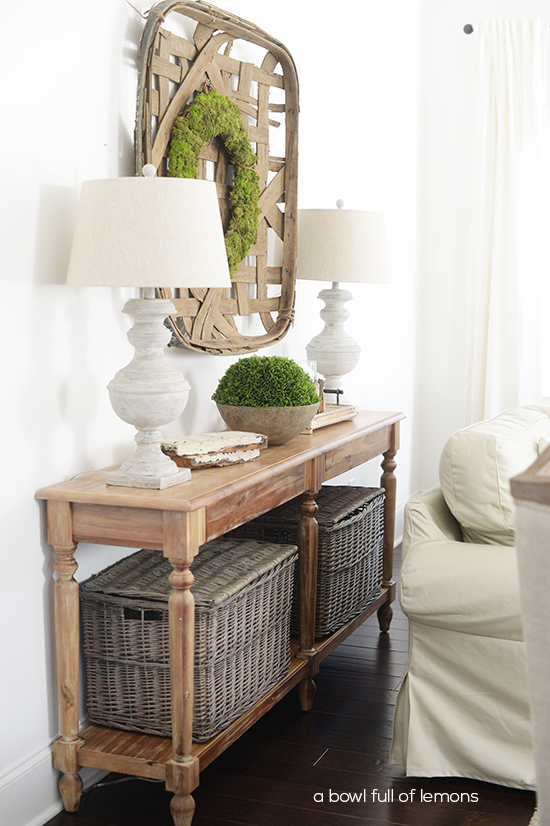 I don't have a wide angle lens to take a full shot of the living room but you get the idea of how it's organized.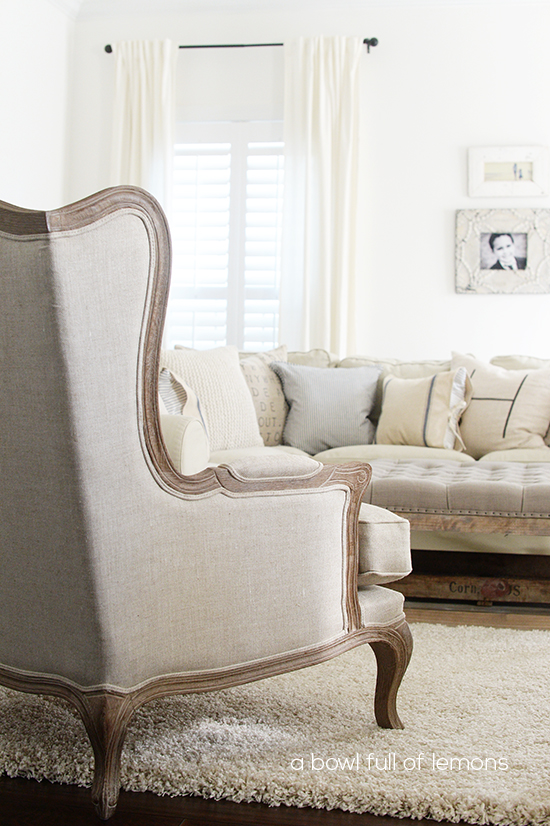 I am in love with throw pillows. I've purchased these from Sugarboo Designs, Farmhouse on Boone, Pottery Barn, and TJ Maxx.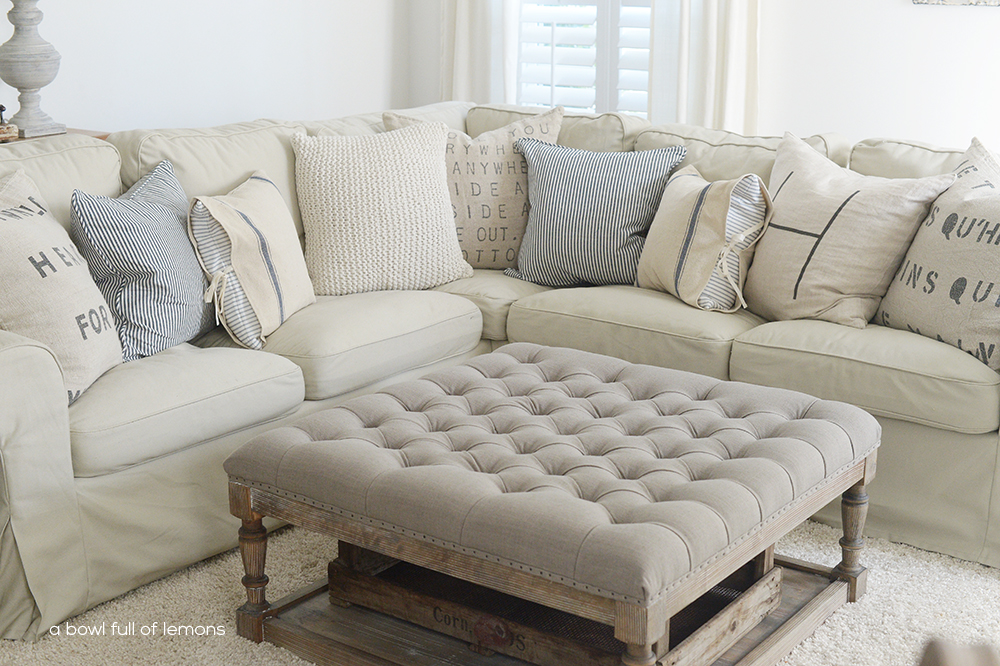 Here are several blog posts that will inspire you to get your Living Room organized.
Sort through your living room this week. Purge all of the things that don't belong. Follow the step by step process I've laid out for you. Share your progress on Instagram using the hash tag #abfolchallenge, blog about the weekly challenges, and  share your before and after pictures over at my Home Organization group here.  Hold yourself accountable and finish all 14 challenges! I can't wait to see what you accomplish.  Good luck. I'll see you back next week for the week 6 challenge. Happy Organizing!
~Toni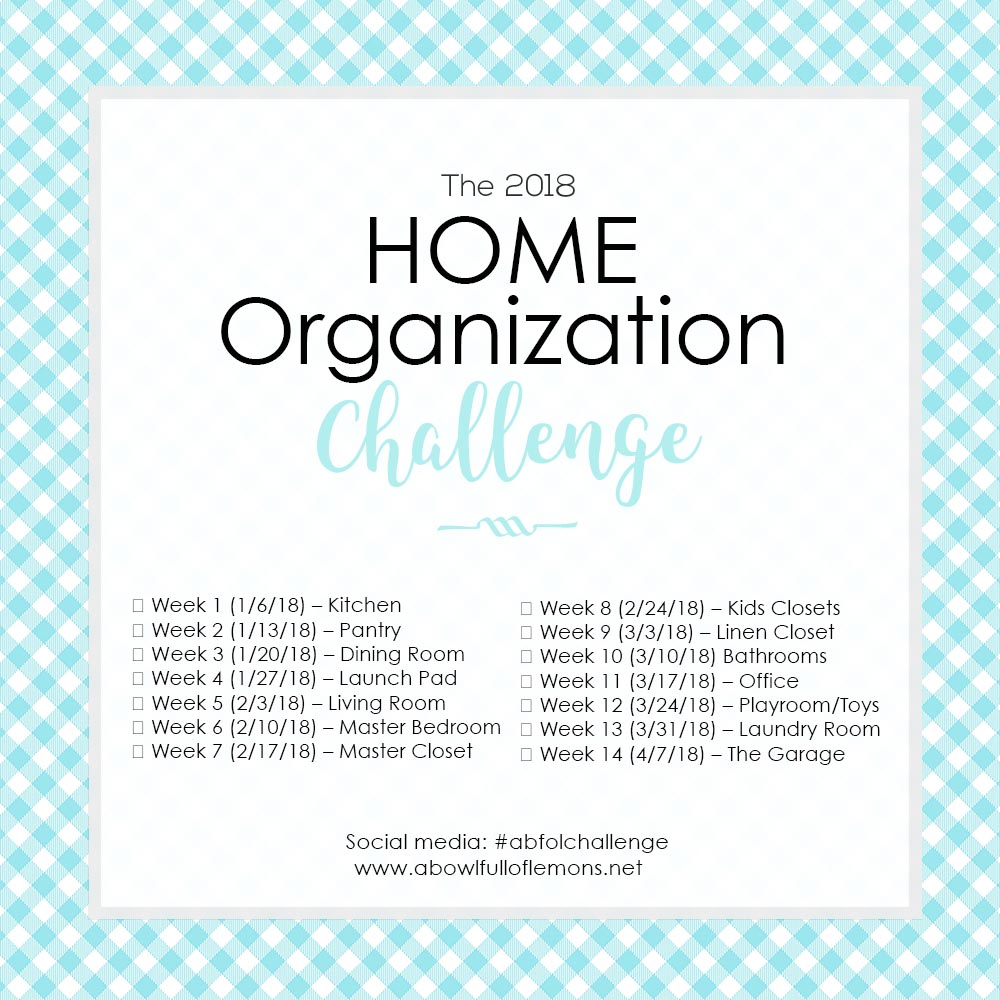 Tags: 2018 Home Organization Challenge, home organization, living room, living room organization, organize
2018 Home Organization Challenge, Blog, Living Room, Organize Posted in 9 comments