Welcome back to A Bowl Full of Lemons 14 Week Organizing Challenge. This week we are organizing the living room.  Before you begin, do a quick 5-10 minute clean up of the space.  Toss the trash and put things where they belong.
If this is your first time participating in the challenge, welcome! Each week, you will receive a new challenge & you will have 7 days to complete it. If you are not subscribed to my blog & want reminders for the weekly challenges, you can sign up here. The first thing you need to do is print out your 14 Week Schedule. You can hang it on your fridge and check it off as you go. Print it out here.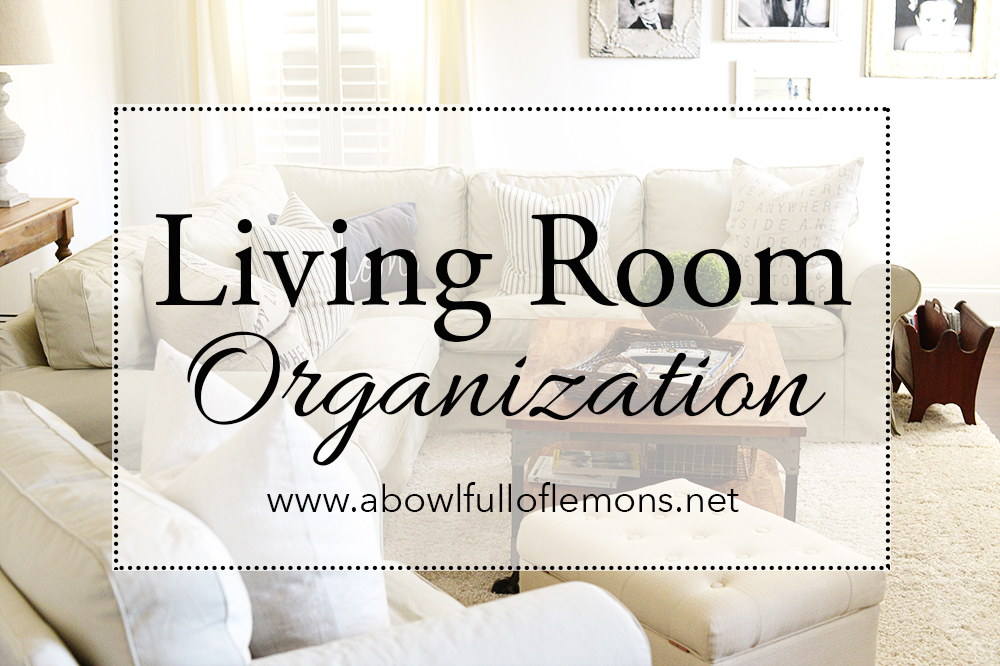 WEEK #6 TASK – The Living Room:
This week we are cleaning and organizing the living room. The living room is probably the most used room in the house so it can get cluttered fast!  One of the way's I've been able to keep our living room clean and organized is by purging as much as possible and only keeping the necessities in there.  I don't allow toys in my living room (we have a toy room).  That has helped keep clutter away.  I understand that some of you don't have the space to put toys in other areas of the house. If that's the case, use foot stools, baskets, large bins, etc. to keep them picked up & hidden when not in use.  Once you purge everything down to a manageable amount, the clutter won't seem so bad.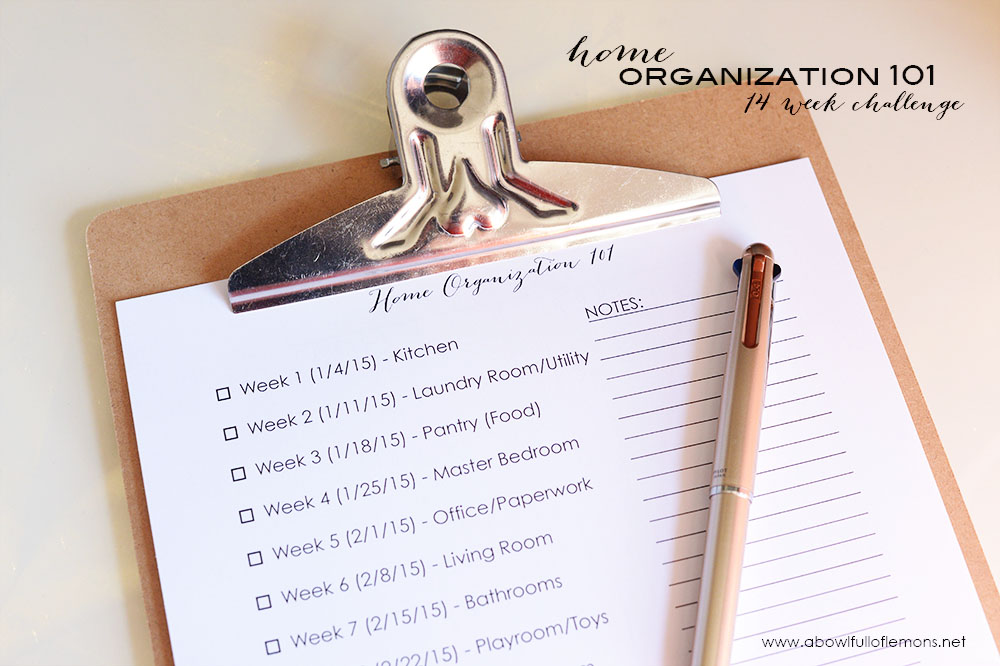 WEEK #6 CHECKLIST: (Print out the free Living Room checklist HERE)
PREPARE:
Gather 4 bins or boxes, one for each of the following.
Keep
Donate
Trash/Recycle
Other Room
SORT:
Sort through everything on all shelves, the floor, drawers, tables, etc.  Divide it all into the 4 baskets listed above (or more if needed).  If you are able to, place the 4 boxes in another room (close to the living room), so you have an empty space to clean and organize.  Get rid of as much clutter as you can.
CLEAN:
Clean the windows, blinds, frames & mirrors
Wipe down doors, baseboards, doorknobs and switch plates
Wipe down furniture (dust)
Remove couch cushions and vacuum
Pull the couch away from the wall and vacuum under/behind.
Vacuum/mop floors
Clean ceiling fan & lighting
Fluff throw pillows & wash if needed
ORGANIZE:   It's time to go through everything in the "keep" box. Put the other boxes where they belong. When organizing things in the keep box, remove one item at a time, categorizing it.  Below are some examples of what to organize together in the living room.  You can use a different shelf, basket, or drawer for each category.  Keep similar items together.
DVD's & CD's
Aromatherapy: Candles, wax melts, essential oils, etc.
Throw Blankets
Remote controls
Magazines
Toys (I don't keep toys in the living room)
Books
 Organizing Tips: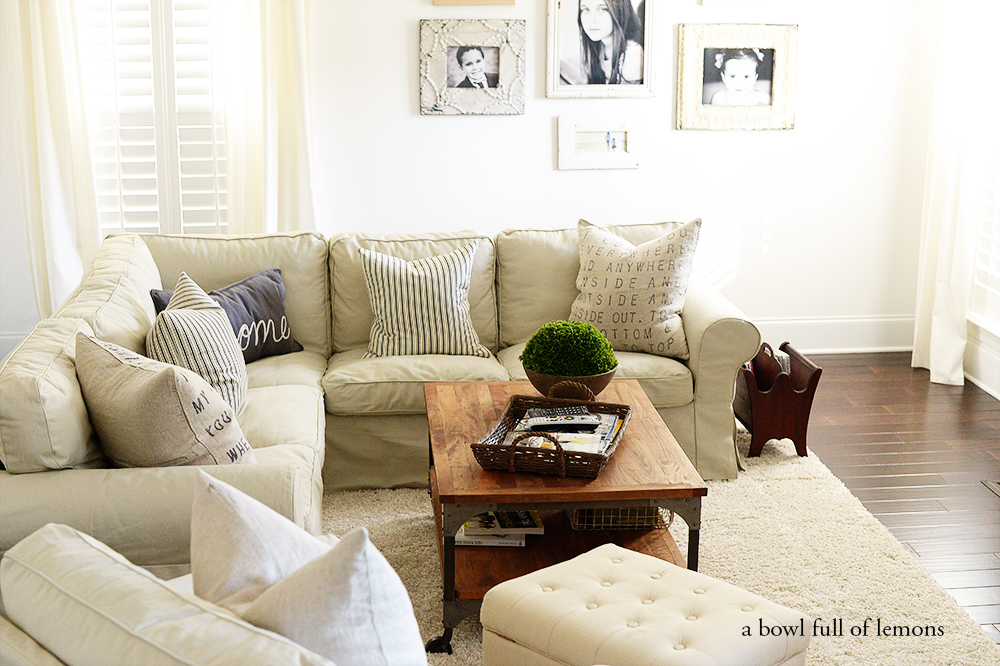 Tip 1:  Declutter as much as possible.   You don't need to fill every square inch of your living room with stuff.  Empty spaces are fine.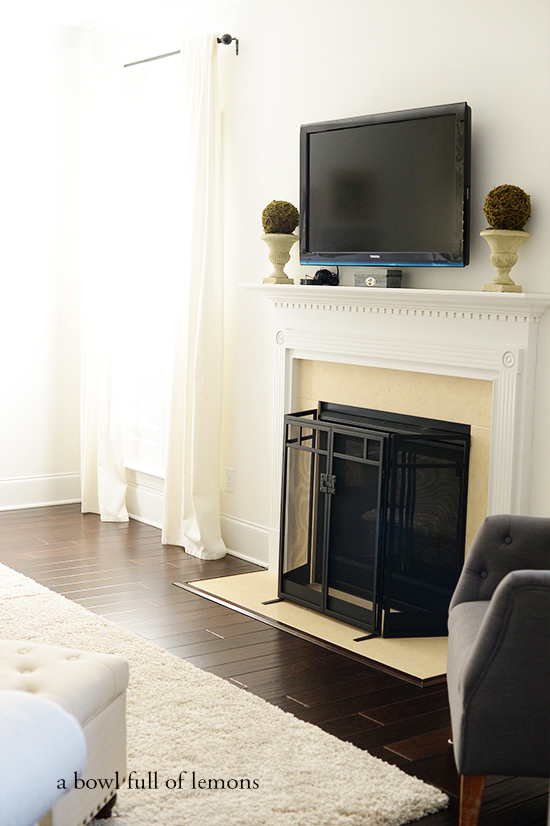 Tip 2:  Keep magazines & controllers in an easy to reach basket – it looks more neat.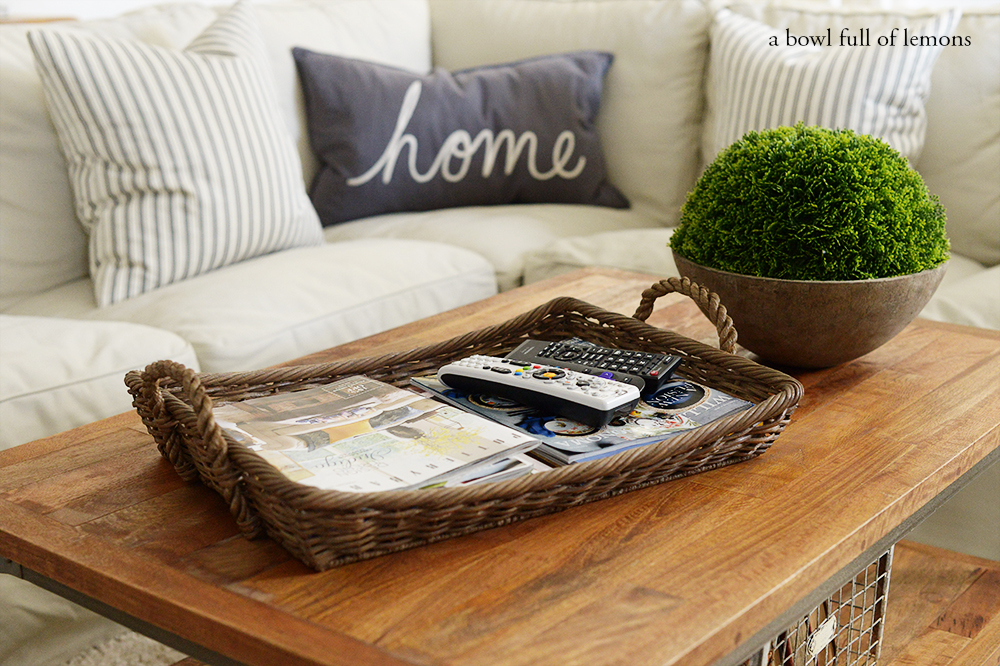 Tip 3:  Keep things in baskets & bins (aromatherapy, dvd's, toys, etc).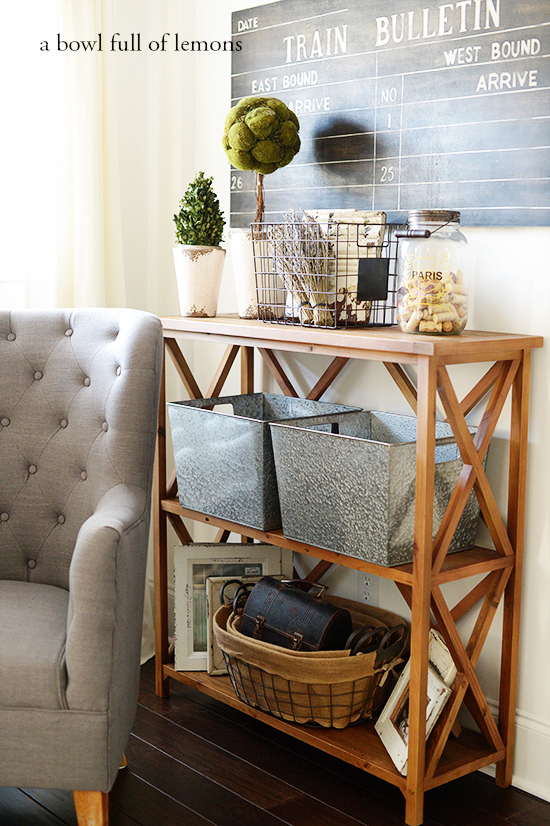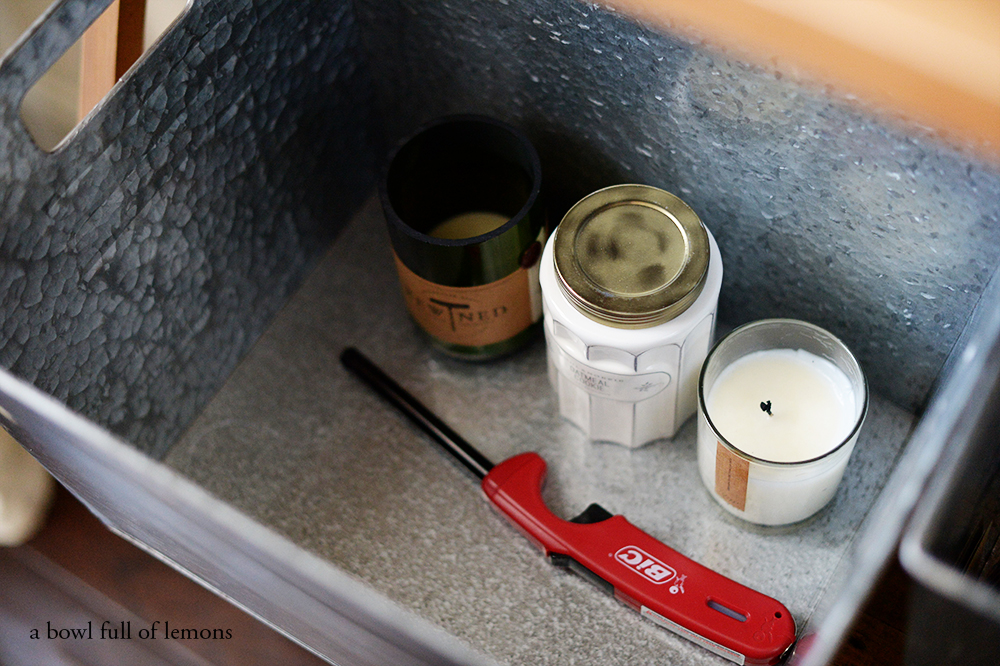 Tip 4:  Use slipcovers.  This isn't necessarily an organizing tip but cleaning & organizing go hand in hand.  When its time to clean upholstery, slipcovers are the easiest to deal with. I wash mine twice a year.  (My sofa is from Ikea)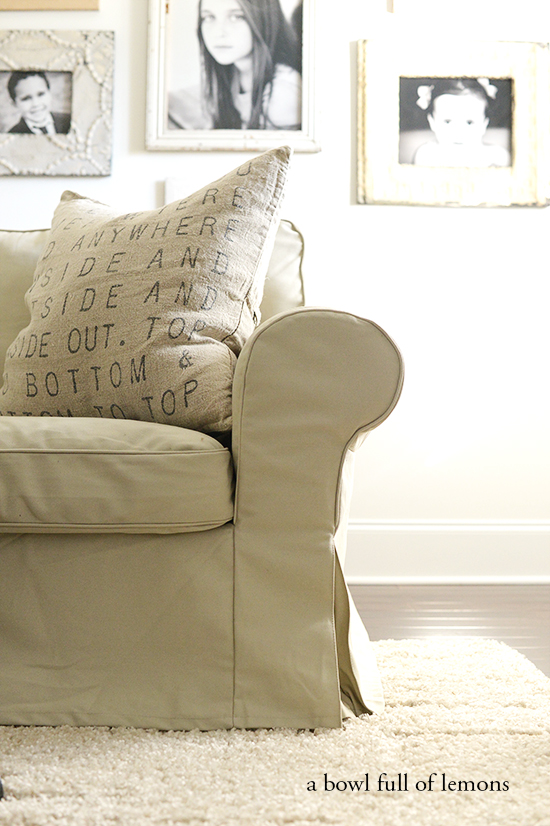 Tip 5:  Buy furniture that can be used as storage.  This inexpensive foot stool is from Target.  We keep our throw blankets in here.  You can also use it for toys, magazines, books, etc.  Remember, out of sight = less clutter.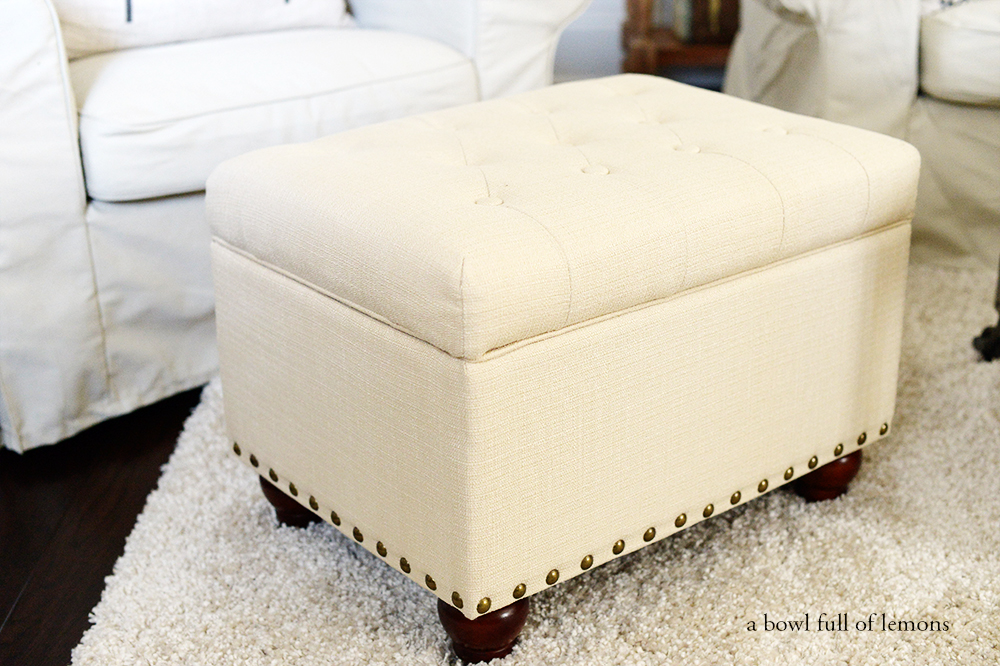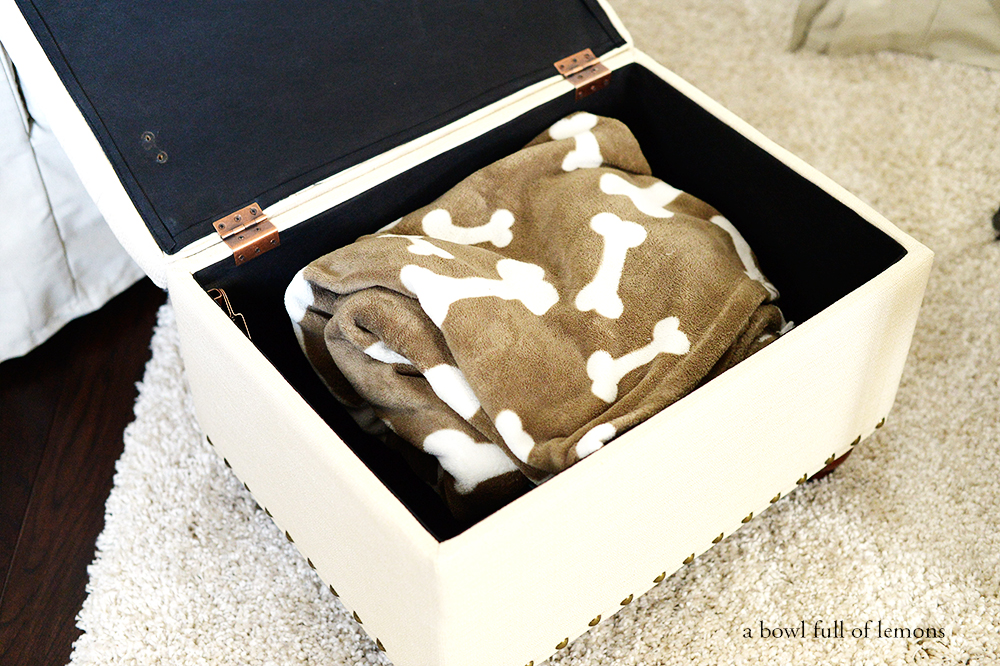 Here are two more pieces of furniture that can be used as storage.  We keep books in baskets underneath the coffee table & the side table has a bottom shelf that can hold a lot of stuff (in baskets).  They work great!  Both pieces are from World Market.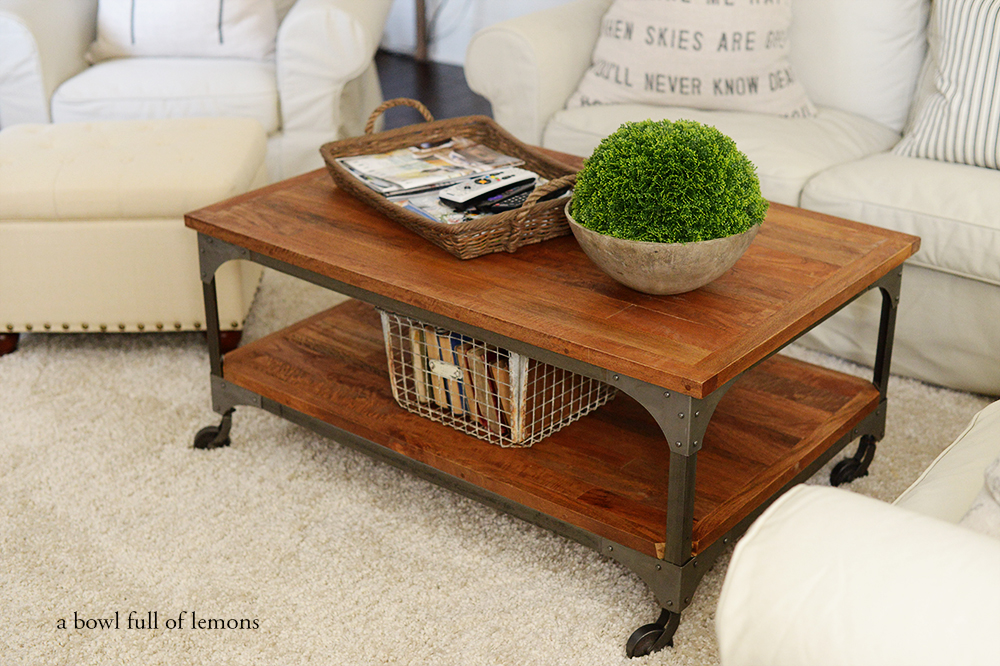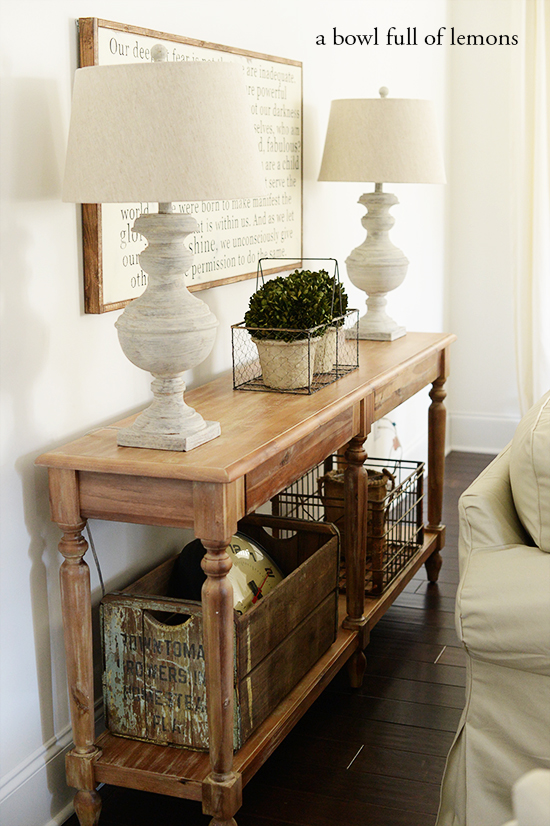 Tip 7:  Hang baskets on walls to keep things in.  These baskets could be used to store dvd's, etc. They are from Farmhouse Wares.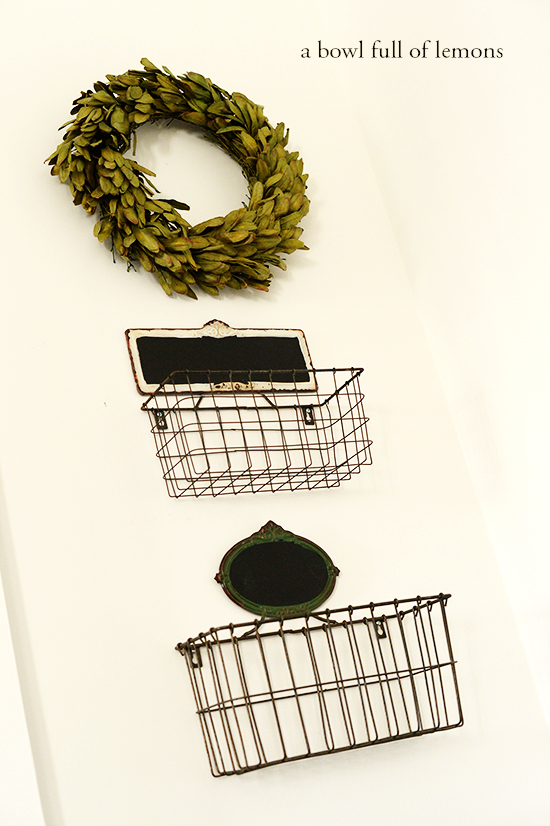 Your living room is a reflection of your personal style.  Keep it bright, clean, and decluttered & your family will enjoy hanging out in there.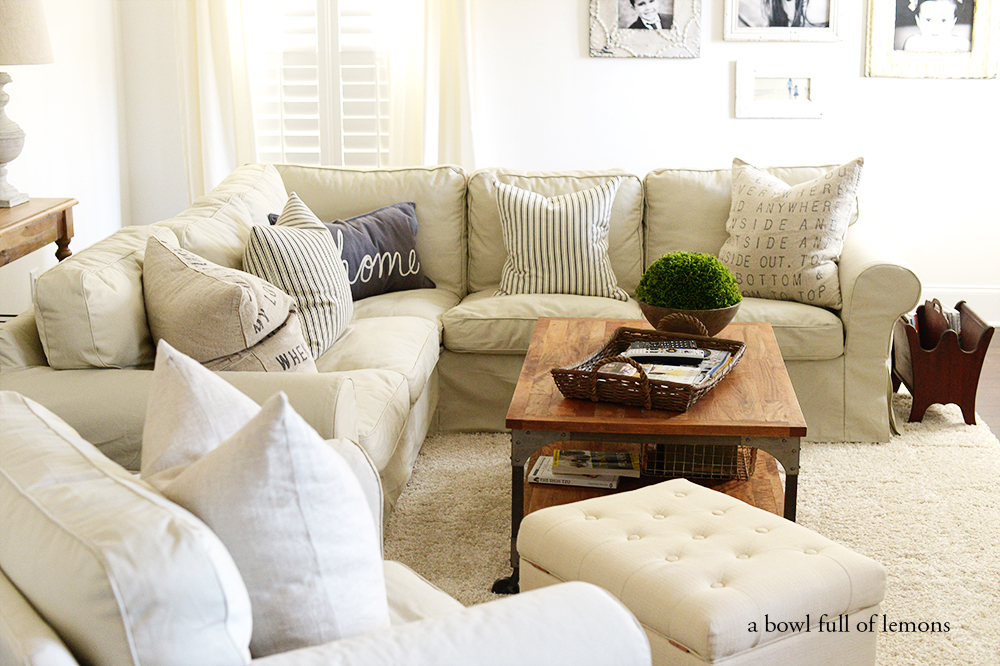 Here are several blog posts that will inspire you to get your Living Room organized.
2. Organizing Heirlooms & Collectibles 
HOW TO SHARE:
Share your progress on Instagram using the hash tag #abfolorganizechallenge, blog about the weekly challenges – sharing your before and after pictures and/or share over at my Home Organization 101 group here. Hold yourself accountable and finish all 14 challenges!
NEW TO THE CHALLENGE?
If you are just joining us, visit the challenge details page here, to learn what it's all about.
CHALLENGES:
Week 1: The Kitchen
Week 2: The Laundry Room
Week 3: The Pantry
Week 4: Master Bedroom
Week 5:  The Office
HAPPY ORGANIZING!
I'll see you back next week for another organizing challenge.
Tags: home organization, home organizing, living room, organize, organized
14 Week Challenge, 2015 Home Organization 101, Blog, February 2015, Living Room, Organize Posted in 14 comments