We are entering week 5 of A Bowl Full of Lemons 14 Week Organizing Challenge – The Office. This week will be tough for a lot of you but don't fret.  We will get through it together.  Once this week is complete, your stress level will go way down.
If this is your first time participating in the challenge, welcome! Each week, you will receive a new challenge & you will have 7 days to complete it. If you are not subscribed to my blog & want reminders for the weekly challenges, you can sign up here. The first thing you need to do is print out your 14 Week Schedule. You can hang it on your fridge and check it off as you go. Print it out here.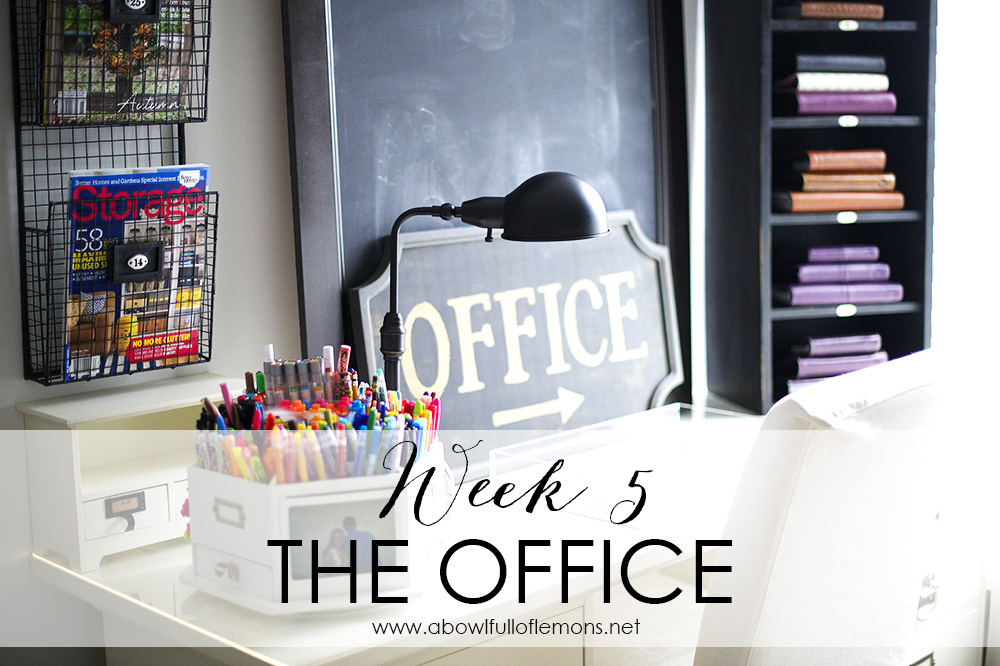 WEEK #5 TASK – The Office:
This week we are cleaning and organizing the home office. If you don't have an office, organize the area of your home where you keep your paperwork, mail, computer, etc.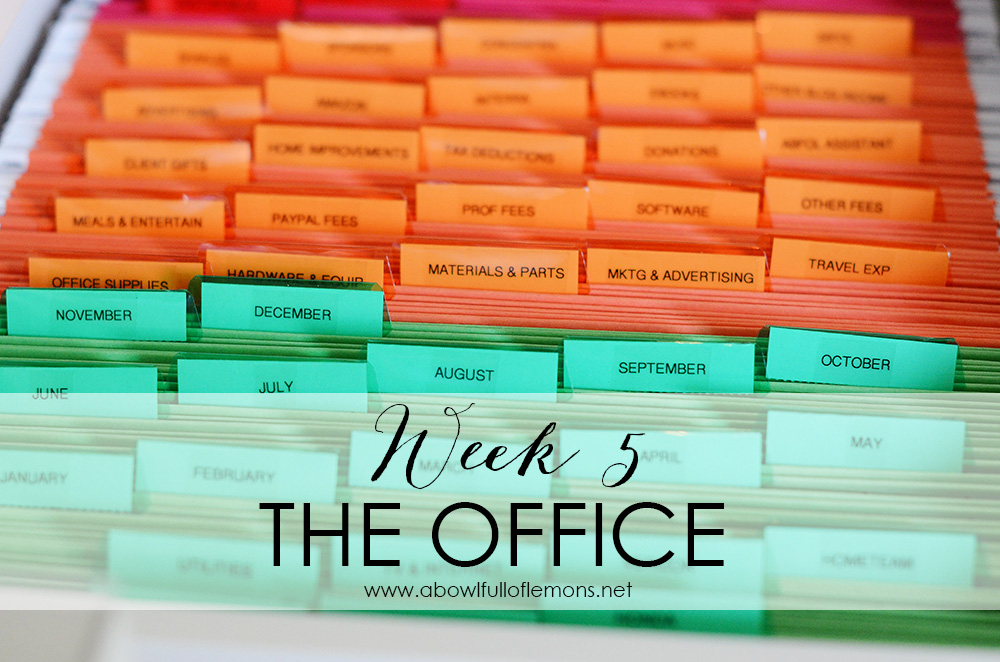 WEEK #5 CHECKLIST: (Print out the free checklist HERE)
PREPARE:
Gather 6 large bins or boxes, one for each of the following.
Shred
Donate
File
Return (to other rooms)
Keep (Everything that stays in the office)
Trash/recycle
SORT:
Paperwork – Give yourself

at least

2 hours to go through ALL of your paperwork.  Each piece of paper will be placed in one of the following bins (shred, file, trash).  You are not organizing at this time – Just sorting.
Everything Else –  Go through the remaining items in your office. Place

everything

into one of the 6 bins (listed above).
 CLEAN:
Clean the windows, blinds, frames & mirrors
Wipe down doors, baseboards, doorknobs and switch plates
Wipe down desk & shelves
Clean out trash can
Wipe down office chair
Vacuum
Clean ceiling fan & lighting
Clean the keyboard, mousepad & computer screen (according to instructions)
ORGANIZE:
Filing System – Now it's time to organize all of your paperwork into a filing system. The categories I use are listed here.  At least 50% of the paper you have now should be tossed.  You can also go paperless at this time.  (Log into your accounts and chose this option).
Mail Station – Create a designated mail station. You will need one to get control of the incoming paper clutter.
Everything Else – Create categories for everything else in your office, then label & organize into containers, drawers & baskets.
WHEN GOING THROUGH YOUR PILES OF PAPER, ASK YOURSELF…
Is this paper necessary to keep? (Taxes, etc)
Will I use it in the future?
Do I have a place for it?
If you answered no, toss it! (Shred if needed).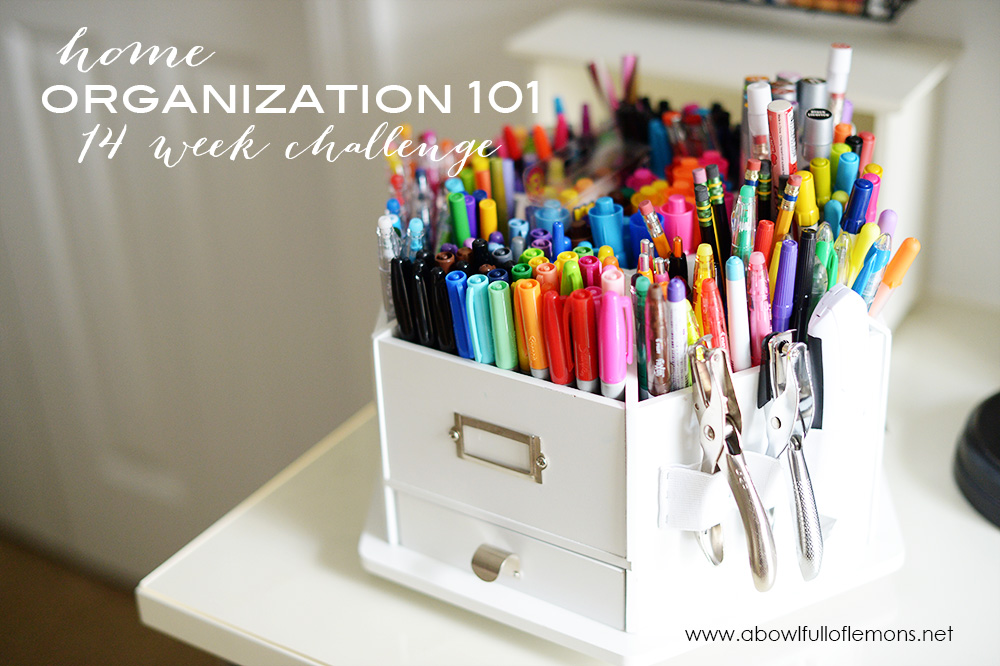 Here are several blog posts that will inspire you to get your Office organized.
1. My Office (& Project Life Organization)
5. Purging Email Subscriptions
8. 5 Tips for a clutter Free Workspace
9. Household Bill Payment Center
11. Filing System Organization
13. Budget Binder
HOW TO SHARE:
Share your progress on Instagram using the hash tag #abfolorganizechallenge, blog about the weekly challenges – sharing your before and after pictures and/or share over at my Home Organization 101 group here. Hold yourself accountable and finish all 14 challenges!
NEW TO THE CHALLENGE?
If you are just joining us, visit the challenge details page here, to learn what it's all about.
CHALLENGES:
Week 1: The Kitchen
Week 2: The Laundry Room
Week 3: The Pantry
Week 4: Master Bedroom
HAPPY ORGANIZING!
I'll see you back next week for another organizing challenge.
Tags: 14 week challenge, office organization, organize
14 Week Challenge, 2015 Home Organization 101, Blog, February 2015, Office, Organize Posted in 8 comments