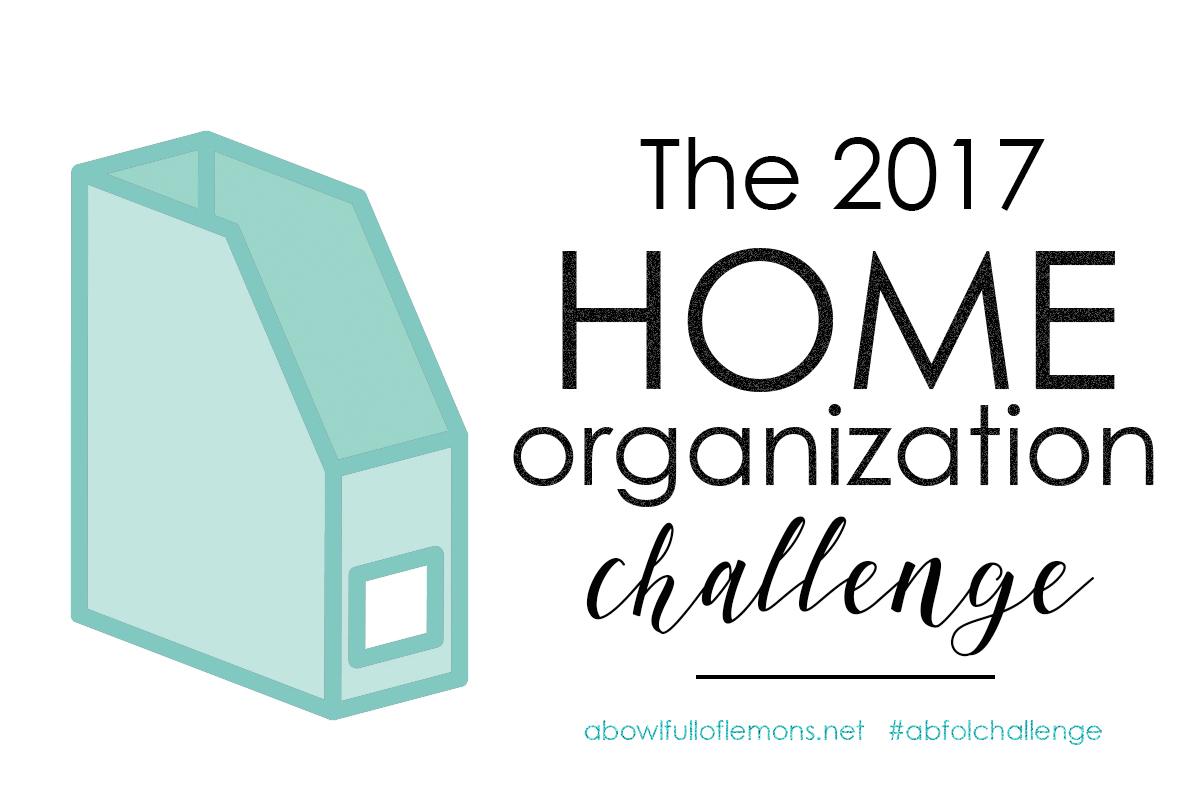 Welcome to the 2017 Home Organization Challenge. We are kicking off the challenge in the kitchen. This is the most used space in the home. Not a day goes by that it doesn't get used, so clearly it will become the most disorganized space at one point or another.  If your kitchen organization isn't working anymore or if you don't have zones set up to help you work efficiently, it's time to hit the reset button and start over.  You have 7 days to complete the first challenge. Break it up into several days or take one full day to conquer it. Go with whatever works for you. Before you begin, print out the complete 14 week schedule and checklists below.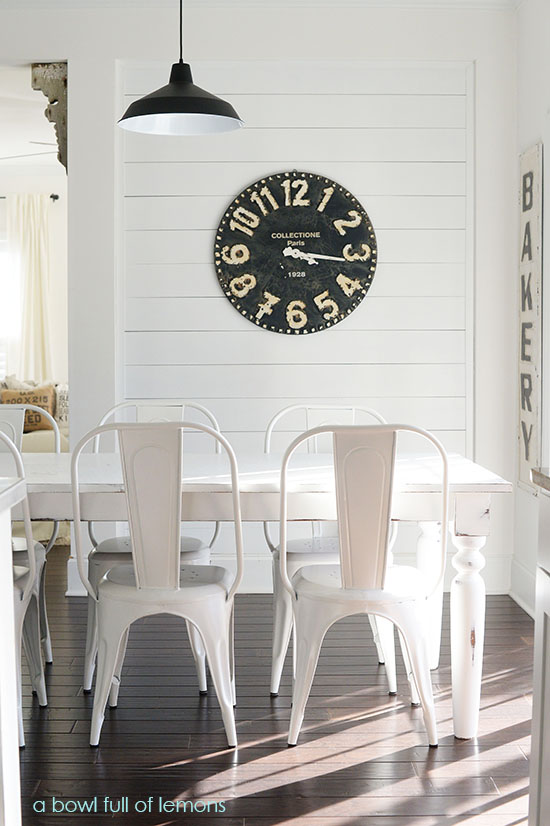 For the perfect companion guide to our challenge, purchase The Complete Book to Home Organization. It includes all 14 weekly challenges as well as a ton of inspiration and tips about the spaces we will be organizing. No need to log onto the computer for ideas, this manual has it all!
If you need more guidance on cleaning your house, be sure to pre-order my brand new book The Complete Book of Clean.  It has tons of tips and checklists that will teach you how to get your homes sparkling clean.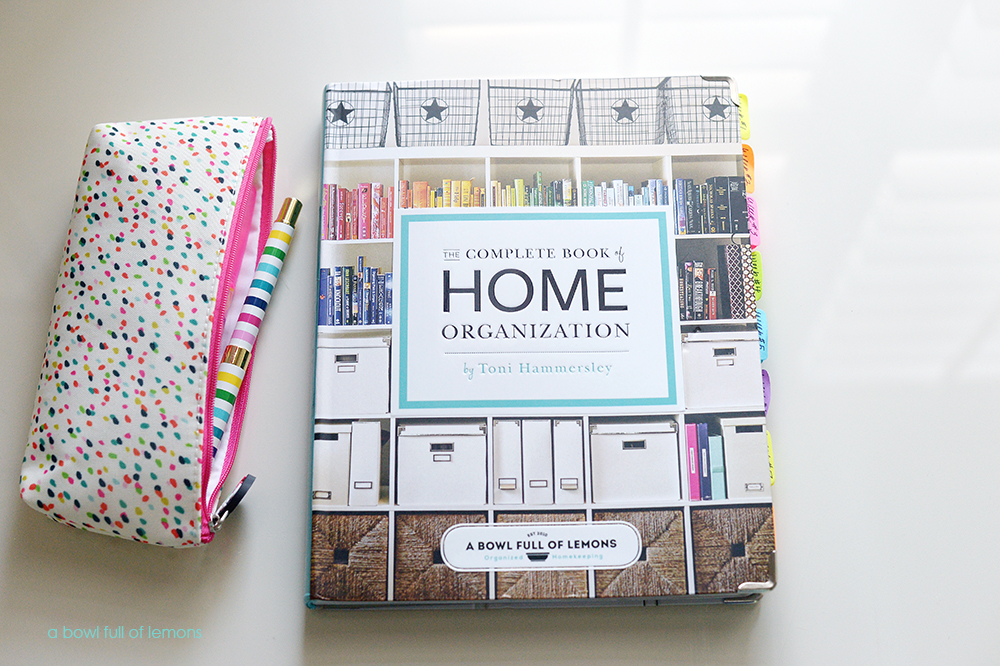 Week 1: The Kitchen
Today marks the beginning of the challenge. We will be spending the next 7 days in the kitchen. If you are new, look over the challenge details then begin working at your own pace.  For encouragement, join our Home Organization 101 Facebook community to share your progress, or struggles, or questions. Or simply look through the photos and read how others are doing.
Week #1 Checklist
Clean out and organize all cabinets.
Clean out and organize all drawers.
Purge everything that is not used, expired, doesnt belong, collecting dust.
Clean out & organize the refrigerator & freezer.
Mop, wipe down cabinet doors, clean counter tops & tables.
Take everything off the refrigerator door.  It makes the kitchen look messy.
Clean all appliances.
The Process
Clear off the kitchen table. This is your dumping grounds.
Empty out all cabinets & drawers!  Place ALL items into "categories" on the table.
Wipe down the cabinet doors, shelves and drawers. Add new liners if necessary.
Discard (trash) old, expired, and no longer used items & food. Check the dates.
Place all items that are able to fit, into baskets.
Place everything back into the cabinets & drawers (in categories).
Take everything off the kitchen counters and place onto the table.
Wipe down the counters & backsplash with a good natural cleaner.
Wipe down ALL small appliances & large ones too!
Put back items you use on a daily basis, onto the counter top.
Mop the floors and wipe down the table & chairs.
Empty fridge/freezer. Wipe out. Put back in an organized manner.
Clean and organize under the kitchen sink.
Tip: Keep all clutter off the counters at all times. If you take it out, put it away!

Our kitchen is simple and clutter free. The walls are white and the style is inviting. I've set up this space into zones so it will function well for our needs. Keep reading to see how I've organized the zones throughout my kitchen and get motivated to tackle your own this week! Good luck, I'm here to cheer you on.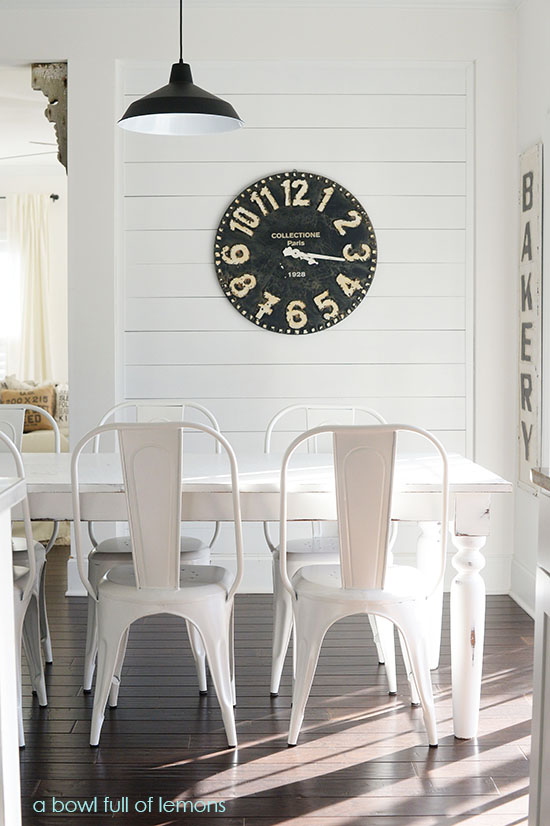 DISHES.  I love using wire shelfs to add extra space when organizing dishes. If you are short on space, these are essential. You can find them in most stores or purchase here.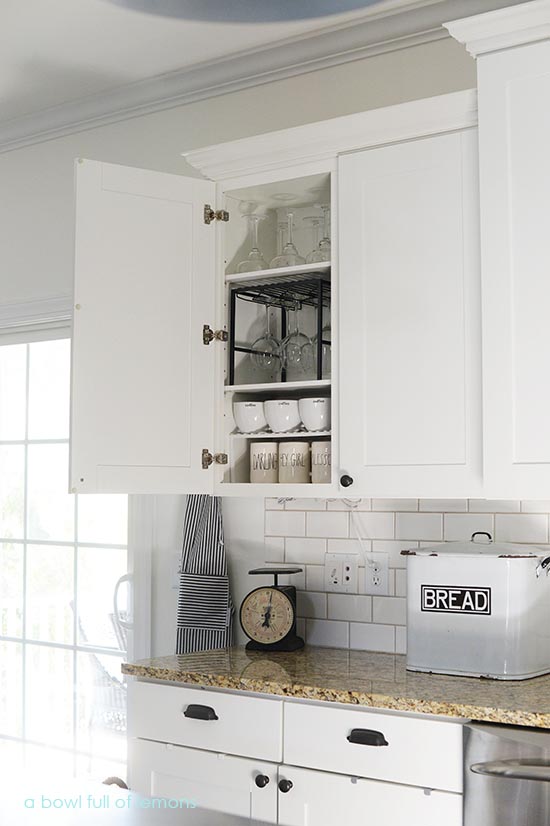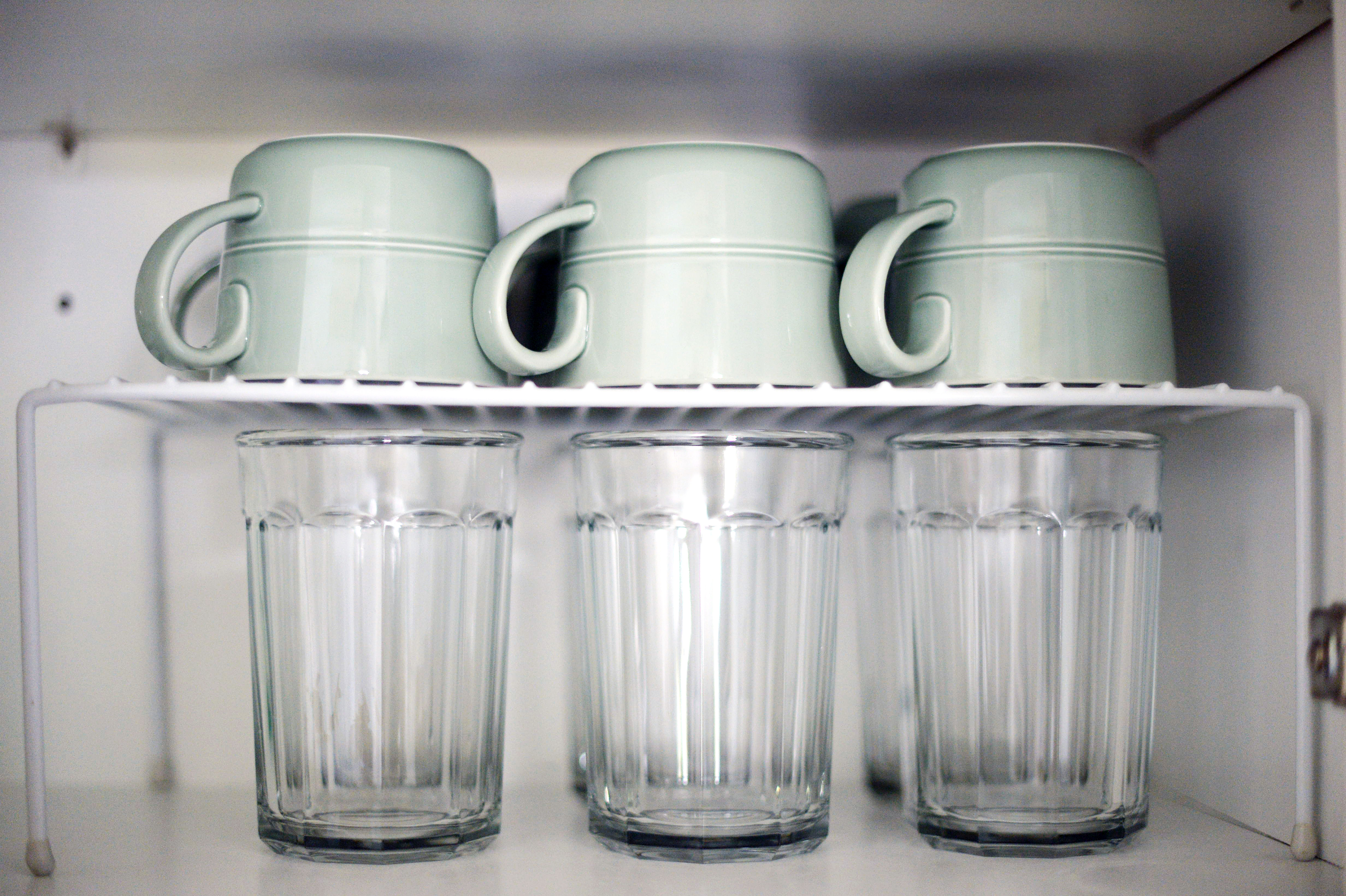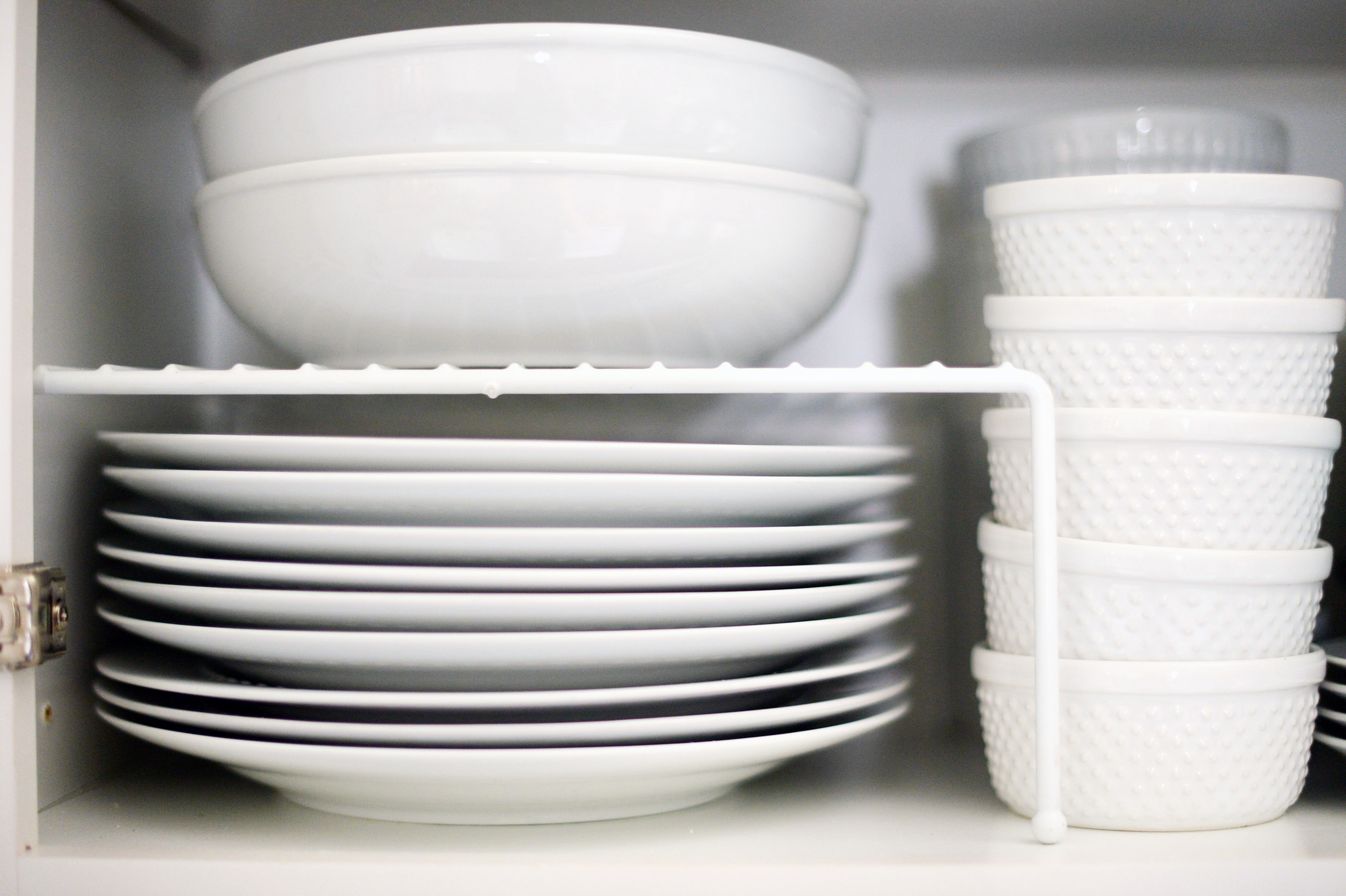 FOOD STORAGE CONTAINERS. Toss your old mismatched plastic bowls and lids and invest in quality (and healthier) glass food containers. Once you do, organize the lids separately into 'over the door' baskets. They will make your life so much easier, I promise. You can find the organizers here.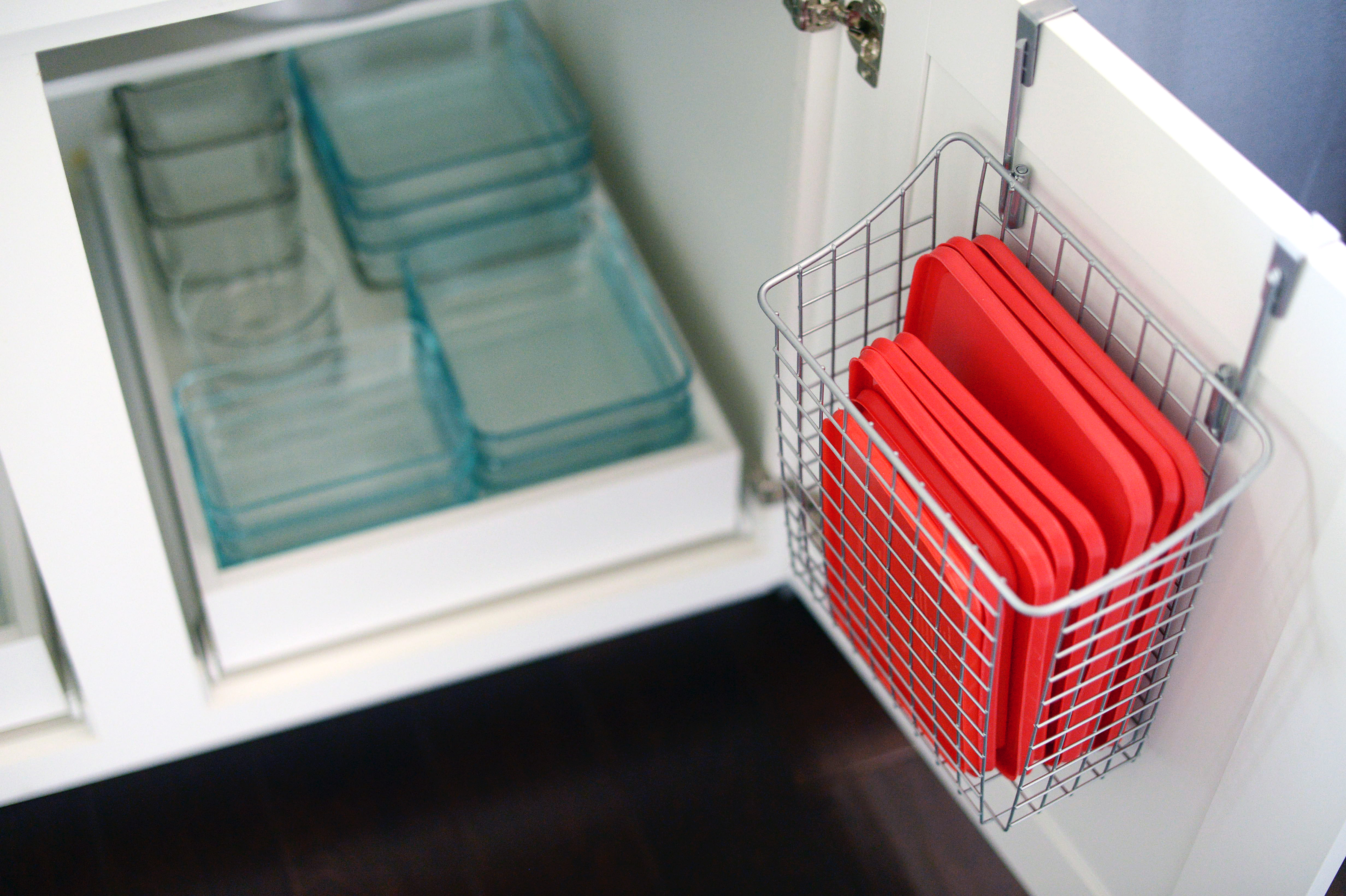 SPICES.  I have a lot of spices and keeping them organized is the key to my sanity.  Lazy susans are the way to go. You can find mine here.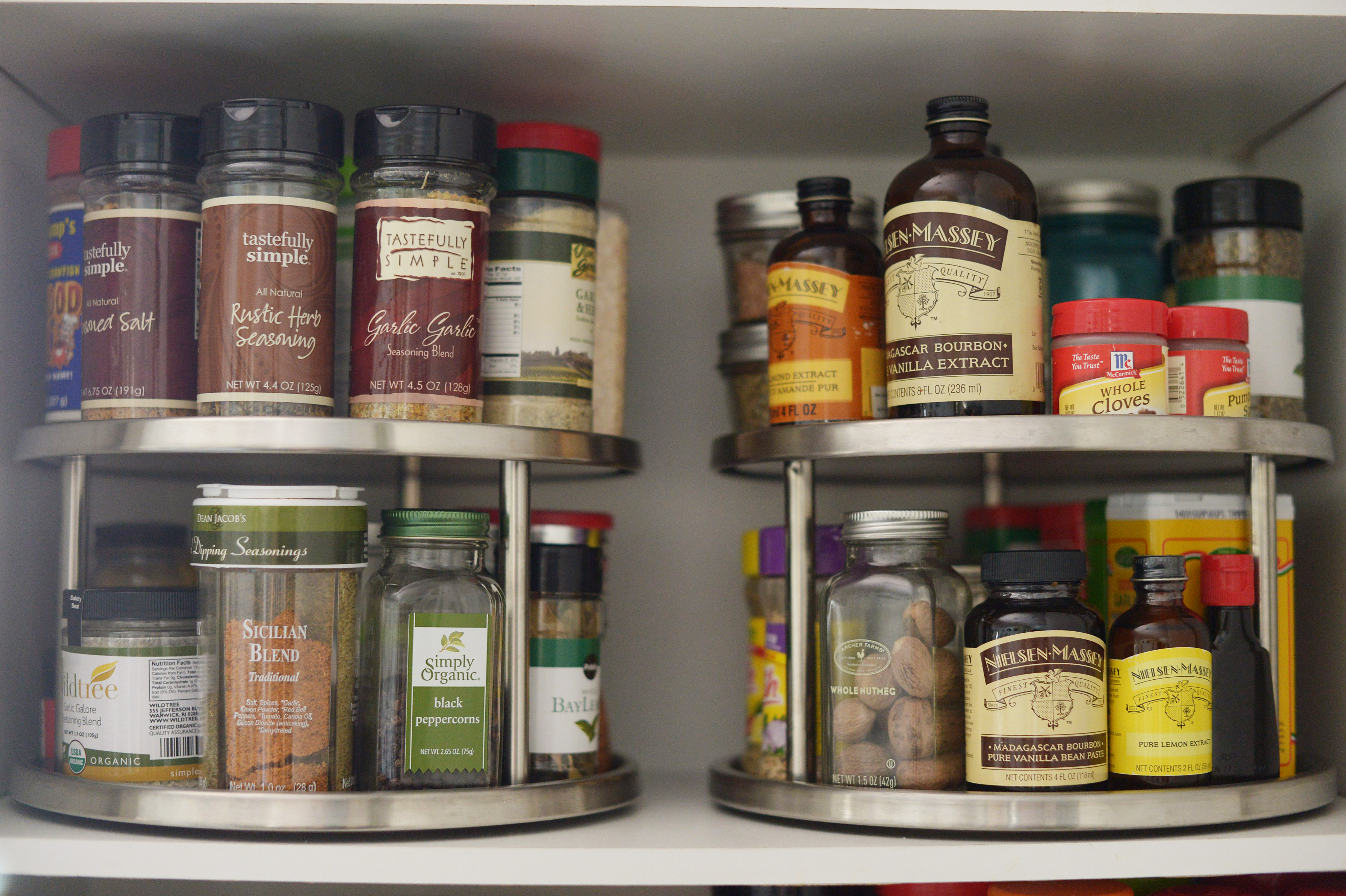 DISH CLOTHS.  The Konmari Method is the way to go when folding dish cloths.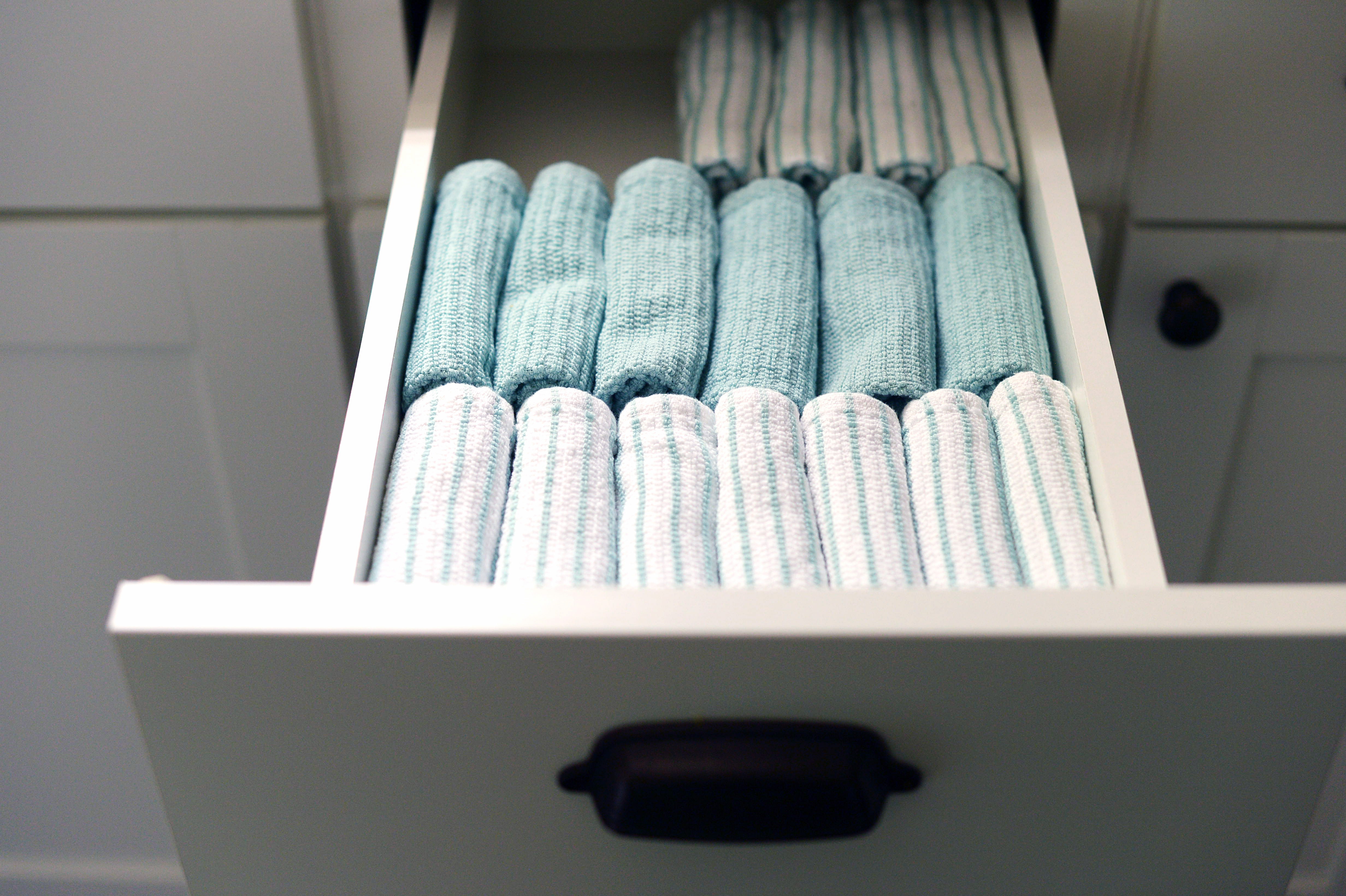 SKILLETS AND PANS.  Store these feisty things in a wire kitchen organizer. You will thank me for this tip. Trust me, it has changed my life. Purchase here.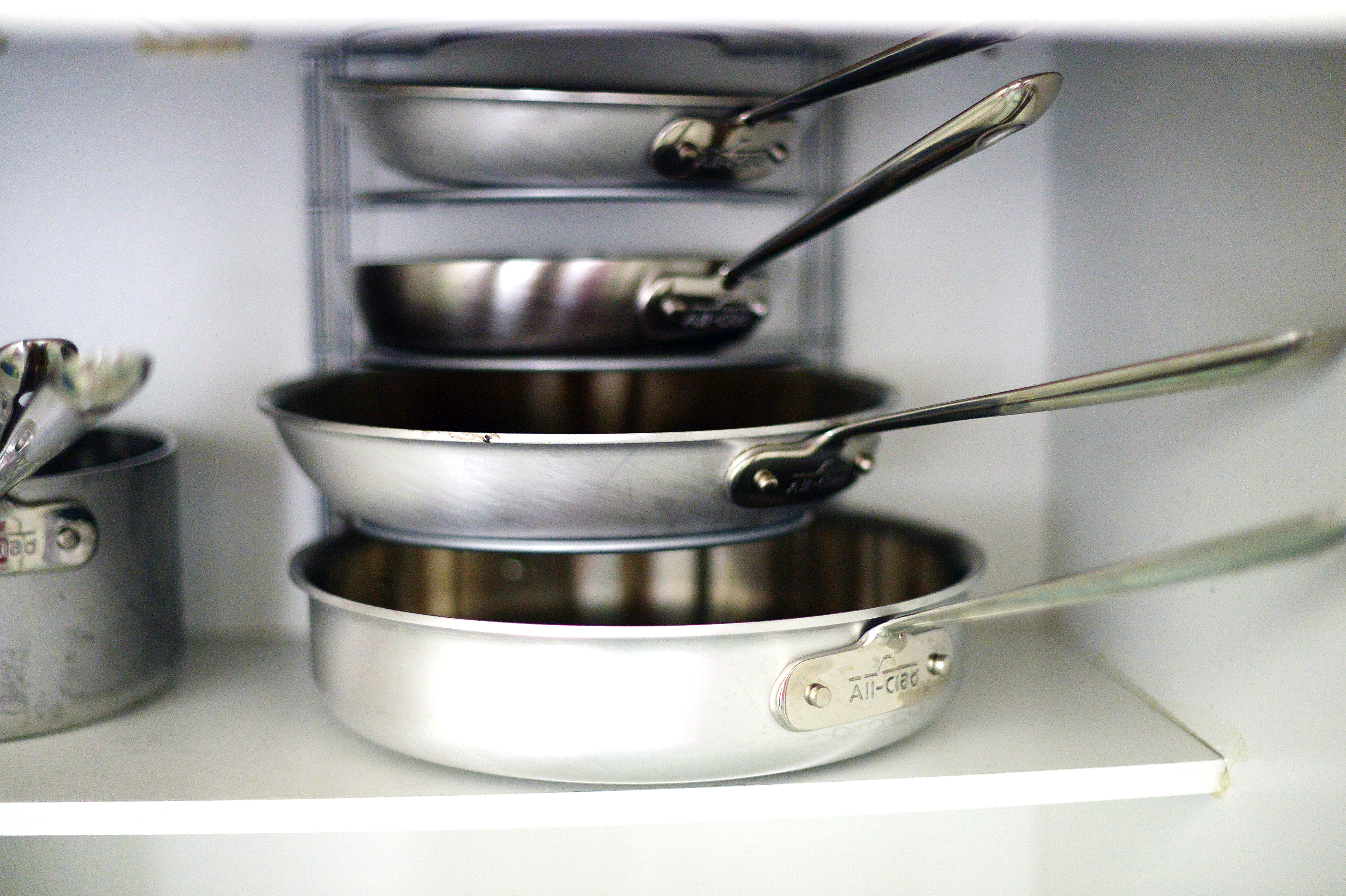 COUNTER TOP CLEANERS. Store these items on a plate near the sink. I found mine here.  (The blue pitcher is from TJ Maxx). This week only, get your cleaners for FREE. See details here.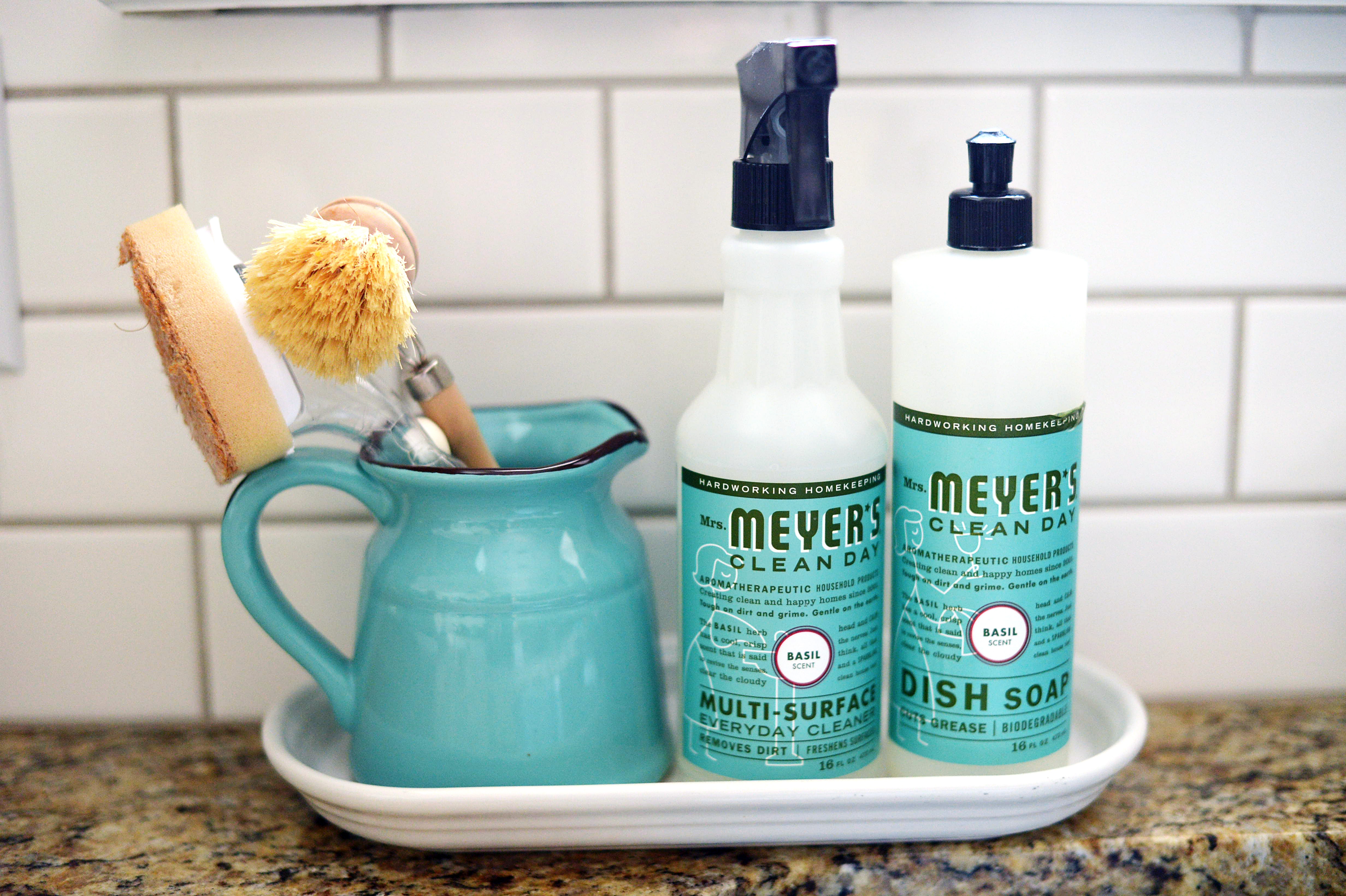 UNDER THE KITCHEN SINK.  To save on space, store your most commonly used cleaners on a door rack. I cannot find the link to the exact organizer I have but this one does the same job.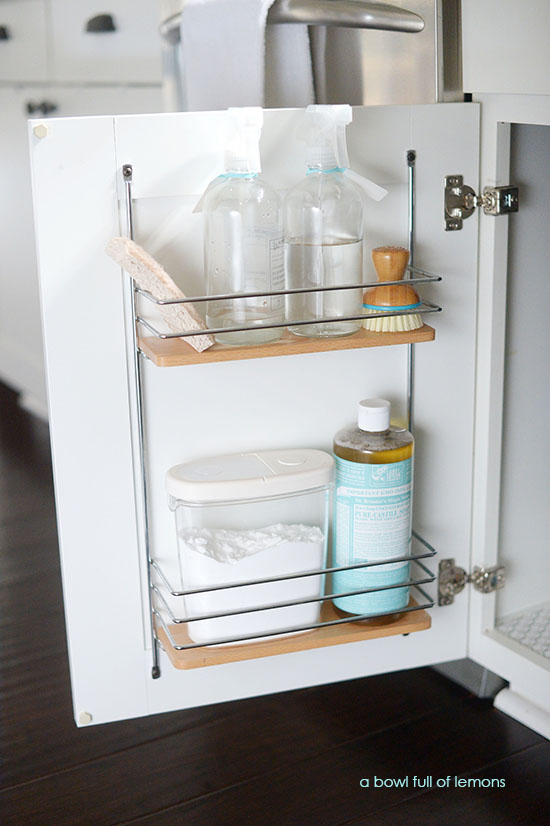 If you need more inspiration, here are some in depth organizing tips from my kitchen.
Take the next seven days to tackle your kitchen.  Follow the step by step process I've laid out for you. Make sure to set up organized zones for better functionality.  (You can find the zones I use in my book). Try not to get side-tracked and don't move ahead until you are completely finished with the space.
Share your progress on Instagram using the hash tag #abfolchallenge, blog about the weekly challenges, and  share your before and after pictures over at my Home Organization 101 group here.  Hold yourself accountable and finish all 14 challenges! I can't wait to see what you accomplish.  Good luck. I'll see you back next week for the week 2 challenge. Happy Organizing!
~Toni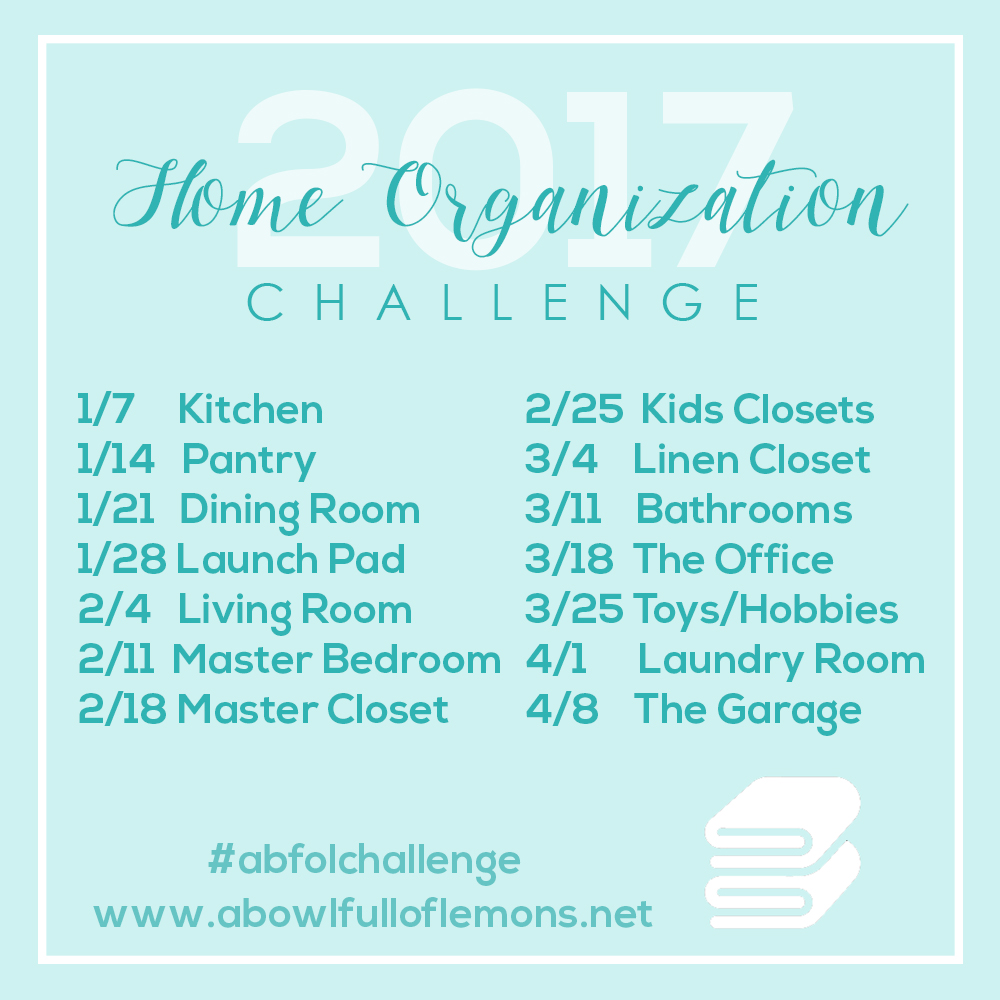 Disclaimer: You may find Amazon affiliate links within this post. Thank you for your support to A Bowl Full of Lemons.
Tags: 2017 home organization challenge, home organization, kitchen, organize, organized
2017 Home Organization Challenge, 2017 Home Organization Challenge, Blog, Kitchen, Organize Posted in 10 comments