Welcome to week 8 of A Bowl Full of Lemons 14 Week Organizing Challenge. This week we are organizing the playroom/toys.  If you don't have kids, spend the week organizing your "hobby" items.  Examples are knitting, scrapbooking, sewing and collections.
If this is your first time participating in the challenge, welcome! Each week, you will receive a new challenge & you will have 7 days to complete it. If you are not subscribed to my blog & want reminders for the weekly challenges, you can sign up here. The first thing you need to do is print out your 14 Week Schedule. You can hang it on your fridge and check it off as you go. Print it out here.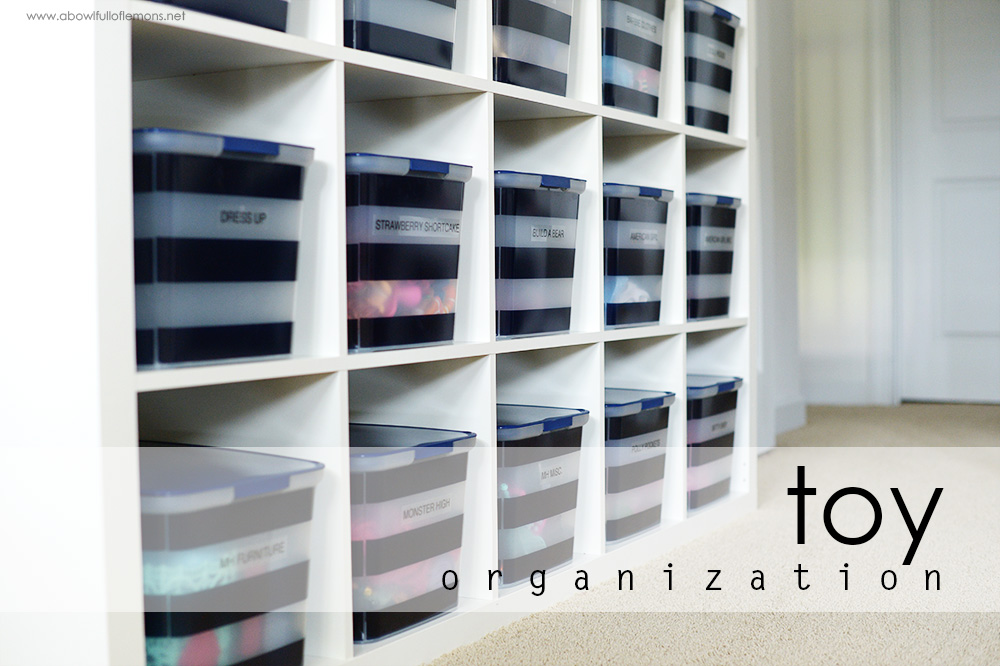 WEEK #8 CHECKLIST: (Print out the free Playroom checklist HERE)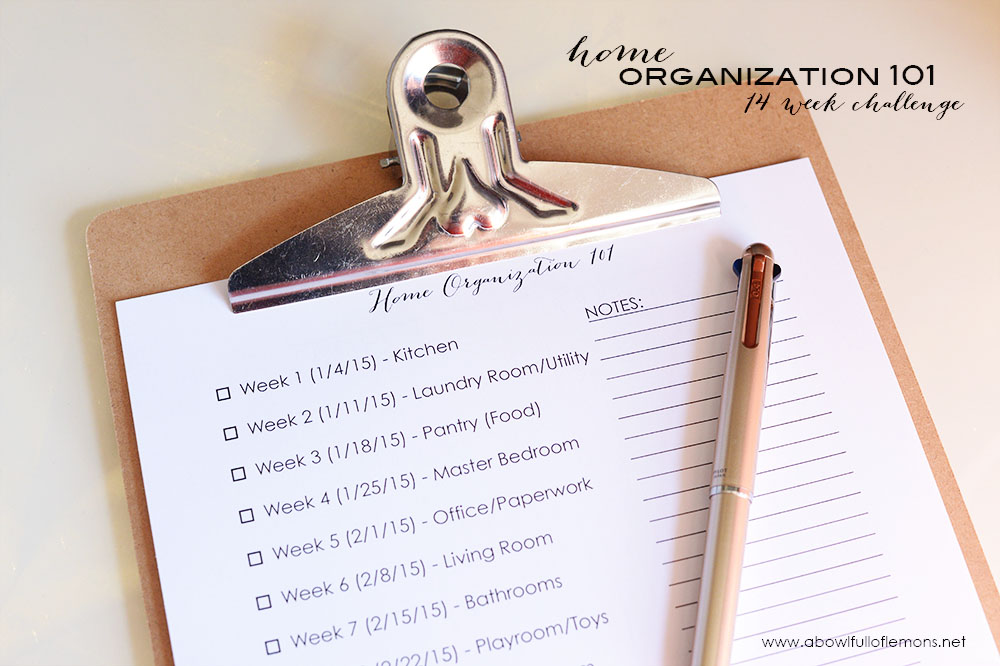 THE PROCESS
PREPARE:
Gather 4 bins, one for each of the following.
Keep
Donate
Trash/Recycle
Other Room
SORT:
Go through everything on the shelves, baskets, floors and drawers, dividing into 4 categories. Purge as much clutter as you can.  If your kids haven't played with something in a while or they've grown out it, let it go.  Also if a certain game or toy is a major source of clutter, purge it!
CLEAN:
Wipe down toy shelves
Clean inside & outside of toy bins
Clean toys
Wash stuffed animals on gentle cycle (check care tag)
ORGANIZE: It's time to go through everything in the "keep" category. Put the other boxes where they belong. When organizing, remove one item at a time – categorizing it. You can use a different shelf, basket, or drawer for each category. The goal is to categorize! Below are some examples of toy categories.  Label each box with a different category and organize your toys.
Play Food
Littlest Pet Shop
Shopkins
Barbies
Arts & Crafts
XBox
Wii
Legos
Games
Polly Pockets
Dress Up
Strawberry Shortcake
Monster High
American Girl
Bitty Baby
Build a Bear
Rainbow Loom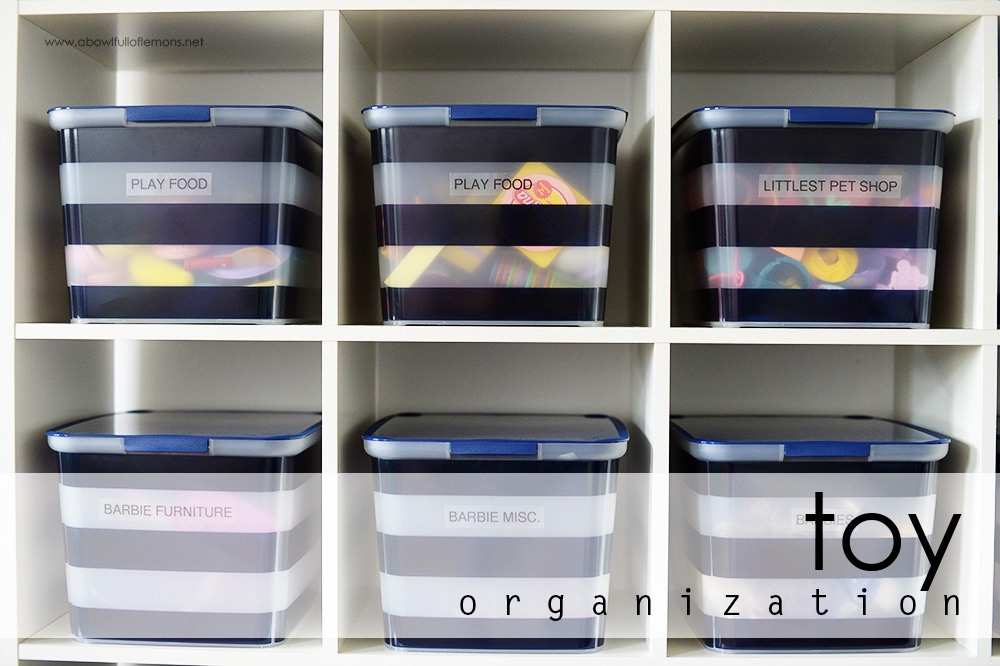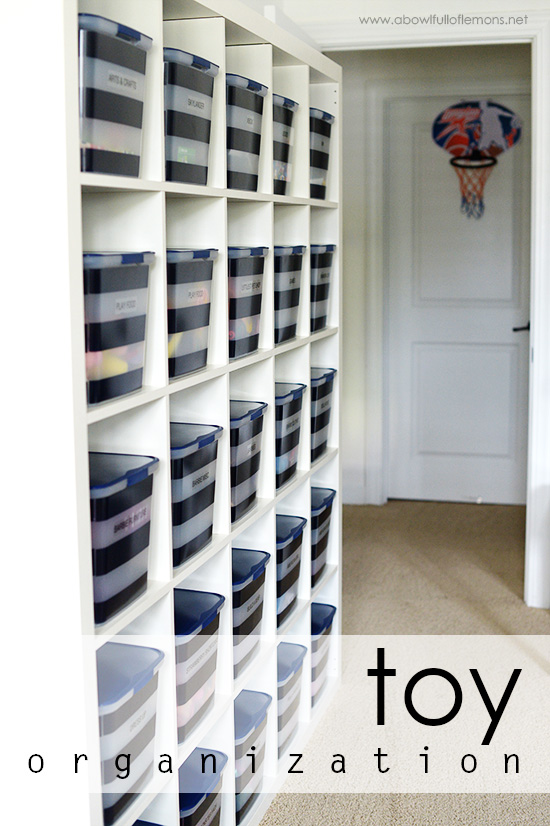 MANAGING TOY ORGANIZATION:
We've been using this system for about a year and I can honestly say the mess has stayed away.  There are 5 key points to remember, if you want this type of organizing system to work for you.
Teach your kids to clean up every evening.  If they don't know how or are not going to be held responsible for this chore, the system will not work.  If they skip a day, 1 day will turn into 2, and 2 into 5.  Then you have a mess on your hands.  Repetition is key.  Don't give up.
Label each box clearly.  If they see what's supposed to go inside, they are more likely to organize correctly.
Use boxes with lids.  I've tried organizing toys in "bins" with no lids and the problem with that is when it's time to clean up, they will just throw the toys into the closest bin (because it's easy).  You can find boxes with lids just about anywhere.  You may even have some at home.  This small investment will save you so much time & headaches in the future.
Keep it simple.  Kids need simple!
Re-organize the bins at least once a month.  Sometimes a stray toy or 2 will get thrown into the wrong bin and before you know it, the box labeled barbies is now everything but barbies.

Here are several blog posts that will inspire you to get your Playroom & toys organized.
HOW TO SHARE:
Share your progress on Instagram using the hash tag #abfolorganizechallenge, blog about the weekly challenges – sharing your before and after pictures and/or share over at my Home Organization 101 group here. Hold yourself accountable and finish all 14 challenges!
NEW TO THE CHALLENGE?
If you are just joining us, visit the challenge details page here, to learn what it's all about.
CHALLENGES:
Week 1: The Kitchen
Week 2: The Laundry Room
Week 3: The Pantry
Week 4: Master Bedroom
Week 5: The Office
Week 6:  Living Room
Week 7:  Bathroom
HAPPY ORGANIZING!
I'll see you back next week for another organizing challenge.
Tags: playroom, toy organization, toys
14 Week Challenge, 2015 Home Organization 101, Blog, February 2015, Organize, Other Spaces, toy organization, Toy room Posted in 9 comments