We're half way through the 2015 Home Organizing Challenge – yay!  If you've been following along, great job!  Keep on going.  You can do it!  This week, your task is to organize the bathroom. Before you begin, quickly spend 5 minutes preparing the space. Put the dirty clothes in the laundry room & empty the trash can.  Once you finish, you're ready to begin the challenge.
If this is your first time participating in the challenge, welcome! Each week, you will receive a new challenge & you will have 7 days to complete it. If you are not subscribed to my blog & want reminders for the weekly challenges, you can sign up here. The first thing you need to do is print out your 14 Week Schedule. You can hang it on your fridge and check it off as you go. Print it out here.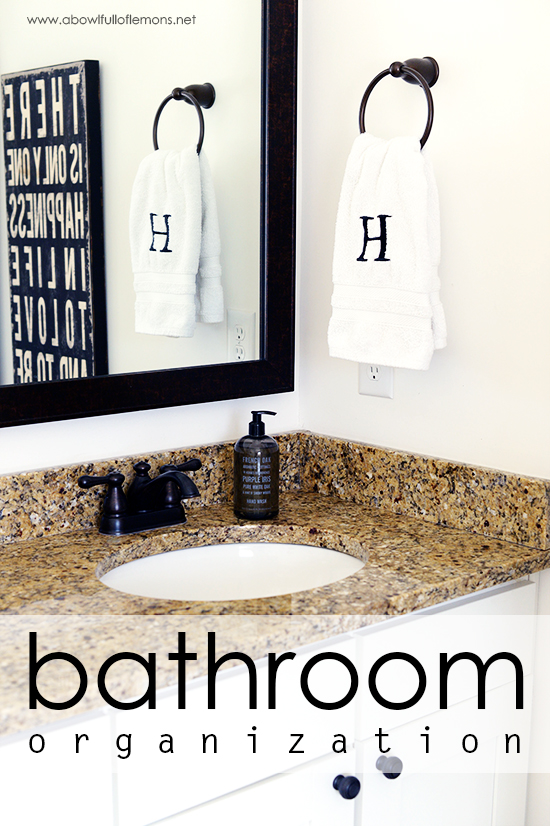 WEEK #7 TASK – Bathrooms:
As you look over the checklist this week, remember this room shouldn't take too long. It's the smallest room in the house.  Follow the steps below, to get your bathrooms purged & sparkling clean!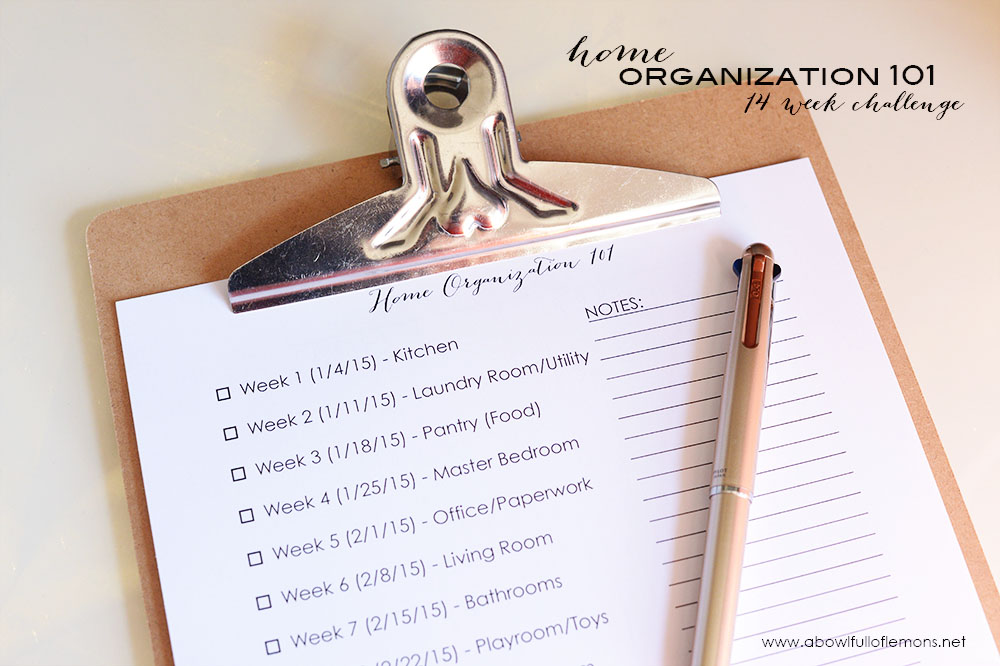 WEEK #7 CHECKLIST: (Print out the free Bathroom checklist HERE)
PREPARE:
Gather 4 laundry baskets, one for each of the following:
Keep
Trash/Recycle
Other Room
Donate (toiletries that you no longer want/use)
SORT:
Sort through everything in the drawers, closets, cabinets and countertops. Don't forget to purge empty bottles in the shower.  Place everything in 1 of the 4 baskets listed above.  Recycle empty bottles, toss the trash, and donate any toiletries that you no longer use (to family or friends). Also remove anything that doesn't belong in the bathroom.
CLEAN: 
Clean the windows & blinds
Wipe down doors, baseboards, doorknobs and switch plates
Wipe down counters & cabinet doors
Sweep/mop floors
Dust lighting
Wash rugs & shower curtain
Clean shower, bathtub & toilet
Clean out trash can
Clean out medicine cabinet
Wash mirrors
ORGANIZE: It's time to go through everything in the "keep" box. Put the other items where they belong. When organizing things in the keep box, remove one item at a time, categorizing it. Below are some examples of what to organize together in the bathroom. You can use a different shelf, basket, cabinet or drawer for each category. Keep similar items together.
Make-up
Hair Care (Hairspray, gel, detangler, etc)
Body Care
Dental Care
Extra toiletries
Skin care (face wash, cream, etc)
Hair accessories (brushes, curling iron, hair dryer, hair ties, etc)
Feminine Products
ORGANIZING TIPS
KEEP THE COUNTERS CLEAR OF CLUTTER.   I purchased a cabinet at Lowes for this specific purpose.  Our counters were a magnet to cluttered toiletries because I had nowhere to put anything. Plus I don't have a medicine cabinet.   Now the bathroom always looks clean because everything is put away and the counters are clear.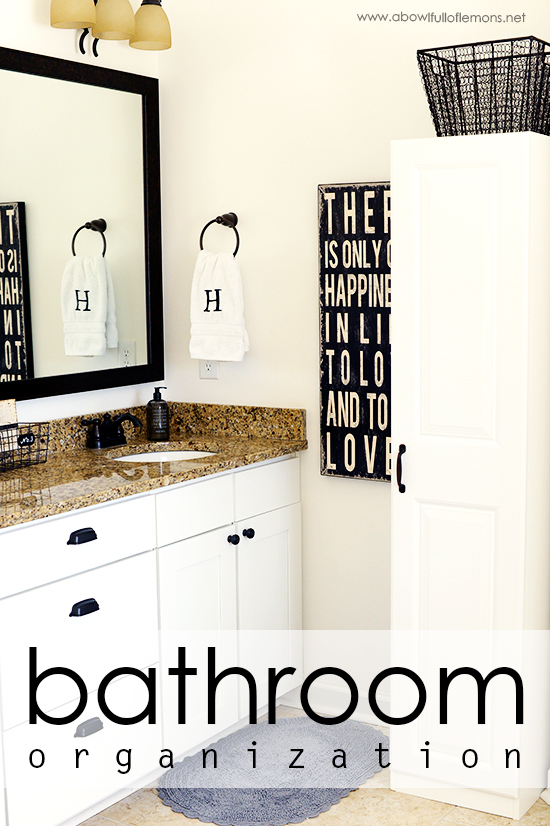 USE BASKETS & CONTAINERS.  Separate items by category and containerize them.  This is the easiest way to keep your bathroom organized.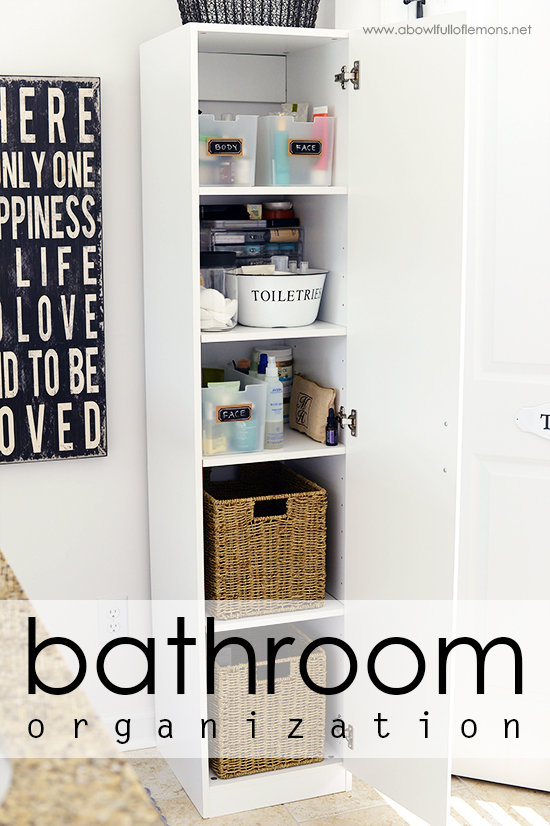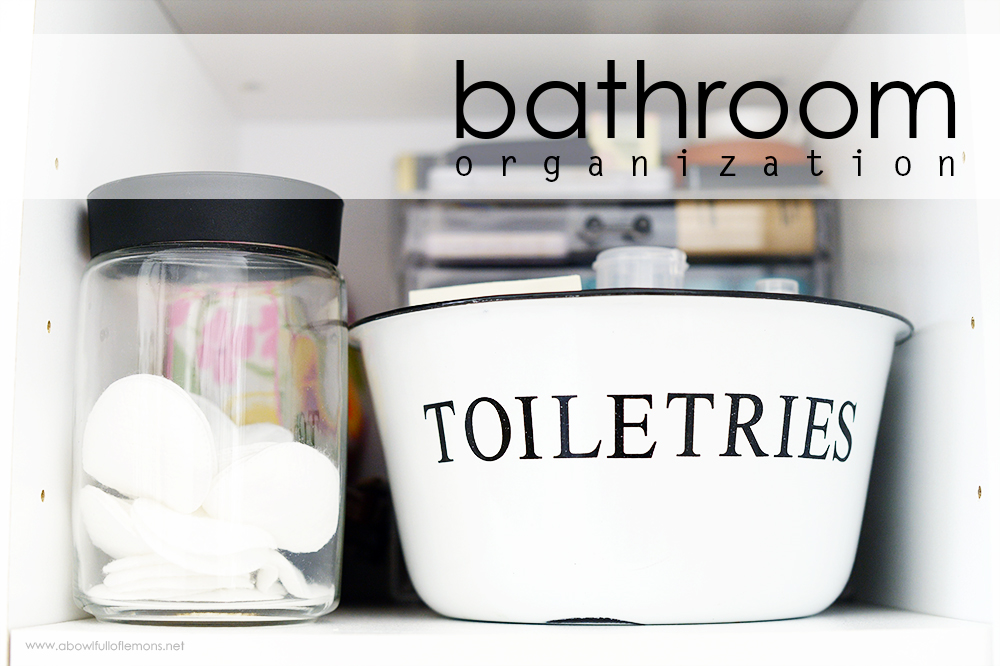 You can find plastic, metal and wicker containers just about everywhere.  Anything will work.   I found this adorable toiletries bowl
here
.  The plastic organizers below were from Target.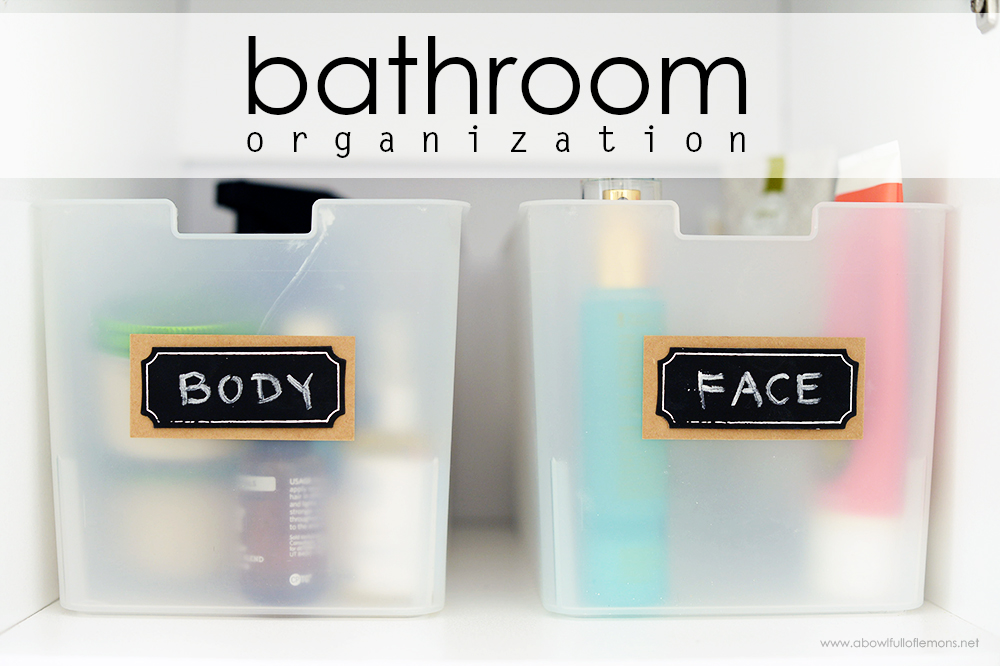 These cute wicker baskets are from Lowes.  I keep my hairdryer, curling iron and extra hair products in them.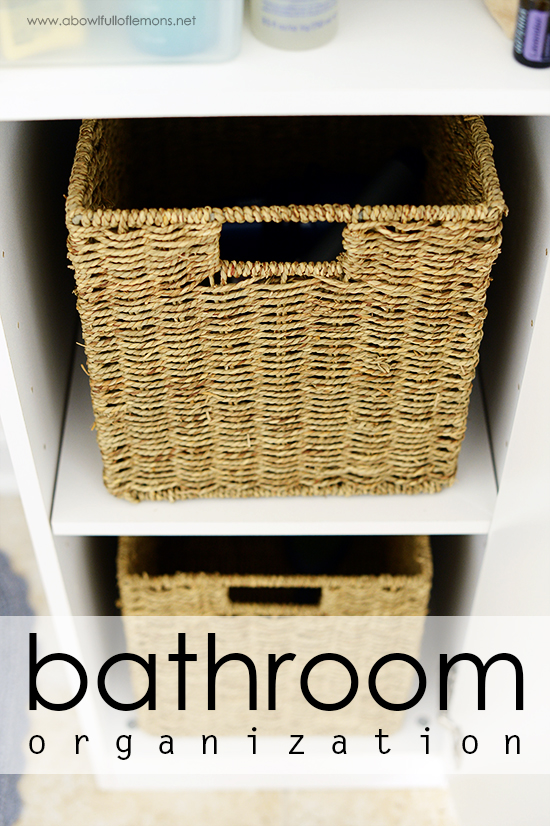 As you're cleaning and organizing, don't forget to add some decorating touches. I love to personalize my home with classic vintage decor & the bathroom is no exception.  This enamelware Toilet sign can be found
here
.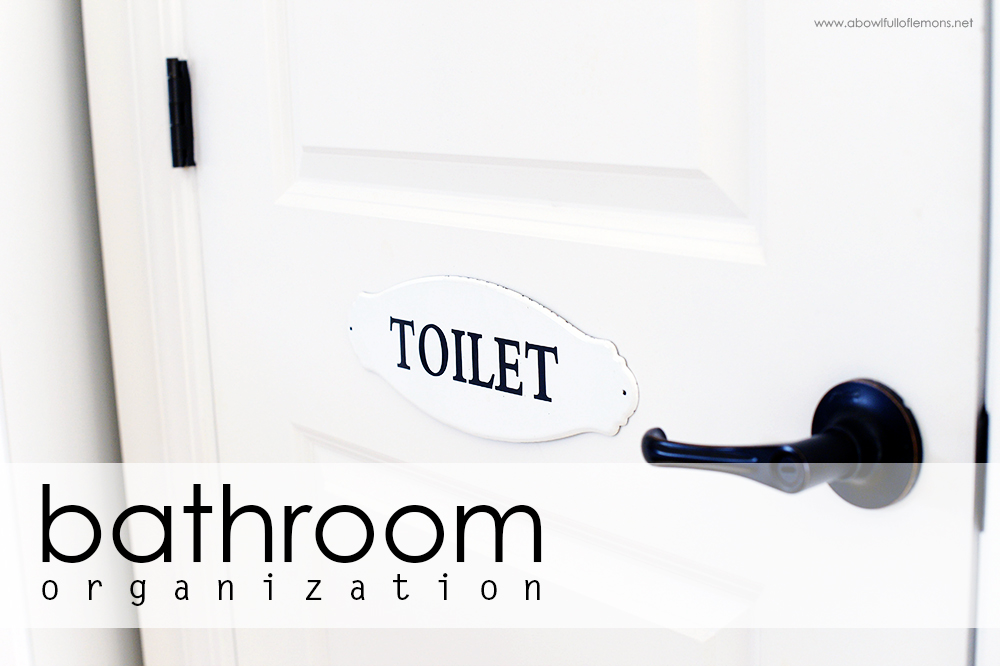 I spotted this wooden organizer at TJ Maxx a few months ago.  I store
my favorite wax melts
in it.  I keep the organizer on a shelf behind my toilet.  PS.  If you
follow me on Instagram
, you may see an exciting giveaway for these wax melts today. They are a-m-a-z-i-n-g! (Yes I still use essential oils. These are a special treat every once in a while).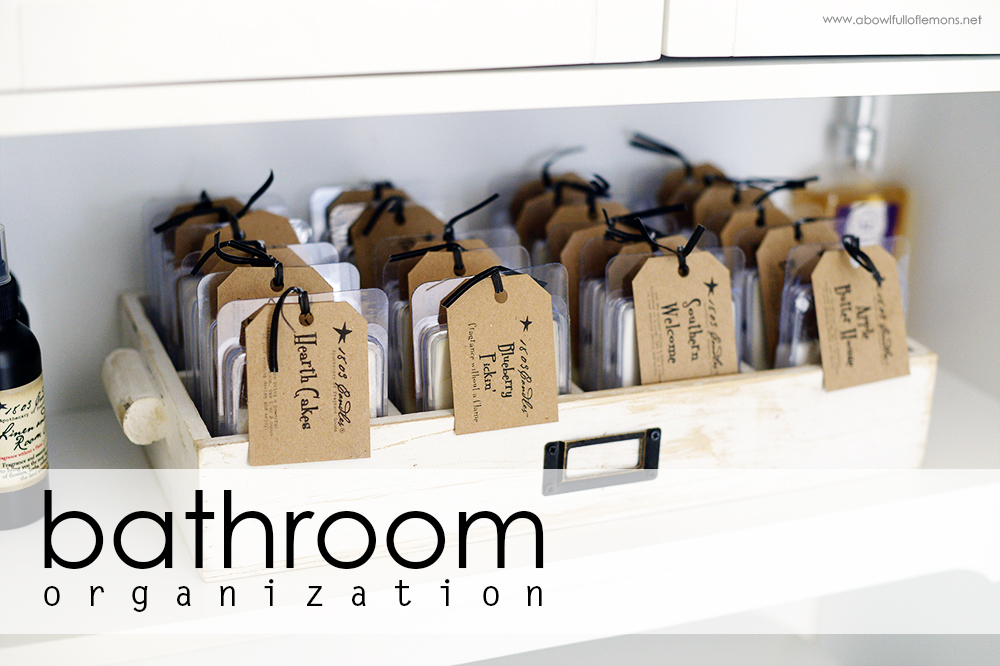 Take your toilet paper out of the wrapping and place it in a basket.  It'll be easier to grab when you need some. The wire basket below is from TJ Maxx.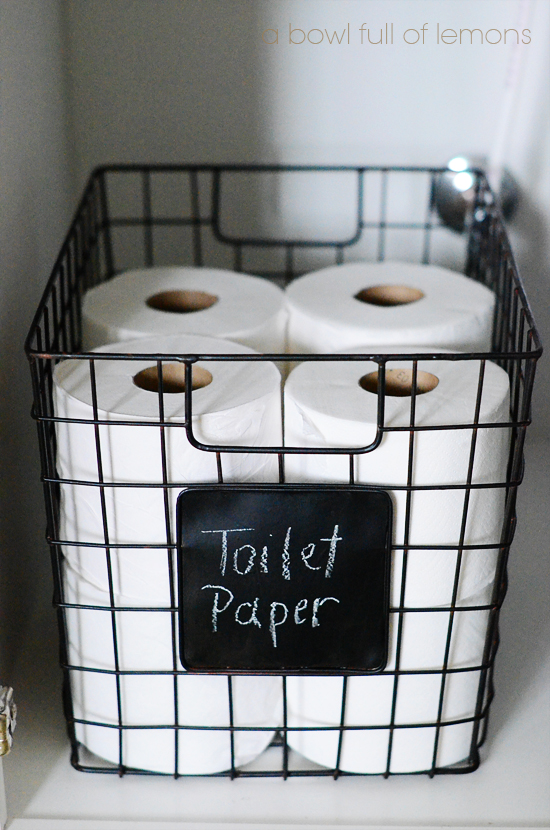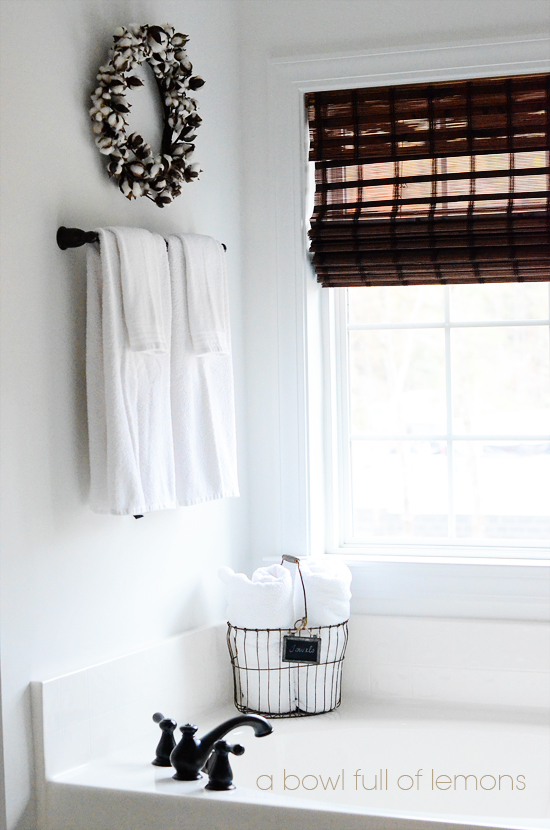 Here are a few blog posts that will inspire you to get your bathrooms organized.
2. Bathroom Closet Organization
3. Daily Cleaning the Bathroom
HOW TO SHARE:
Share your progress on Instagram using the hash tag #abfolorganizechallenge, blog about the weekly challenges – sharing your before and after pictures and/or share over at my Home Organization 101 group here. Hold yourself accountable and finish all 14 challenges!
NEW TO THE CHALLENGE?
If you are just joining us, visit the challenge details page here, to learn what it's all about.
CHALLENGES:
Week 1: The Kitchen
Week 2: The Laundry Room
Week 3: The Pantry
Week 4: Master Bedroom
Week 5: The Office
Week 6: The Living Room
HAPPY ORGANIZING!
I hope you're enjoying the 14 week challenge.  Let me know how you're doing in the comments below.  I'll see you back next week for another organizing challenge.
Tags: 14 week challenge, bathroom, organize, storage
14 Week Challenge, 2015 Home Organization 101, Bathrooms, Blog, February 2015, Organize, storage Posted in 13 comments