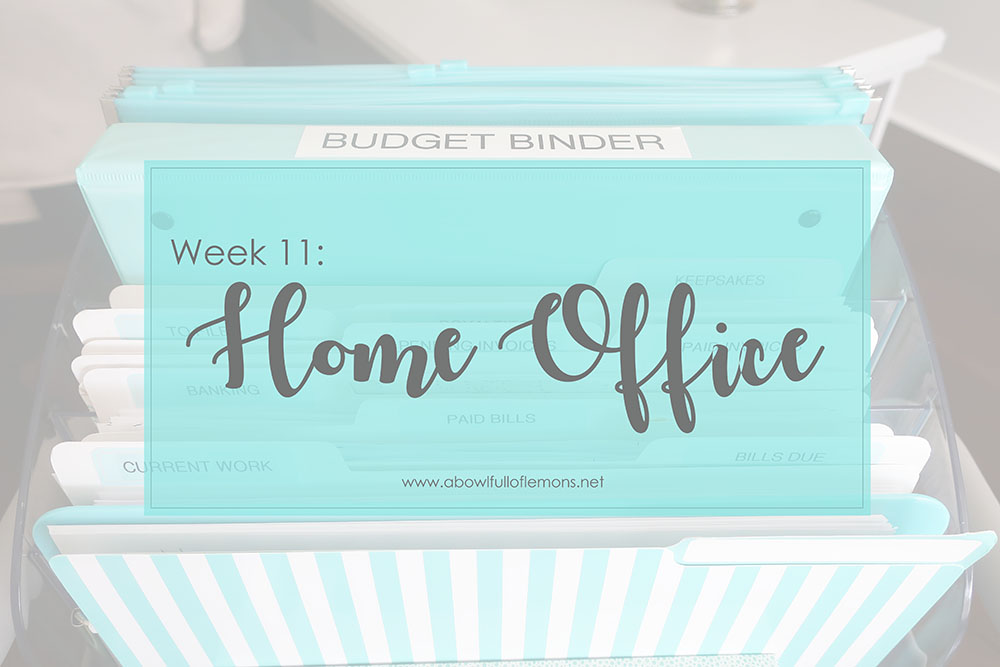 It's week 11! We are almost finished with the 2019 challenge and you are doing an amazing job! This week, we are going to clear the paper piles and desktop clutter from the home office. If you don't have an office, clear the clutter from the spot where you keep your bills and paperwork. Are you ready to conquer the office? Let's get busy!
Below is a video of my organized (old) office. Watch it, to gain tips and ideas that you can implement in your own office.
If you're new, print out the schedule and checklists below and begin on the current week. For encouragement, join our Home Organization Facebook community to share your progress, or struggles, or questions. Or simply look through the photos and read how others are doing.

THE ORGANIZING PROCESS
PREPARE: Gather 6 large bins or boxes, one for each of the following.
Keep (Everything that stays in the office)
SORT:
Paperwork – Give yourself at least 2 hours to go through ALL of your paperwork. Each piece of paper will be placed in one of the following bins (shred, file, trash). You are not organizing at this time – Just sorting.
Everything Else – Go through the remaining items in your office. Place everything into one of the 6 bins (listed above).
CLEAN:
Clean the windows, blinds, frames & mirrors
Wipe down doors, baseboards, doorknobs and switch plates
Clean ceiling fan & lighting
Clean the keyboard, mousepad & computer screen (according to instructions)
ORGANIZE:
Filing System – Now it's time to organize all of your paperwork into a filing system. The categories I use are listed here. At least 50% of the paper you have now should be tossed. You can also go paperless at this time. (Log into your accounts and chose this option).
Mail Station – Create a designated mail station. You will need one to get control of the incoming paper clutter.
Everything Else – Create categories for everything else in your office, then label & organize into containers, drawers & baskets.
WHEN GOING THROUGH YOUR PILES OF PAPER, ASK YOURSELF…
Is this paper necessary to keep? (Taxes, etc)
Will I use it in the future?
Do I have a place for it?
If you answered no, toss it! (Shred if needed).

I love my new office. It's above our garage and in a separate wing from the main part of the house. There is plenty of space for me to work.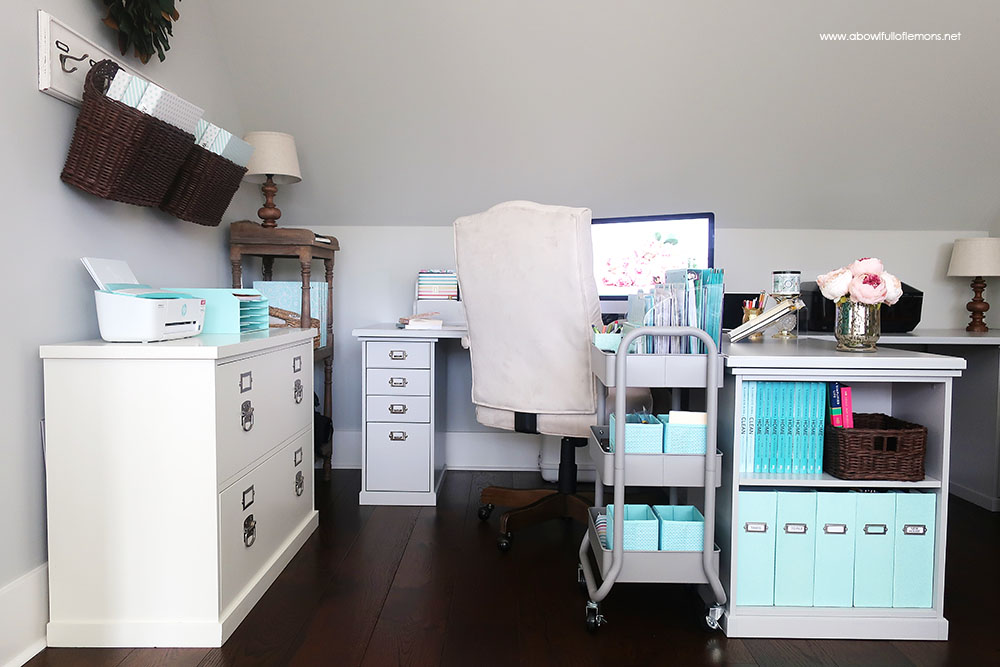 I found the light gray desk unit from Ikea and my office chair can be found here. My peonies are from here (light pink bud) and the vase is from TJ Maxx.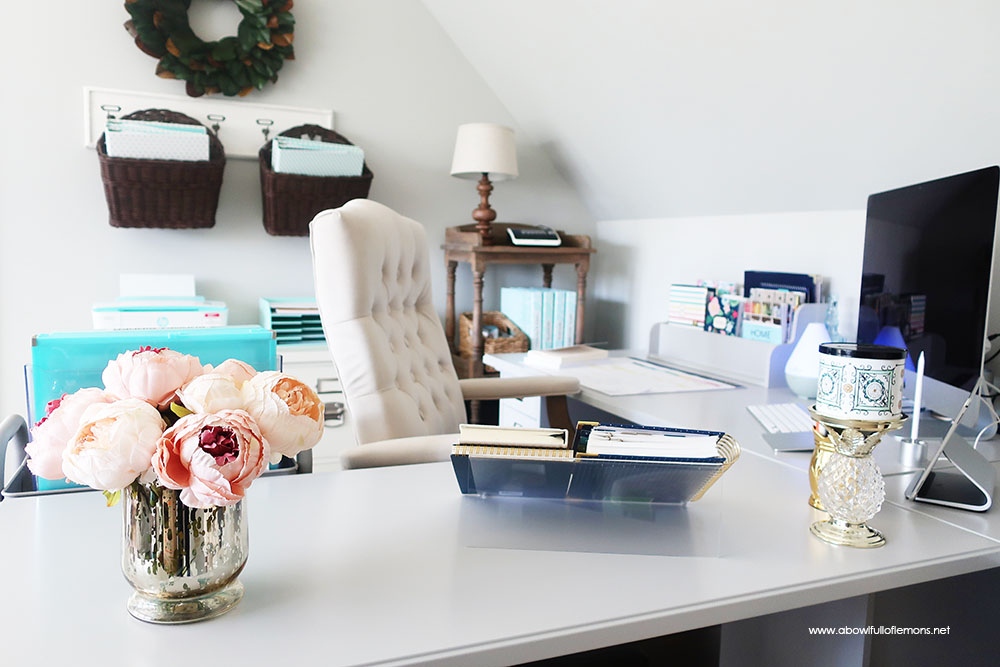 I keep my planner right in front of me, usually wide open. I use this stand to prop it up. My planner is from Emily Ley. Get $10 off your first purchase –> here. I use this daily journal.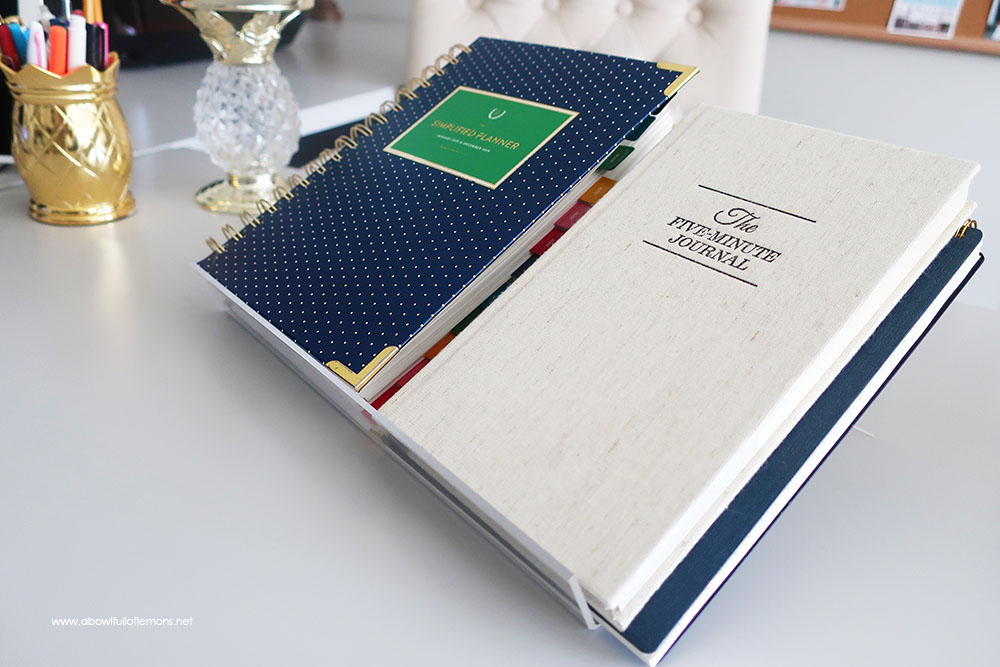 I also use an Emily Ley desk calendar (from Staples). The organizer behind the calendar is from Ikea. I use it to keep my books and binders.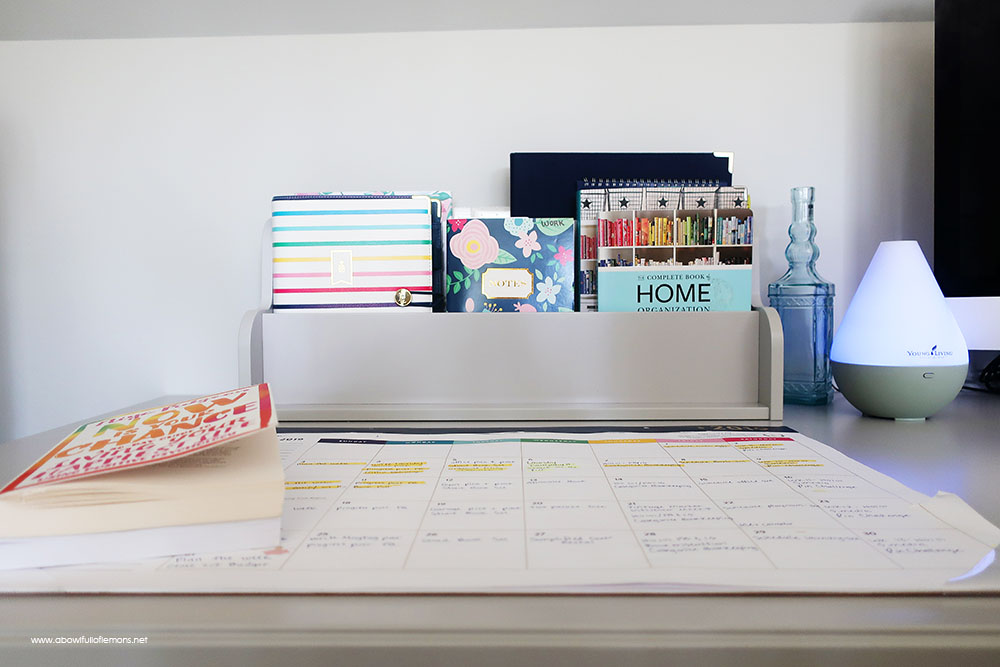 I keep my books on the end shelf, along with magazine bins (from Staples).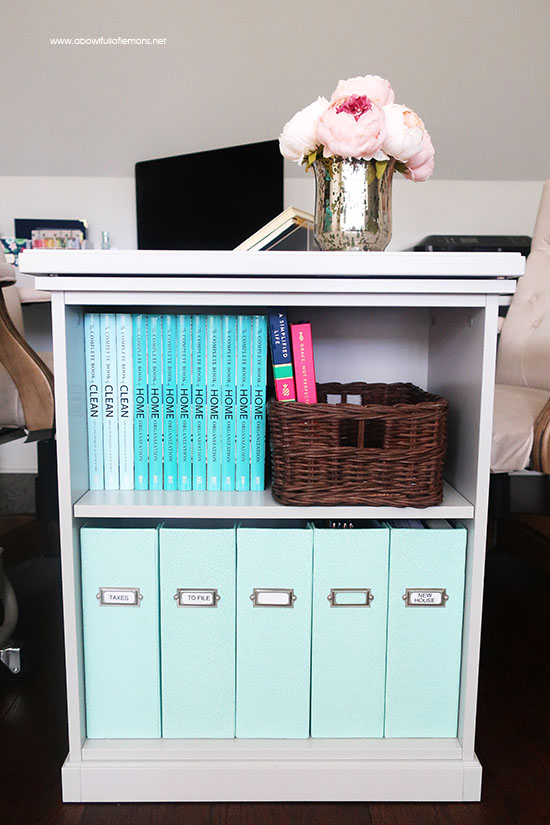 One of my favorite things in my office is this cart. You can find it here. I keep my daily files in an acrylic organizer and markers in these bins.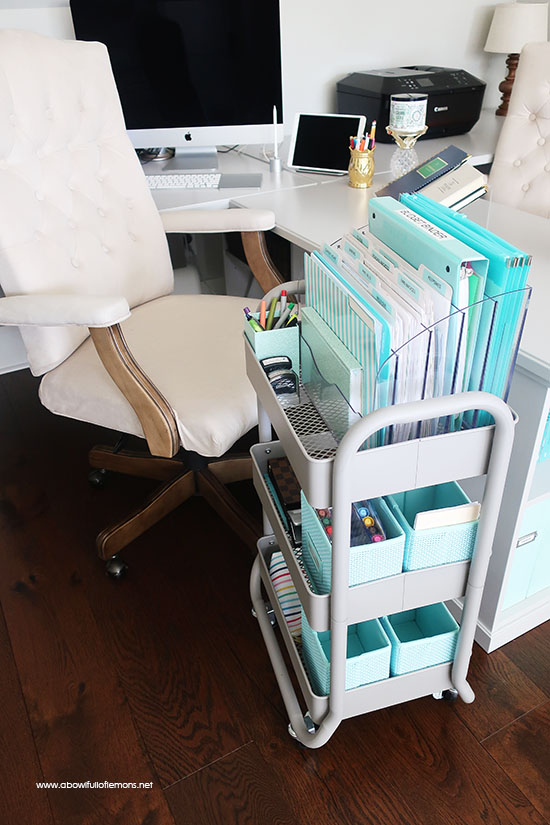 You can find my budget sheets here and here. The striped file folder is from Poppin.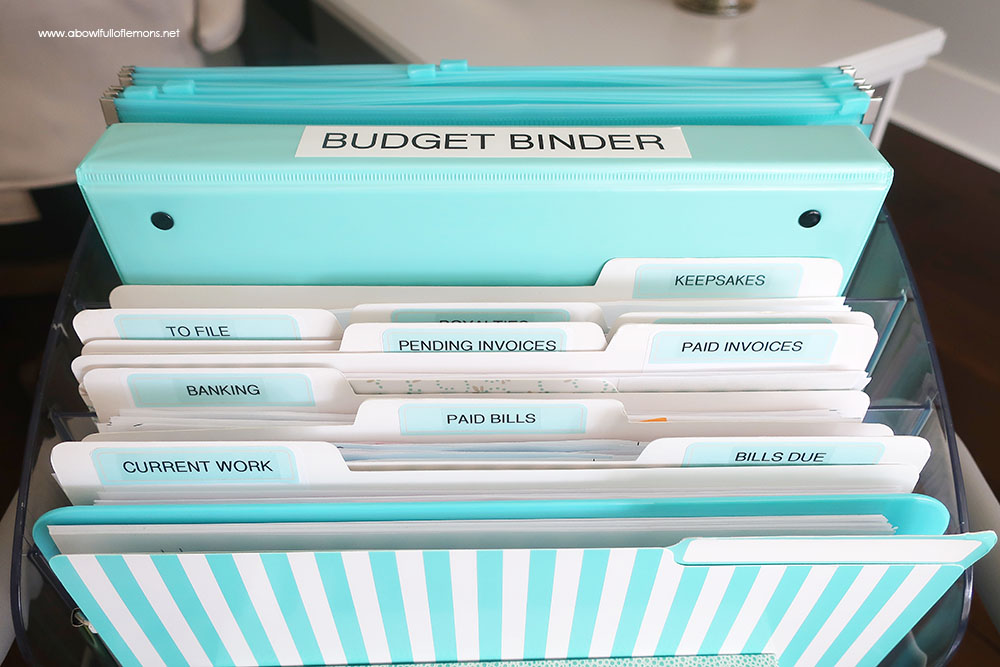 I keep receipts in these zipper folders.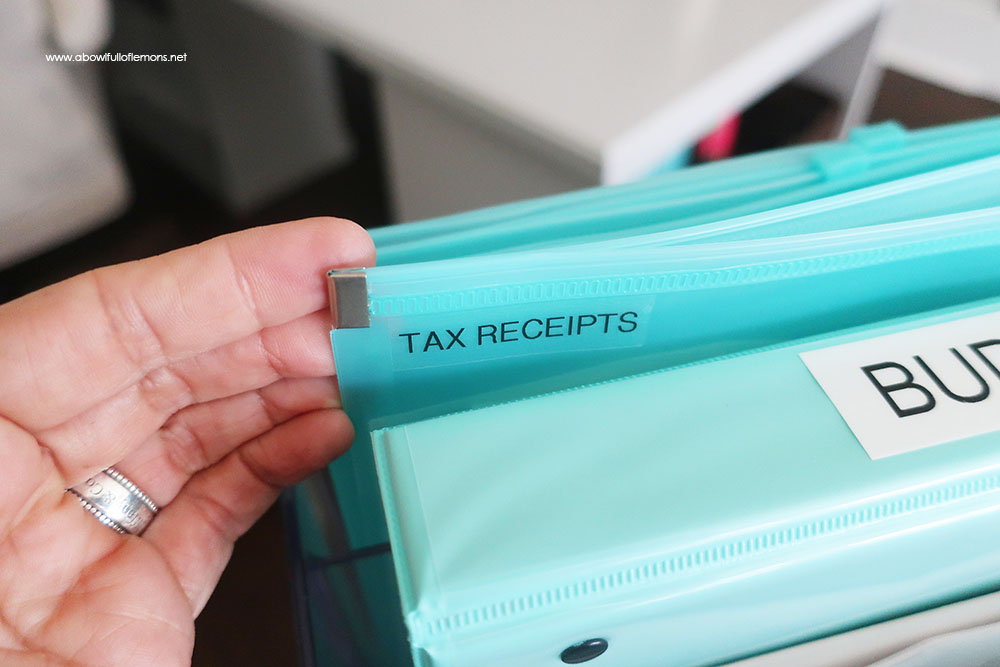 This is my filing cabinet. It's from Pottery Barn. I love the size! The baskets above are from Ikea and the binders can be found here. The printer can be found here.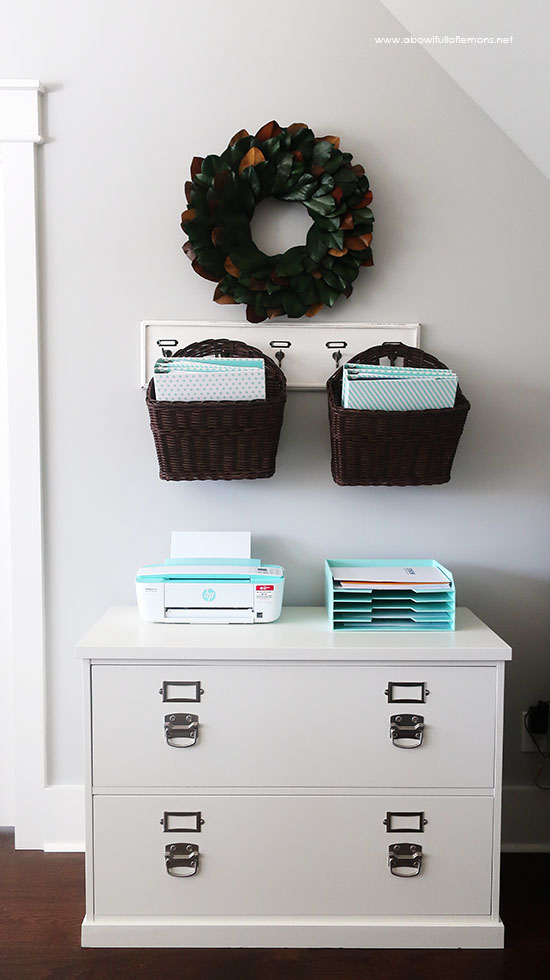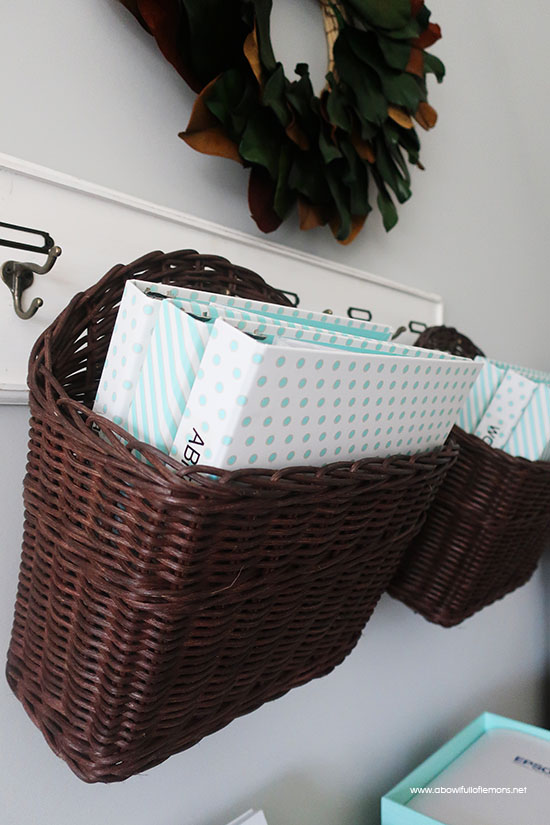 I got inspiration to set up my taxes in binders from At Home With Nikki. It's brilliant! The aqua binders are from Walmart.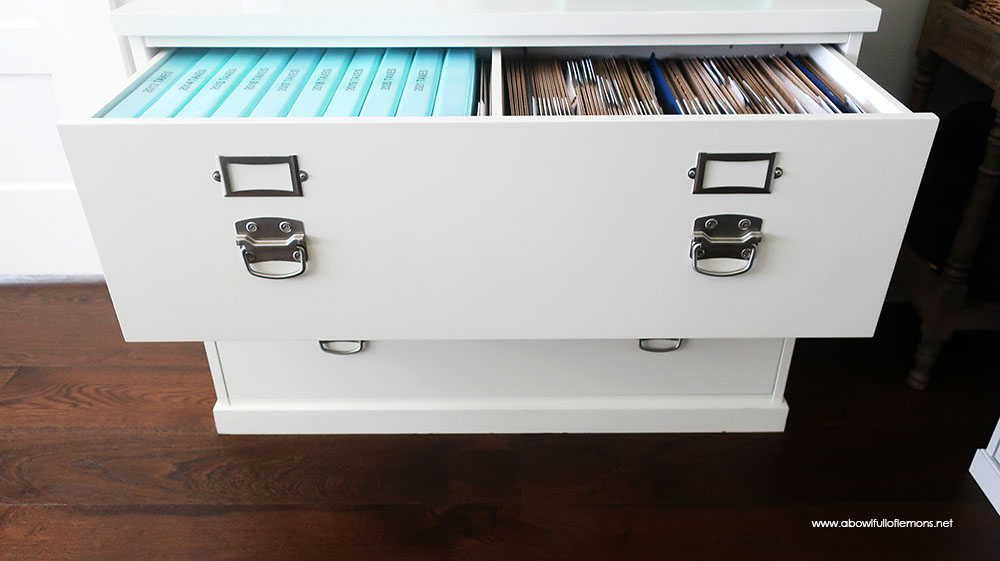 You can find my file folders here & plastic tabs here and the mint labels here. The color coded dot stickers are from Emily Ley.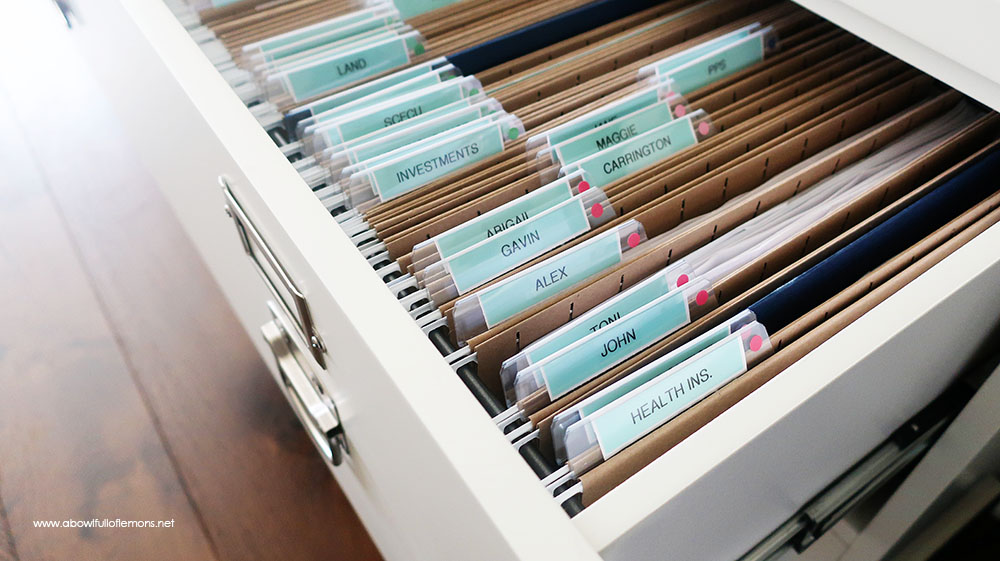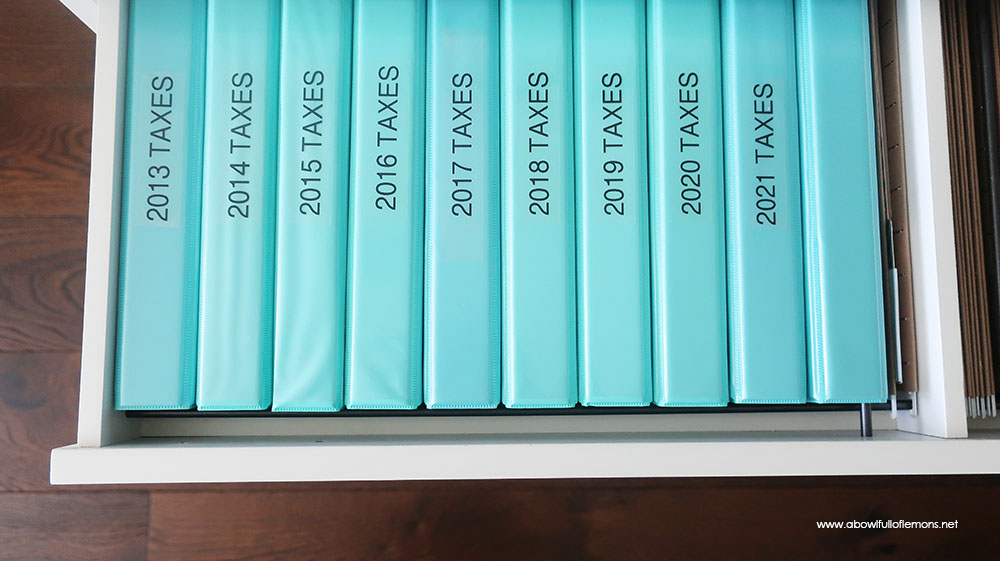 I keep my drawers organized with acrylic bins. They can be purchased at most stores. I have some in my shop as well.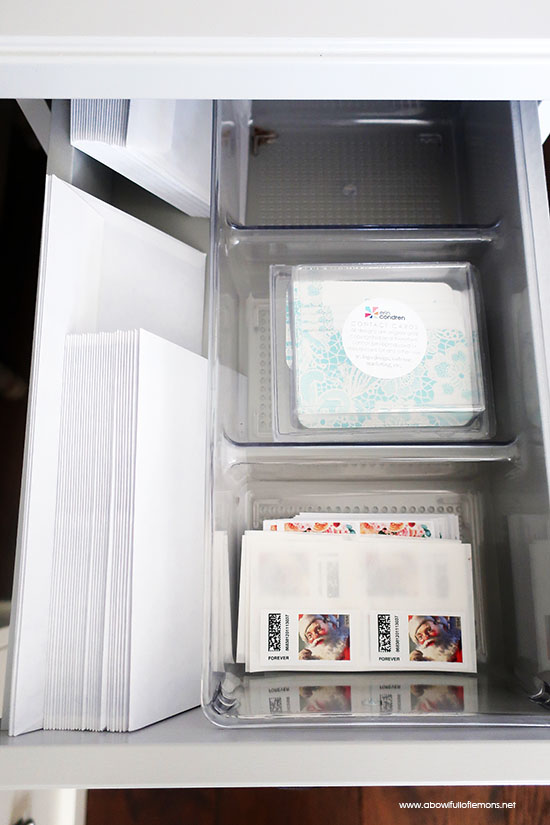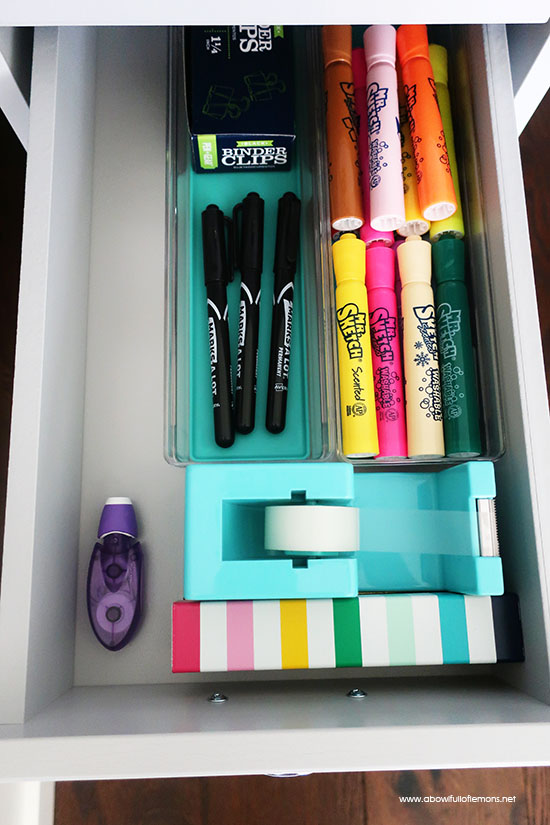 I hope you gained some inspiration from my home office organization. I can't wait to see how you organize yours. Make sure to tag me on Instagram using the #abfolchallenge and @abowlfulloflemons.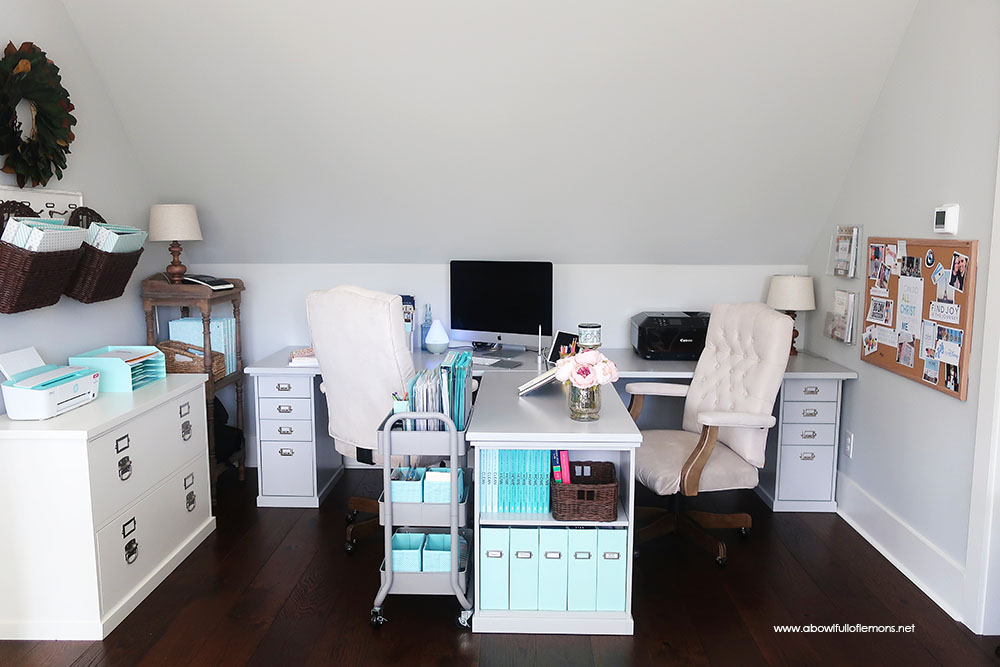 Here are few blog posts that will inspire you to get your office organized.

For the perfect companion guide to our challenge, purchase The Complete Book to Home Organization. It includes all 14 weekly challenges as well as a ton of inspiration and tips about the spaces we will be organizing. No need to log onto the computer for ideas, this manual has it all!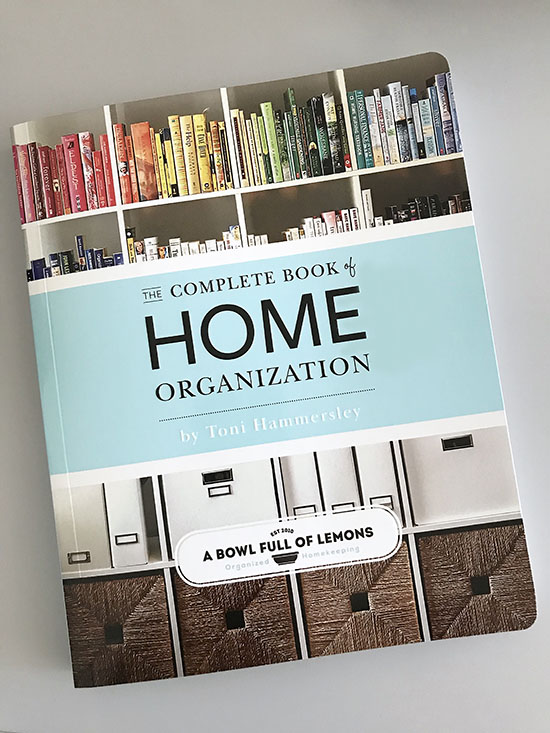 If you need more guidance on cleaning your house, be sure to pick up The Complete Book of Clean. It has tons of tips and checklists that will teach you how to get your homes sparkling clean.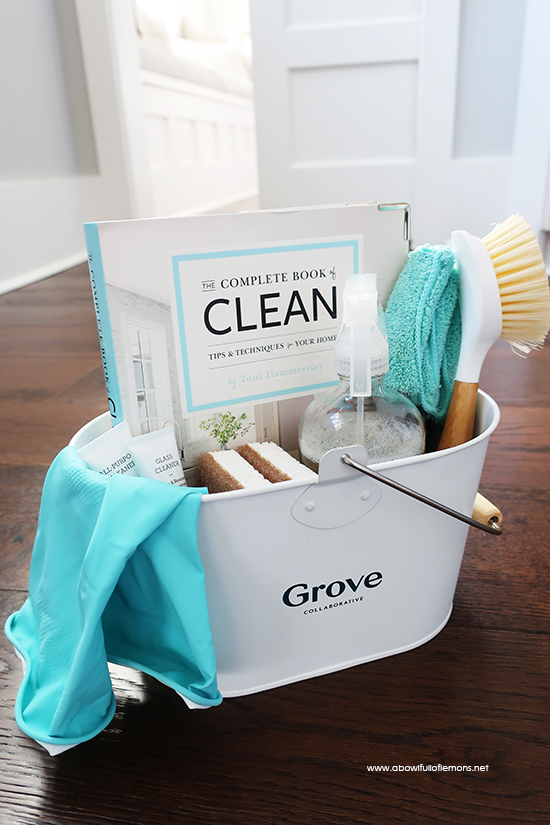 Clean out your office this week. Purge your paper piles and filing system. It will take a while, but you'll be so glad you spent the time to do this. Share your progress on Instagram using the hash tag #abfolchallenge, blog about the weekly challenges, and share your before and after pictures over at my Home Organization group here. Hold yourself accountable and finish all 14 challenges! I can't wait to see what you accomplish. Good luck. I'll see you back next week for the week 12 challenge. Happy Organizing!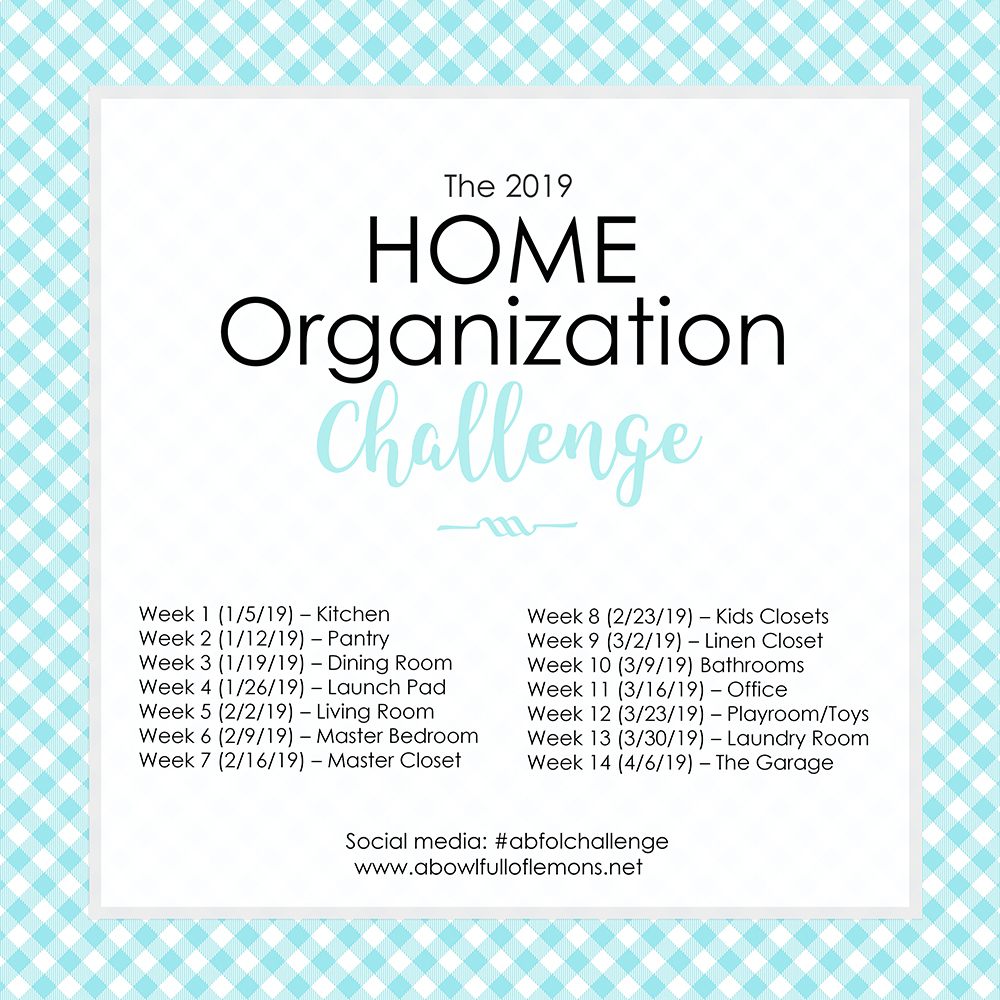 Tags: a bowl full of lemons, clean desk, clean home, declutter, drawer organization, home office, home organization, office, office organization, organize, organized
2019 Home Organization Challenge, 2019 Home Organization Challenge, Blog, drawers, filing, labeling, mail organization, Office, Organize, Paperwork, Planners & Binders, purging clutter Posted in 2 comments