Welcome to week 14, our final challenge of the 2015 Home Organizing Series.  This week we are cleaning out, purging and organizing our cars.   In my opinion, our cars are a reflection of our state of mind.  If our cars are messy, we will be more stressed and anxious.   It's amazing what a simple task like cleaning out your car can do to your peace of mind.  Take 20-30 minutes this week to clean out your car.  Give it a good vacuuming and wash down.  If you give your car the necessary care and maintenance it needs on a weekly basis, it will last a lot longer, saving you money and headaches.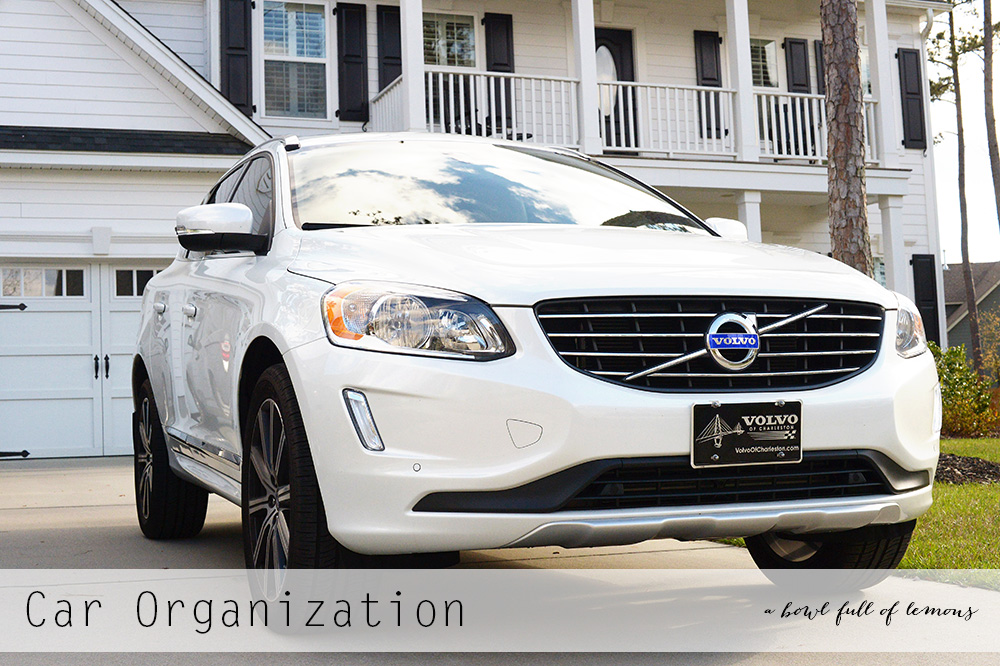 WEEK #14 CHECKLIST: (Print out the Car Organization checklist HERE)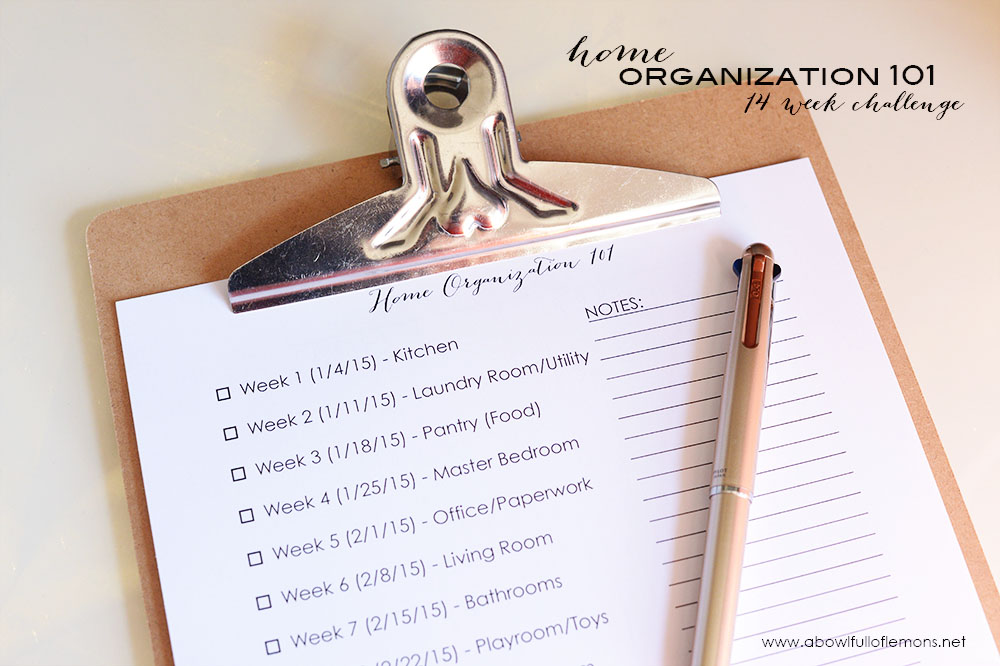 WEEK 14:  THE PROCESS
PREPARE:
Gather 2 bins & a trash bag, one for each of the following.
Keep in car
Take in the house
Trash/Recycle
SORT:
Sort through everything in the car.  Empty it completely.  Remove anything that doesn't belong or isn't necessary to have in the car.
CLEAN:
Vacuum
Wipe down the inside of the car
Clean windows
Wash Outside of car
Take mats out and vacuum/shampoo
ORGANIZE: It's time to go through everything in the bin. Categorize what you are keeping in the car.   Here are some organizing ideas.
Reusable Grocery Bags
Emergency Kit
Car Binder
Business Receipts
Kid Kit (If you have kids, you can keep car toys together in a bag/bin)

I keep my car as clutter free and clean as possible.  I vacuum & wash it weekly.  I spent a lot of money on it and want it to last a long time.  I don't allow any food or drinks in the car.  No fast food fries here!  The kids will not starve if they don't eat in the car.  By having a NO FOOD rule in our car, 75% of the mess has been eliminated.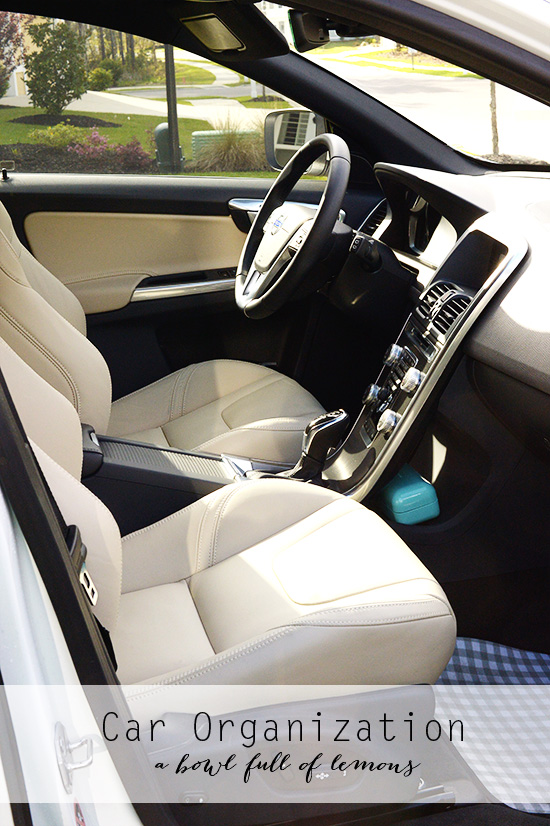 I keep an umbrella by each seat (or in the doors).  We live in the south and it rains a lot.  We use them often.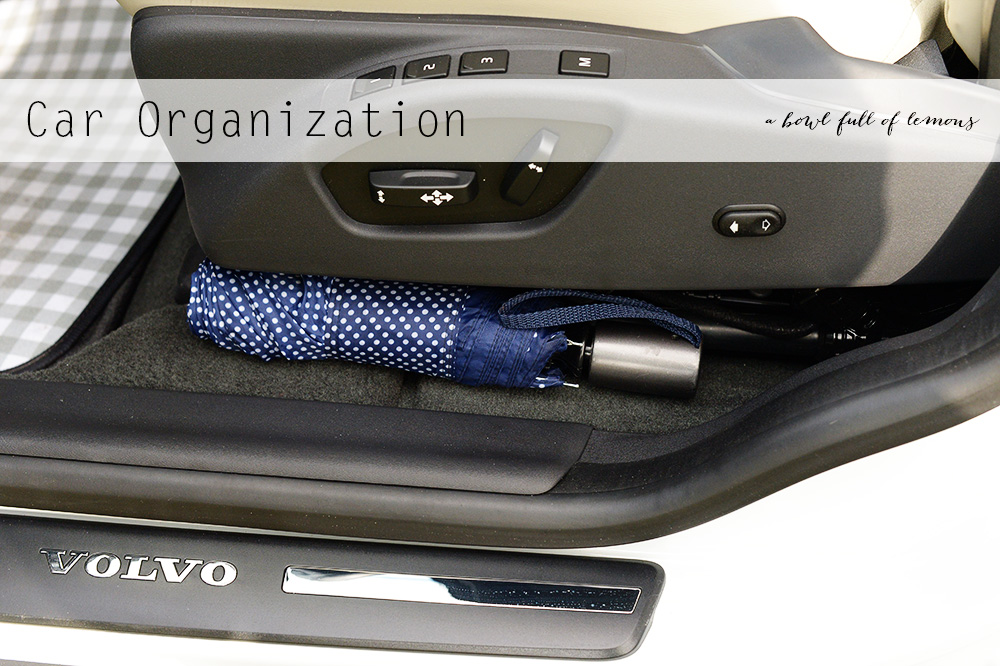 The drivers side door has my tissues and hand sanitizer.  I can't live without either of them.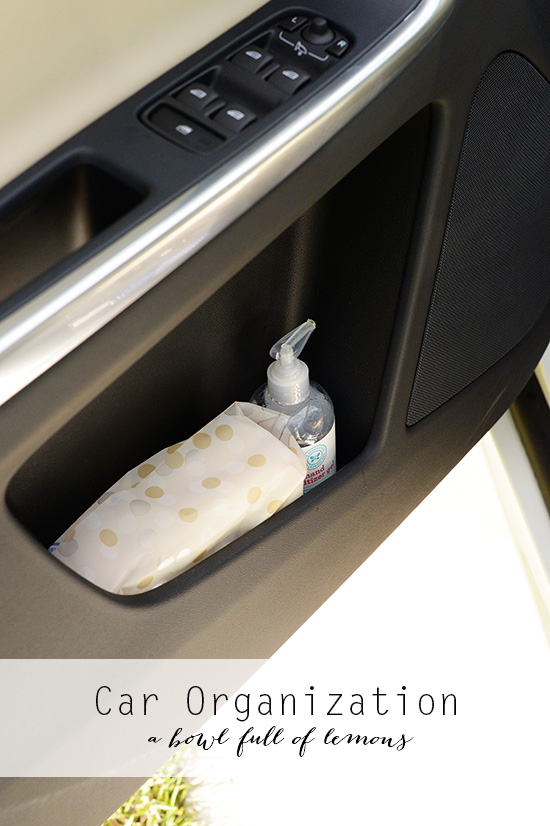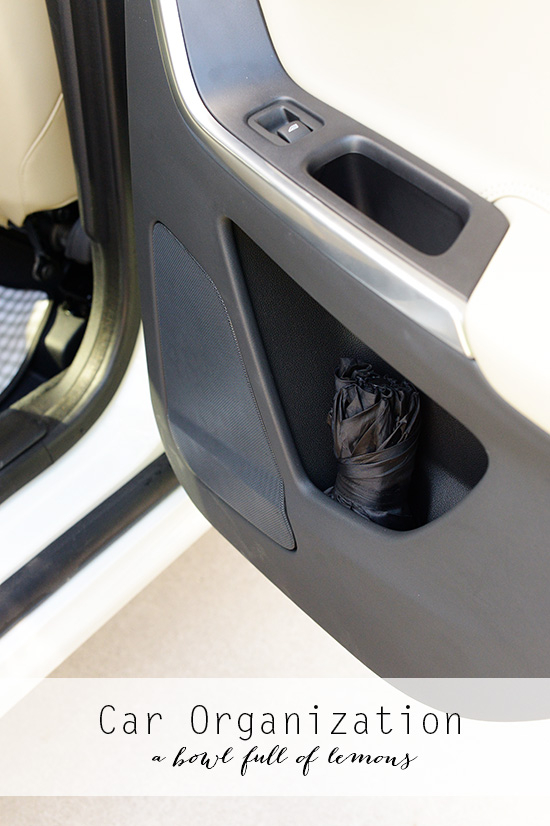 The center console can be a magnet for clutter.  Try to keep only the necessities here.  I store wet ones, hand sanitizing wipes, money and lip balm.  That's it!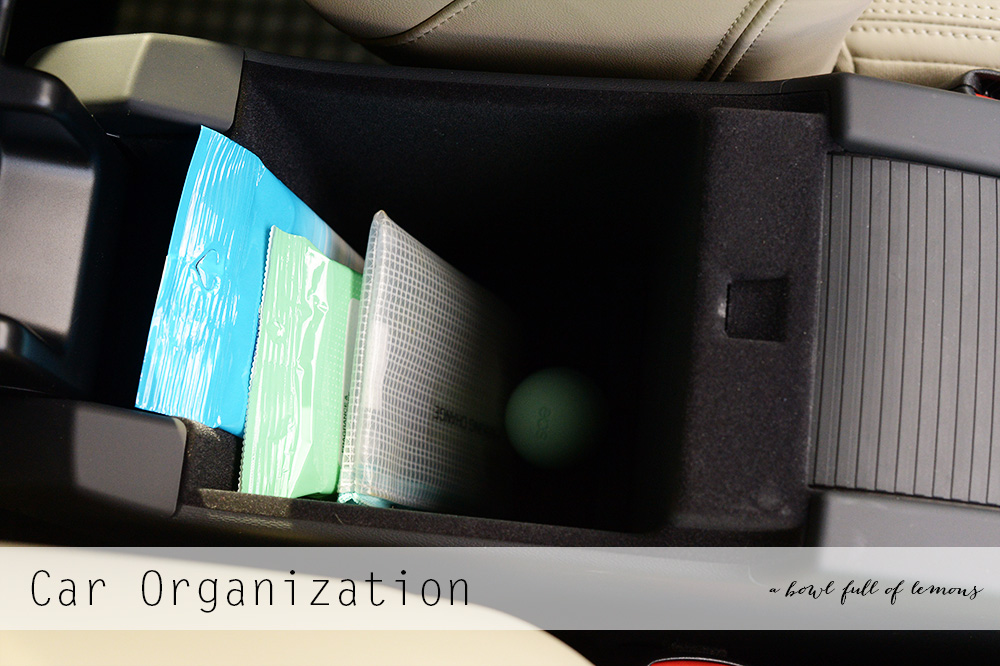 Below is my parking money pouch.  We live in a tourist city and have to pay to park in most places.  I always empty my change into it.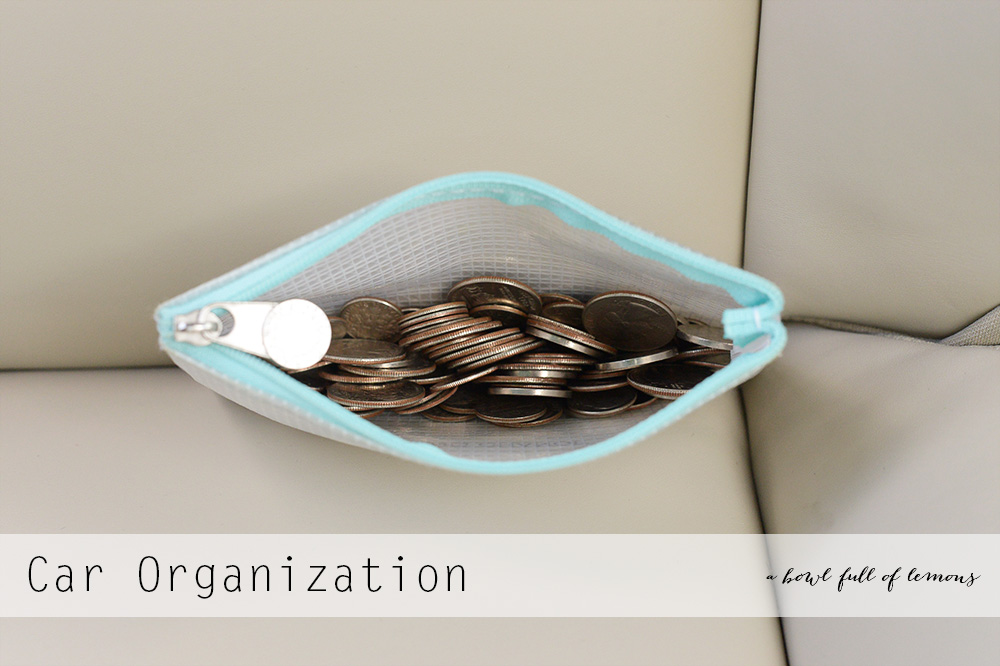 The glove box houses my business receipt organizer and car binder.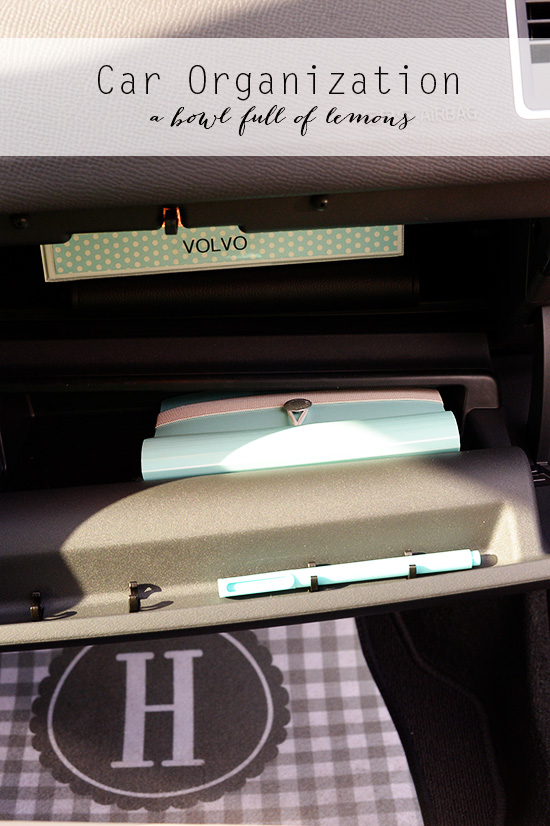 All of these items were purchased at Staples.  The blue dot paper is simply scrapbooking paper from Joann Fabrics. The car mats were purchased
here
.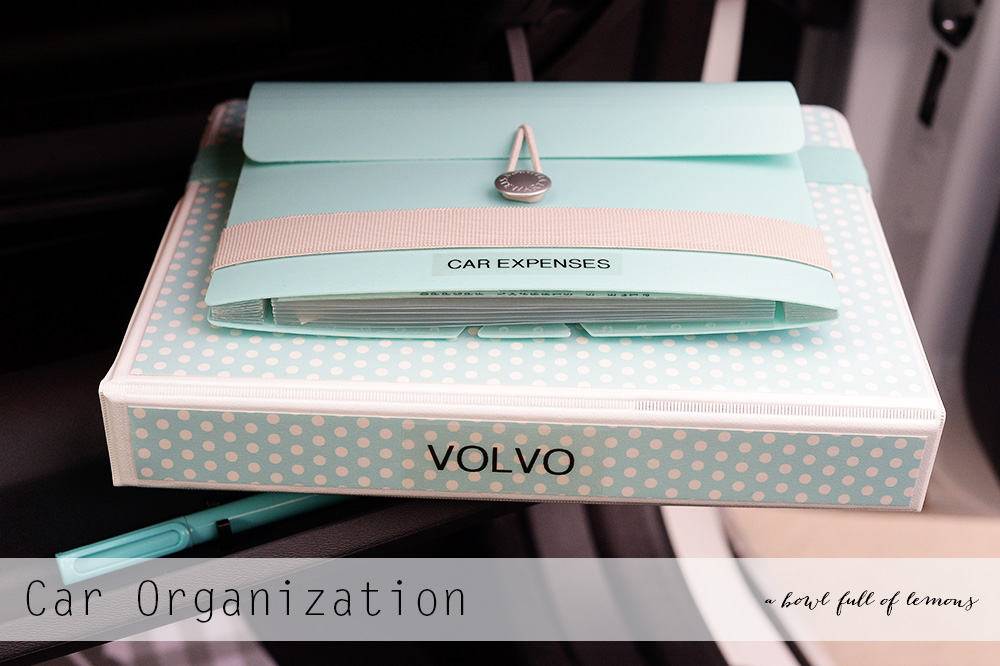 My business receipt organizer has the following categories:
Gas
Oil Change
Car Wash
Maintenance
Supplies
Other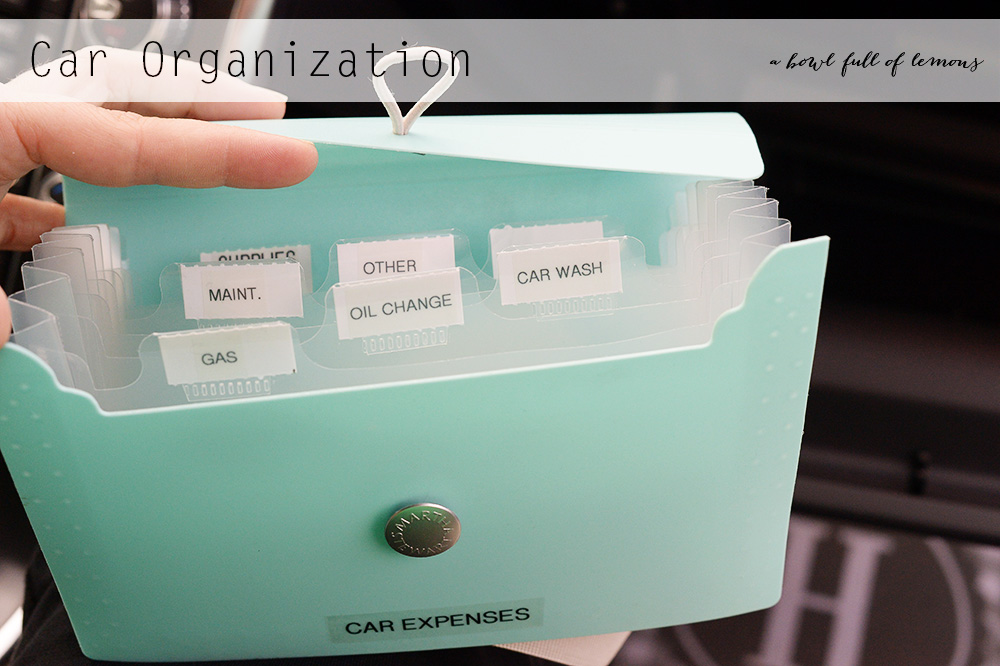 My Car Binder has the following Categories:
Repairs (Maintenance log, Mechanic numbers, etc)
Mileage
Volvo on Call
Emergency (Phone numbers of relatives, etc)
Insurance/Registration papers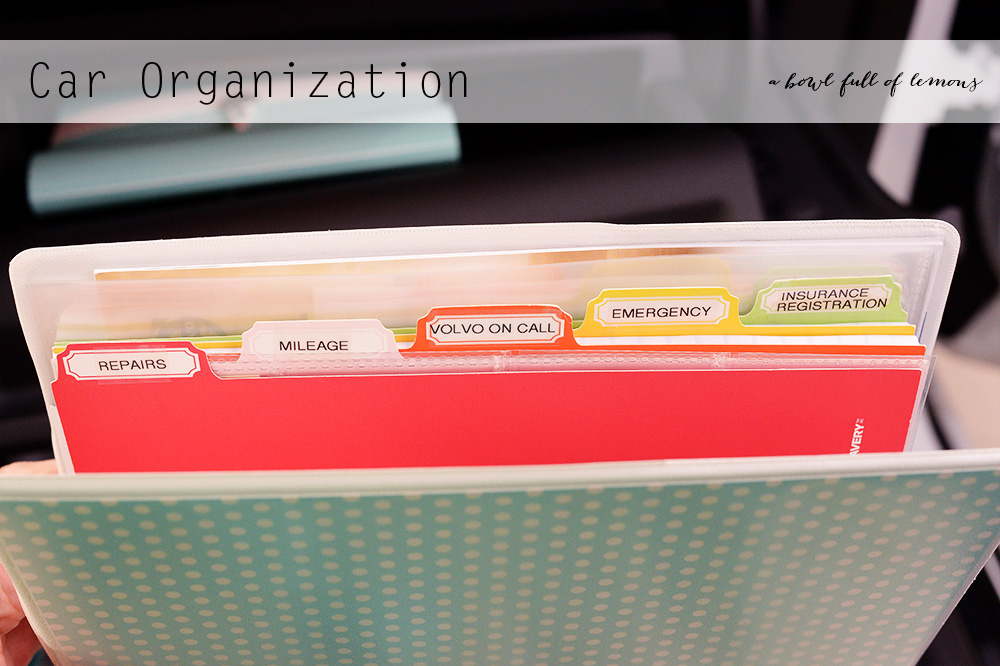 Last but not least is my trunk.  I keep this space free from clutter and trash. Only the necessities are stored here.  The teal bag is where I keep my reusable shopping bags.  If you notice, I don't keep a trash can in my car.  Since we don't eat in the car and keep the minimum necessities here, there isn't a need for a trash can.  Any clutter or trash that may be in the car when I get home is emptied out immediately.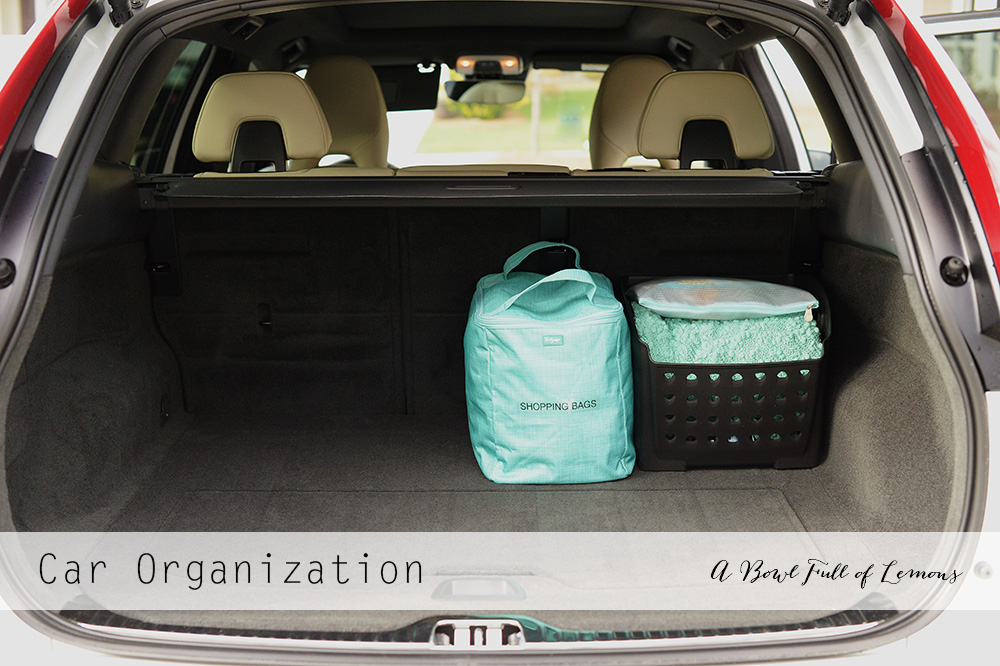 The black car bin (from Target) is where I keep emergency supplies.  I have a pouch that has misc. supplies, a blanket, a water bottle, and a first aid kit.  If we are traveling, there are more supplies back here.  I also keep an extra first aid kit, jumper cables, and tools under the floor board (with the spare tire).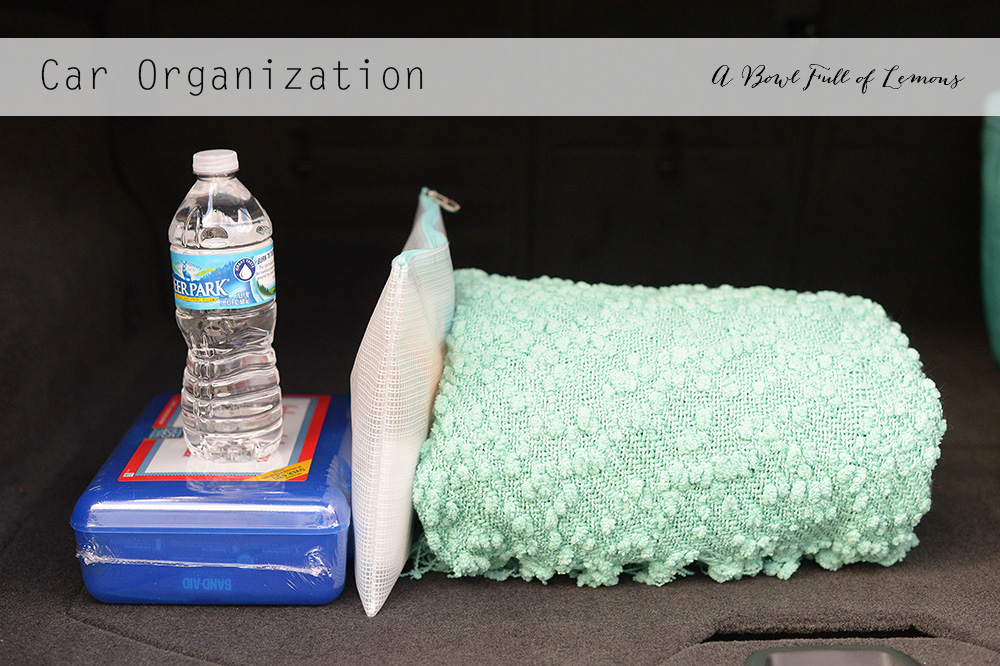 I hope you've gotten some tips to help get you car clean & organized.  Regular cleaning & decluttering is a great habit to learn and repeat on a regular basis.  A clean car equals a clear mind.  Happy Organizing.
HOW TO SHARE:
Share your progress on Instagram using the hash tag #abfolorganizechallenge, blog about the weekly challenges – sharing your before and after pictures and/or share over at my Home Organization 101 group here. Hold yourself accountable and finish all 14 challenges!
NEW TO THE CHALLENGE?
If you are just joining us, visit the challenge details page here, to learn what it's all about.
CHALLENGES:
Week 1: The Kitchen
Week 2: The Laundry Room
Week 3: The Pantry
Week 4: Master Bedroom
Week 5: The Office
Week 6: Living Room
Week 7: Bathrooms
Week 8: Playroom
Week 9: Dining Room
Week 10: Linen Closet
Week 11:  Kids Closets
Week 12: Master Closet
Week 13:  Launch Pad
HAPPY ORGANIZING!
Tags: 14 week challenge, car, car organization, home organizing challenge, organize
14 Week Challenge, 2015 Home Organization 101, April 2015, Blog, car, Garage, Organize, Other Spaces Posted in 22 comments